Augmented reality has come a long way from a Sci-Fi movie concept to a scientifically proven reality. The AR technology finds its relevance in day to day life. AR has been around for longer than most of us realize.
Believe it or not, this technology is from the 60s. But the recent advancement in augmented reality and the money inflow in this field presents evidence that AR could soon be the next big commercial commodity.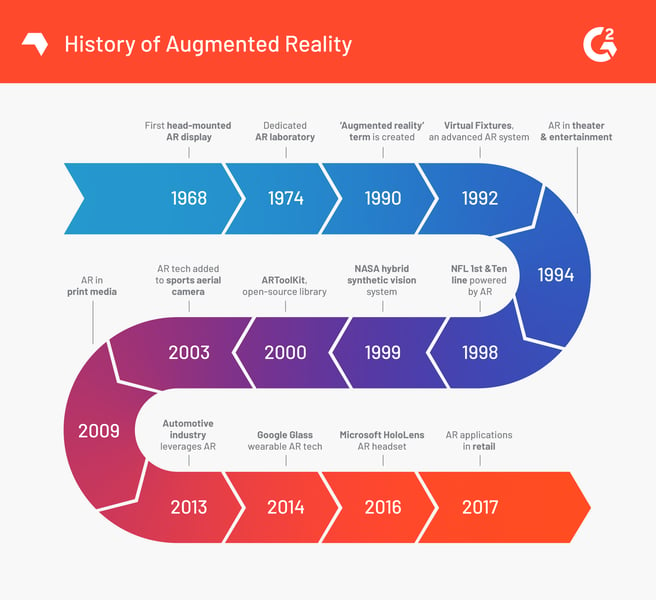 According to Statista, "By 2020, total spending on AR/VR is projected to reach 18.8 billion U.S. dollars worldwide."
What is Augmented Reality?
Augmented reality (AR) is an interactive experience of a real-world environment where the objects that reside in the real world are enhanced by computer-generated perceptual information.
Augmented reality enriches the images that you receive through a mobile device or a webcam with virtual information about a particular image. This information can be in the form of text, infographics, 3D animations, videos, and others.
Benefits of Augmented Reality for Business
AR opens up a whole new world of possibilities for modern businesses. Every enterprise shares a common expectation of winning clients who use their services or buy their products. For this, businesses must incorporate the latest technologies and innovative ideas to educate users about their products.
With the help of this unique and noticeable technology, you are in a position to surprise the customer and attract them towards your brand. Think about interactivity with your brand and how that can lead to a higher level of engagement, better and faster conversion, and multiplied sales too.
Snapchat is the best example of how AR is turning around the business. This social media app efficiently uses AR by continually updating filter/lens effects. Whether you want to add a dog's ear or put pizza shape on your selfie (which moves with your head), Snapchat's use of AR makes them unique and creates a fun and imaginative environment for users.
1) Think Beyond Traditional Mobile App Development
AR allows businesses to look beyond traditional mobile app development. With the market already flooded with tons of mobile applications, AR can make a difference and make your app stand out from the crowd.
Let's take the example of real-estate app development. A conventional mobile app will only show the property image and floor plan at max, but with AR you can show a 3D model that facilitates an interactive experience of the property.
2) Time-Saving and Enhanced User Experience
With Augmented Reality apps, you give the opportunity to consumers to make smart buying decisions anywhere and anytime.
Assume you are looking for a property. If you go traditionally, there are many steps to do the same. The first one is to find a broker who takes you through many site visits. This is extremely time-consuming. That is the sole reason why many people now prefer a mobile app.
Here, you can check out the images and features, and visit the ones that truly interest you. And that's where AR-enabled apps come into the picture. You can take a 360-degree view of the property before you physically go there to shortlist them. And it saves a lot of your time.
Similarly, AR incorporation into mobile app development gives you multiple advantages
3) Increase your Sales
If your app offers products or services with real-life experience, no force can stop you from landing on the user's smartphone. With an amazing app experience, your business finds a new user base, And with that, you end up with high conversion and sales rate.
4) Build up your Brand
Augmented Reality apps have the potential to engage users more effectively and conveniently. It turns your concepts into a digital image that overlaps reality. We are in the digital age and having the latest technology will not only enhance the customer experience but also build great brand perception.
Applications of Augmented Reality
1) Retail
In retail, Augmented Reality has an ocean of opportunities. The primary retailer has to decide whether to go for an in-store or out-of-store AR app. In-store-experience means customers will interact with AR within the walls of the store.
For example, Harley Davidson developed an AR app that shoppers can use in-store. Using this app, the user can customize their bike. Out-of-store experience means that your users don't have to leave their homes to have an AR experience.
2) Real Estate
Since mobile apps are the number one platform where buyers and renters look for new homes, the Integration of AR with mobile apps has a lot to offer to real estate. It can help customers find their dream homes through a unique process. It is an excellent tool for construction workers as well. They can bring blueprints and images to life for clients to see how their prospective new home might look.
3) Interior Design
AR-powered interior design app helps in making the right decision about the new piece of furniture or getting a general aesthetic feel of a space. One of the famous examples in this industry is the Swedish retail giant IKEA and its IKEA Place AR app.
4) Tourism
Technology is racing rapidly in the tourism industry. With the help of AR travel brands and agents are now able to give potential tourists an even more immersive experience before they travel.
Popular AR Based Business Applications
1) IKEA Place
IKEA Place is a popular AR-based app for iPhone and Android that's also focused on interior designing. The furniture retailer gives shoppers a chance to see how a particular furniture product looks in their home.
This app fetches the floor plan to see which items will fit best where. It has easy drag-and-drop functionality and the option to see different colors so that you can enjoy while shopping for your interior with IKEA.
2) Google Lens
It is an AR app available for Android and iOS users. Google Lens enhances the search experience through its scanning feature. Instead of typing the text query, you just open the app and aim at the object you want to learn more about. Google Lens algorithm will identify the object, read information about the object for you, and even store important numbers.
The Google lens app will also tell you where to buy the object if it is available online. This is the reason why it's crucial to optimize visual search as part of your SEO approach.
3) Augment
Augment is one of the leading AR-based apps for home goods. This app focuses on eCommerce retailers, who can use the app to create augmented images of their products. With the help of Augment, retailers can increase their sales, conversions, and efficiency. This app drives "field sales" – in other words, pop-up shops, farmer's markets, event sales, and other temporary physical retail ventures.
4) Wanna Kicks
It is an exclusive AR app for iOS users, the site, (wanna kicks dot com) has reinvented its approach and developed an AR-based app for sneaker lovers. Wanna Kicks virtually puts footwear on your feet. So you can see how it looks if you were to wear it – from a 360-degree angle.
Our Verdict:
In the coming years, a fantastic array of AR supported devices will come out. AR/VR is the scale and accelerates at a considerable pace; we are hoping to see more improvements and more enhanced experiences in this field.