Uncertainty is the mother of fear, but luckily fear breeds opportunity. This is especially true for those savvy (or lucky) enough to predict where and how the current pandemic situation will affect business going forward. A select few are likely to see expansion during uncertainty while others are more likely to see shrinkage, furlough and contraction.
Because the days of preparation for a crisis are past, it's our current response and reaction to the current uncertainties that will play the biggest role in how we navigate and thrive during and after events like COVID-19.
Commodities, staples (and those that serve them)
What a great time to be selling toilet paper, hand sanitizer, flour, food and liquor! Reports of condom shortages underscore the fact that some services and industries continue in spite of economic reversals.
Luckily, those who provide both direct and indirect inputs in the form of products and services to certain commodity sectors are so often insulated from other industry implosions. Grocery stores and eCommerce sites that provide such services continue to see peak (and greater) demand as people continue to use the toilet and drink alcohol.
For instance, we have a current online marketing client in the candy industry who has been crushing his sales thanks to the current situation. With advertising costs down and demand for candy up, his has more than quadrupled the ROI on his ad spend.
Finding opportunities to work in or service industries that may be providing commodity products to consumers during uncertain times will ensure you can both weather and thrive during economic crisis.
Access to credit, bailouts and wealthy benefactors
The recent rushed implementation of the CARES Act and it's quick postmortem, confirms that attempts at widespread assistance are never distributed evenly or to those who may actually be in dire need. It becomes the classic case of largess distributed to the "who you know" few–or at least to those familiar with processing credit through the SBA.
A perfect example is the implementation of the payroll protection loans (PPP) provided in the recent legislation. News feeds have been rife with stories about lack of both fund access and oversight as a small minority of crisis-stricken companies have even been able to get close to the needed funding.
I know of only two of 20 or so CEOs in my personal network who were able to get the needed funding. Both banked with the same SBA lender and were able to get approved in less than a day with access to the funds in less than a week. Most others in my SMB circles were not nearly so lucky. Some spent an entire day completing forms while others waited with no response from their lender, only to find out from news outlets that the funds had run out in about 10 days.
Those who have access to reasonably-priced debt and equity during crisis times (especially those not serving commodity sectors) will survive through the current rout. I have personally found that access is more about "who you know." Cultivating those relationships on the finance side through a crisis is critical for survival. For the SMBs out there, start yesterday.
Growth in contract work while the labor rebound slips
As with recessions in recent memory, the current situation is also likely to have an even slower job recovery–or more like a lack of one.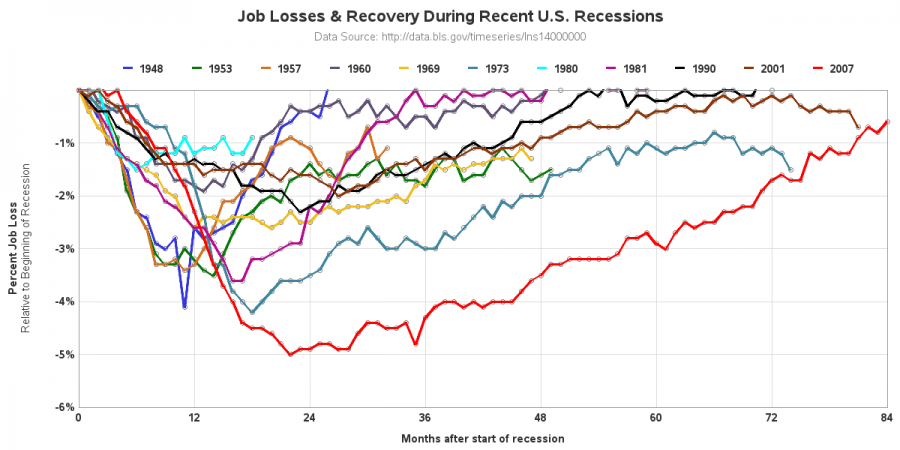 A slower job recovery means stiff competition for positions, less full-time employment and more expansion of the gig economy. We are seeing this very trend among our SEO resellers, those who start their own SEO agency using the outsourced resources of other firms. We expect to see similar trends across other services sectors where 1099 employees expand more quickly than W2 full-time work as businesses prefer the flexibility and lack of payroll and healthcare responsibility of full-time workers.
As many major media outlets have reported, the further growth of automation, artificial intelligence and outsourcing is likely to continue to squash "real" job growth. Recessions unfortunately tend to accelerate creative destruction of jobs.
As a small business owner in this environment, hunkering down can help, but there are certain sales, finance and operational roles within the organization that are critical to the continued survival of your org. If you have to furlough or let go certain employees, it may be worthwhile to bring them in on a part-time contractual basis to ensure the business operations remain intact through the trough.
As an un or under-employed individual during this time, it may be wise to begin exploring more contract-based work as we head toward a flat job recovery. The earlier the better ensures you win out to those who may be late to the 1099 party.
Stay abreast of the latest news
The proliferation of negative news and information is rampant right now. Yes, it is healthy to avoid the 24-hour news cycle as it can fuel unnecessary anxiety. However, there are huge benefits to staying abreast of what is going on in the world as doing so can serve to benefit your activities and your survival rate going forward. In other words, the pros of staying very current on the news heavily outweigh the cons. The situation is changing rapidly and multiple times a day. Understanding the next moves of companies and governments can serve to protect you physically and financially as we navigate uncharted waters.
For instance, think of those who could have taken advantage of a PPP or EIDL loan application (you miss 100% of the shots you don't take), but missed it due to lack of information. Stay attune, stay abreast, stay safe.
Prepare to survive, then thrive 
In our current socially-distanced situation, the new reality has created some unlikely winners amid many unexpected losers. For instance, no one would have predicted that those providing home exercise equipment would make a killing in the next recession or that the typically recession-resistant dentists (most of whom have been furloughed through mid-May here in Washington state) would have been hit hard during a recession. Unlikely indeed.
When it comes to recessions, some will thrive, some will survive and many will fail. Avoiding failure is the best that many business owners can hope for at this juncture. For those that are able to survive the current fray, they are likely to succeed in a greater fashion when the recovery eventually occurs (and it will). The reason: there will be a vacuum void in supply of goods and services that will need to be filled and fewer market leaders to fill the void when demand returns.
The moral of the story is remain calm, don't panic and work to survive and you will be poised to thrive in the future.