Not to be left behind, Google announced their own bit of mapping news at O'Reilly's Where 2.0 conference today: the debut of 'Street View' maps. The new maps are essentially a 360 panoramic image taken from a specific point on the street (see an example here).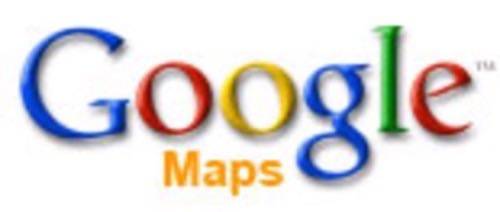 The Street View maps are developed in partnership with Immersive Media, which according to the O'Reilly Radar blog is "a company that has an eleven lens camera capable of taking full, high-res video while driving along city streets." What that means is that these Street View maps, because they are extracted from video shot while driving, are not just static images at random points around the city. They can be advanced fluidly down the street.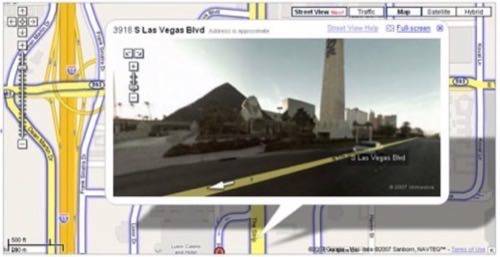 Clicking the white arrows on the image, advances it down the street a few paces, and quickly loads a new panorama, and double clicking on any part of the image zooms you in (you can actually read license plates and see recognizable faces). This is a very cool technology that adds a great new dimension to Google's Maps.
In my post about EveryScape I compared that company to Amazon's old A9 Block View maps, and the comparison is probably even more relevant here. But these blow A9's old maps out of the water since they are not static images, but clear, and very well stitched 360 degree panoramas taken every few feet. They offer a very complete and dynamic, block-by-block view of a city street.
I would be remiss, however, if I didn't compare this technology to EveryScape. It seems like Google really stole the show today, with Street View, but don't count EveryScape out completely. Their panoramas offer a wider range of motion (Google's are fixed, 360 degree left to right — no up and down), and they offer one feature that Google cannot with this specific technology: indoor panoramas. Remember, Google's new Street View maps are shot from the top of a car, and you obviously can't drive a car into a hotel.
It seems the two companies have opposite aims. Google wants to create better, more useful maps by providing photographic, street-level views of entire cities, while EveryScape hopes to entice business owners with the ability to offer virtual tours of their business within interactive virtual tours of neighborhoods.
According to Greg Sadetsky, Google has rolled out Street View in Denver, Las Vegas, Miami, New York and San Francisco.