On April 1st, Google introduced a 3D mode for Street View in Google Maps. At that time, we just thought this was an elaborate April Fool's joke, but as of this morning, the 3D view is still available in Google Maps. To see these images, you will need a pair of old-fashioned red/cyan glasses, bring up Street View in Google Maps and click on the Pegman with 3D glasses on the left side of the screen. As far as we can see, this feature is available anywhere in the world where Google currently offers Street View.

Given that Google announced this update on April Fool's Day, we assumed that the 3D feature would have been gone by now. Instead, it actually looks like Google has expanded this program since April 1st. The 3D mode in Google Books, which Google also announced on April 1st, is now gone, however.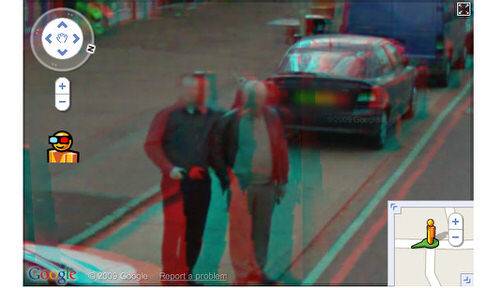 We can only assume that Google was already calculating these 3D perspectives and using them internally. By combining shots from different angles, Google can use the stereo pair to calculate the distance between the Street View car and the buildings along the street. Google can then use this data to create better location data for these buildings and addresses.
Update: As Barry Hunter points out in the comments, Google is actually using LIDAR (Light Detection and Ranging) to calculate the 3D images and is not calculating stereo pair imagery. This also explains why the resolution of the 3D view isn't very high.
Give it a Try (If You Have 3D Glasses)
If you still have some old 3D glasses, head over to Google Maps and let us know what you think of the new Google Maps 3D view in the comments.