The new Google Now feature unveiled this week at the Google I/O developers conference is designed to automatically present the information you need – even before you ask for it. The impressive results cover everything from helping you get to work to which sports teams you like – but they are possible only because Google knows so much about you. The vast extent of that knowledge is raising big red flags about privacy issues.
Google Now is tucked away inside the lastest version of Android, Google's mobile operating system: Android 4.1, called "Jelly Bean," was released this week.
Google Now Doesn't Wait to Be Asked
Google Now automatically creates and presents a series of "cards" that try to organize your life by presenting information Google thinks you'll need at that particular moment – based on the information it's collected via how you use various Google services – in a context that it hopes you'll find useful.
Google Now aggregates the information Google already collects about you on a daily basis: accessing your email, your calendar, your contacts, your text messages, your location, your shopping habits, your payment history, as well as your choices in music, movies and books. It can even scan your photos and automatically identify them based on their subject, not just the file name (in the Google I/O demo, Google Now correctly found a picture of the Great Pyramid). About the only aspect of your online life that Google hasn't apparently assimilated yet is your opinions expressed on Google+. But that's undoubtedly coming.
Google already knows where you live, for example, and constantly plots out the time it will take to return home. Google even knows your favorite routes to work and can suggest alternatives based on congestion. And it will figure out your favorite sports teams by the number of times you ask about them, without you ever having to explicitly identify them. Google's recommendation engine, meanwhile, uses the information to suggest new content to purchase.
"Wait a second," you might say. "Google knows that much about me?"
It sure does.
What Google Now does is simply take the new, unified privacy policy you had to opt into a short time ago and shows that information to you in what it considers to be useful ways. But that very public demonstration will undoubtedly unsettle many users even as it pleases others.
How Did We Get Here?
Six months ago, Google announced that it was unifying its privacy policies, informing users that it planned to share data it collected among its services in the future. Google Now has made those policies a reality.
Consider Whitten's original example: "We can provide reminders that you're going to be late for a meeting based on your location, your calendar and an understanding of what the traffic is like that day."
That's exactly what Google Now does. For those of you that find that useful, Google Now is for you. But for those that consider that to be a creepy, if not offensive, invasion of privacy, Google Now may be the new privacy boogeyman.
To its credit, Google Now is not a hidden clause buried in a privacy policy, an easily overlooked checkbox, or an opt-out feature. For now, Google Now is available only with the new Android 4.1 "Jelly Bean" software included in the new Nexus 7 tablet and Galaxy Nexus phone.
The first time you click on the Google search box within Jelly Bean, Google pops up an introductory screen to provide more information about Google Now. Users can then explore the topic further. To use Now, users must explicitly opt in. (Of course, none of Google's examples reference the feature's privacy implications.)
Once you sign in, Google Now tries to proactively provide information via "cards," or vertical tabs, that present information it thinks you might want. For example, if you've entered a home location via Google Maps, a card will constantly update with the estimated time to drive home.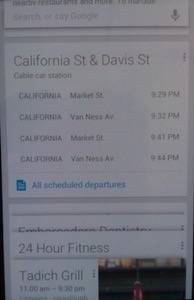 Limited Lineup of Cards
At present, Google Now's cards are actually quite limited, covering only:
Local weather – for both your current location and your work location
Local traffic information – including to your "next likely destination"
Public transit information – when you're near a transit stop, it tells you what bus or train will come next
Your next appointment – and how long it will take you to get there
Airline flight information – including delays and how long it will take you to get to the airport
Sports results – for your favorite teams in real time
Information about nearby places – bars, restaurants and other attractions
Translation services and currency conversion rates – when it nows you're in a foreign country
Time at home – when you're in a different time zone
Of course, Google promises more cards in the future.
Users can turn each card category on or off, although that requires finding the options menu in the lower right corner of the screen, clicking each card, and then flipping the "switch" in the upper right portion of the screen.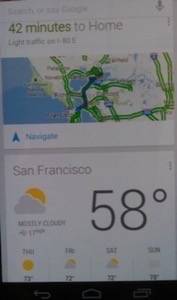 Privacy Blowback
When Google first announced its new privacy policies, the post by Alma Whitten, Google's vice president of privacy and engineering, provoked a storm of controversy. More than 30 U.S. state attorneys general protested, the Electronic Privacy Information Center (EPIC) sued, and Rep. Ed Markey (D-Mass.) and Sen. Richard Blumenthal (D-Conn.) both criticized the new policy. (A federal judge later dismissed the EPIC suit, claiming that only the Federal Trade Commission had the oversight to decide whether Google's new policy is anti-competitive.)
But now that the issue has become real in the form of Google Now, the privacy hawks have been relatively quiet. That leaves it up to users to decide whether to participate.
The advantages of the Google ecosystem boil down to one term: convenience. Are the results and help you get from Google Now worth sharing the deeply personal information involved? That's a personal question for each user of devices with Android 4.1, but it's important to remember that Google still collects all this information whether or not you use Google Now. It's just that the new service makes it impossible to ignore just how much the company knows about you.
So if ignorance is bliss, realizing how much Google knows about you may make a lot of people very unhappy.