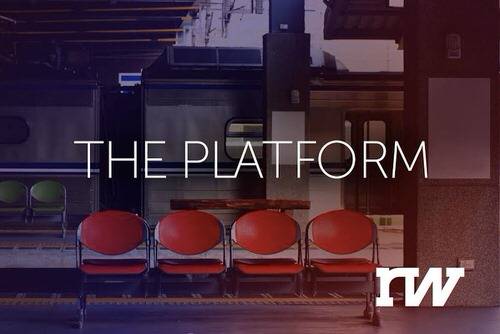 The Platform is a regular column by mobile editor Dan Rowinski. Ubiquitous computing, ambient intelligence and pervasive networks are changing the way humans interact with everything.
Google's Android wants to know where you are and what's nearby. Soon, it may also have the capability to automatically interact with people, places and things within your immediate vicinity. It's a hint of things to come. Because before long, you won't be able to hide your location from your smartphone—or from all the developers, marketers and advertisers that want to know where you are.
According to a report from Android Police, Google is working on a service called "Nearby" with features similar to those of Apple's iBeacon, a Bluetooth-powered location-tracking system now catching on with retailers and other commercial outfits. Google's Nearby would let your Android smartphone communicate with other devices in its area by proximity alone.
Android Police quotes the on-boarding screen of Nearby's capabilities:
Nearby lets you connect, share, and do more with people, places, and things near you.
When Nearby is turned on for your account, Google can periodically turn on the mic, Wi-Fi, Bluetooth, and similar features on all your current and future devices. Google+ and other Google services need this access to help you connect, share, and more.
When you turn on Nearby, you're also turning on Location History for your account and Location Reporting for this device. Google needs these services to periodically store your location data for use by Nearby, other Google services, and more.
Nearby will likely show up in a future update to Google Play Services, Android Police notes. It may be part of several anticipated announcements to the Android platform at Google's I/O developer conference later this month.
Between Nearby and iBeacons, Android and iOS are making it increasingly difficult to hide from those that want to target you with "relevant" promotions, deals and ads.
Ambient Location, Beacons, Retailers And You
You're not alone if your first reaction to Nearby's capabilities is, "No way in hell." In general, people don't like the idea of companies tracking their location or of their phones deciding to turn on various sensors automatically just because they happen to be in the general vicinity of some other device with sensors.
Quick Thought: Sony Wins The Platform Battle Of E3
I watched the E3 gaming conference from a casual distance. But from what I can tell of the reaction to Microsoft and Sony press conferences at E3, Sony came out (still) ahead.
Microsoft has been backtracking from its original plan to make the Xbox One the center of all your entertainment needs (for instance, by unbundling the Kinect). Its Xbox One presentation aimed to re-inspire its base with a laser focus on games, games, games.
Sony, meanwhile, not only marched forth with games, but firmed up its position as the go-to gaming spot with exclusive game maps and missions for anticipated titles like Destiny while also unveiling the potentially momentous PS Now game-streaming network and PlayStation TV set-top box.
The truth, however, is that most people aren't really going to have a meaningful choice about whether location-based services are active or not. Sure, any user can opt out if he or she wants, but there's going to be a constant siren song trying to lure them back in. People will hear of a new feature—maybe through their local retail store or something their friends are using—and they'll sign up to for some service that prompts them again to turn Nearby or iBeacon back on.
Marketers want to track user behavior via location. Retailers want to track customers via location. Platform providers want to track retailers, marketers and users via location. Developers will build for these features. The average user doesn't really stand a chance. Services like iBeacons and Nearby are going to become the norm, whether "customers" want it or not.
Smartphone users will soon be conditioned to these types of ambient location signals coming from their phones. And though Google is the king of tracking information about you on the Web and through your smartphone, it's not leading the charge here—Apple is. Apple has quietly pushed its iBeacon indoor proximity feature in iOS, and retailers and developers are starting to adopt it everywhere, whether you know it or not.
Apple has also acted to hobble competing proximity-tracking technologies. Wi-Fi networks at, for instance, a retail store, can pick up a unique device identifier called the MAC address from smartphones that are scanning for a network connection—something most phones do automatically. That can be used to track shoppers.
In iOS 8, however, Apple struck back against this practice by randomizing the MAC addresses iPhones usewhen scanning for a connection, thus making it much harder to track individuals. You can look at this development two ways. Either it's a consumer-friendly, privacy conscious move by Apple to protect its users from unwarranted spying—or perhaps Apple saw the tracking of MAC addresses as an rival to iBeacon adoption and decided to take it out. (My money's on the latter.)
What Consumers Want? Or What Consumers Are Forced To Accept?
A recent study by push notification company Urban Airship says that 60% to 80% of users share their location with apps.
"With an average 62% location opt-in rate and an average 51% of users opting in to receive push notifications, most apps can reach more than half of their users with location- and proximity-triggered push messages," writes Urban Airship's Corey Gault.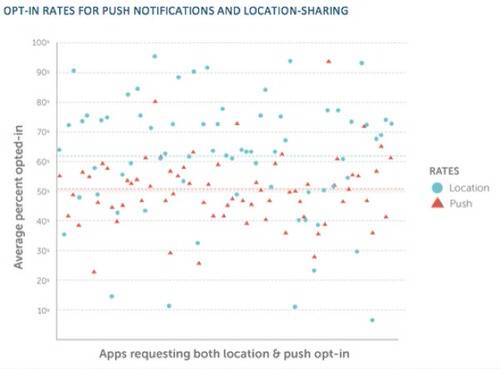 You should, however, take Urban Airship's assumptions of the location-based market with a grain of salt.
"Apps have become adept at incorporating location-based functionality that users value, contributing to high opt-in rates, just as the best apps do with push notifications: explaining their value, offering users control and using it in personally relevant ways," Gault wrote.
The company published its own study and the results, of course, make Urban Airship's product portfolio look terrific. Urban Airship stands to benefit greatly from the adoption of services like Nearby and as it is one of the only companies to make a third-party dashboard for iBeacon notifications. That being said, Urban Airship's data may prove to be correct.
Quote Of The Day: "I am not afraid … I was born to do this." ~ Attributed to Joan of Arc
Think about how you use apps. You download an app and a dialogue box pops up wanting to use your location. Often enough, the app warns you that it won't work well, or at all, without knowing your location. Lots of popular apps want to know your location, starting with Google Now, Facebook and Yelp. Many of these apps actually do work better if they know where you are.
Smartphone features like iBeacons and Nearby have marketers (and those that serve them) salivating. Urban Airship is just one of the companies going whole hog into iBeacons. Adobe has invested heavily in products for marketers over the last couple of years and has joined the proximity marketing bandwagon, as have companies like Qualcomm. Billions of dollars in research and development from a diverse set of giant companies have gone into tracking you with your smartphone and tying it to your browsing and shopping habits.
In the end, they will find you.
More On Google, Apple & Beacons