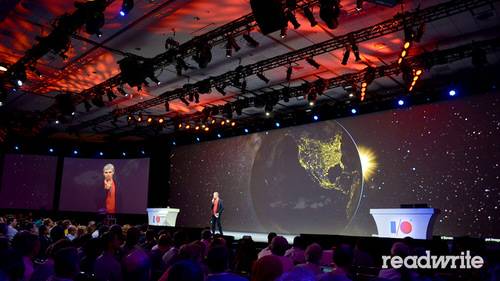 Google bombarded thousands of attendees at its I/O 2013 Keynote with enough information to force that hi-res photo of Vic Gundotra's forehead into their dreams tonight. Here are the eight best moments:
Google Variant Of The Samsung Galaxy S4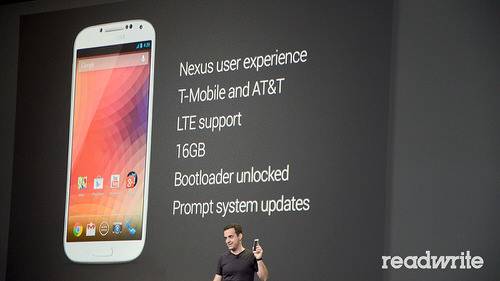 One of the briefer announcements at I/O was the introduction of a variant of the Samsung Galaxy S4 configured with the look and UI feel of a 4.2 Jelly Bean Nexus phone. In a sense, it strips all the Samsung bloatware from the phone to deliver a much purer Google/Android experence. The phone will hit the Play store June 26, with a no-contract price of $649.
Google's Music Streaming Service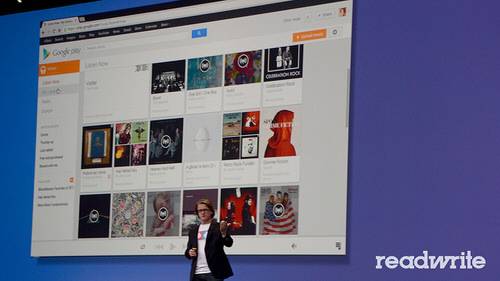 The news was out yesterday, so it wasn't a huge surprise when Google's Chris Yerga announced the company's plans to enter the music streaming service battleground with Google Play All Access. Despite the few missing details, ReadWrite's John Paul Titlow writes, "It's a crowded space with challenging economics, but if anybody is well-positioned to win this game, it's Google."
(See also: Google Just Launched A Grenade At Spotify — And It Just Might Work)
Free Chromebook Pixels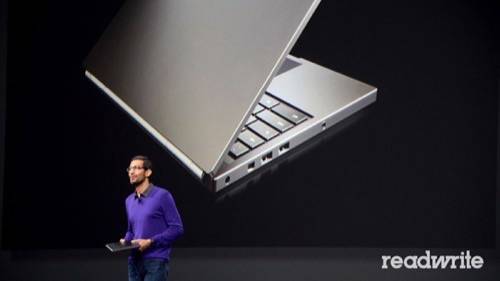 Google didn't disappoint with its Oprah moment. While a free Google Glass device was obviously the longshot giveaway in the back of everyone's mind, the company opted instead for a free Chromebook Pixel laptop for every attendee. Not bad.
Linking Device Displays Into A Multiplayer Game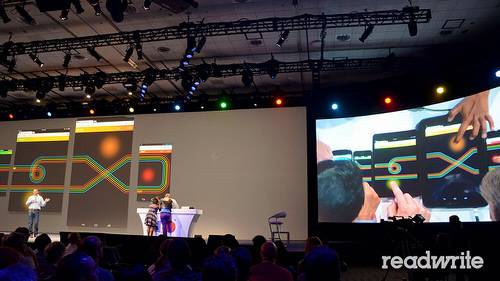 While the first attempt at demoing a live multiplayer game at the keynote failed, Google managed to get it right the second time in a more impressive setting. On a stripped down racing game, four players competed all using different devices that synced together to form the race track.
Google Realizes Its Star Trek Dreams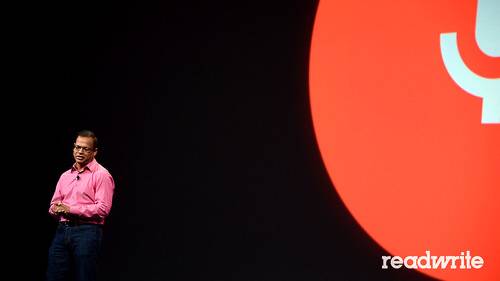 Senior VP Amit Singhal opened by recalling childhood hopes of bringing his Star Trek-influenced dreams to life, and segued to how Google is bringing that to pass with devices that you can talk to. The goal is to make search a natural language conversation, and Google's examples were pretty convincing — both a Chromebook and Nexus were able to accept spoken commands and turn them into personalized search results without a single hiccup.
(See also:Google Search Learns To Listen & Understand Context)
Google Delivers Impressive Photo-Editing Tools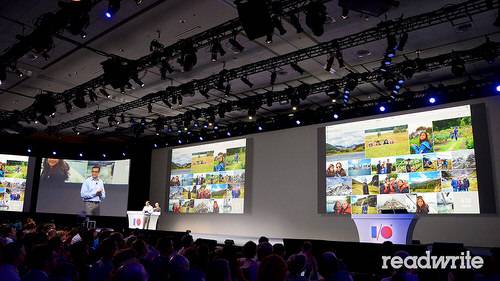 After debuting a Google+ design overhaul, SVP of engineering and social Vic Gundotra also took keynote attendees through a demonstration of Google's new capabilities in photo editing. Some especially notable features include the ability to auto-edit an entire batch of photos to the best moments and to enhance photos automatically.
Google Maps Escapes The Stratosphere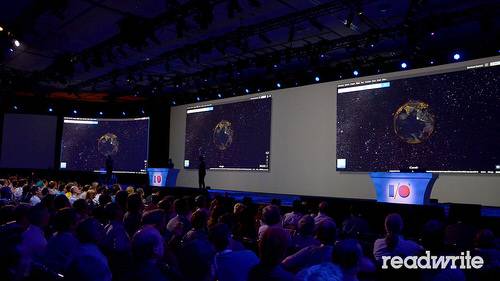 While the overhaul of Google Maps certainly wasn't the most exciting presentations of the keynote, the presentation ended with stunning scenes of the Earth from space — both daylit and at night. That view and others that used to be limited to the Google Earth service are now baked right into your browser as part of the new Maps refresh. Desktop users will see it first, with mobile users to follow soon after.
Larry Page Ends His Speech With A Q&A Session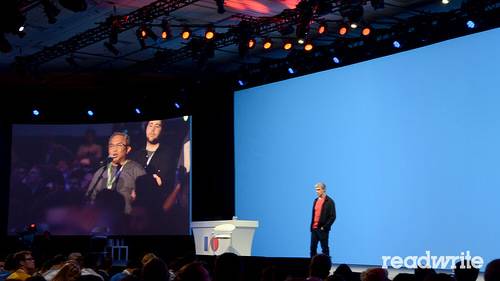 Larry Page's speech was notable both for its oddly vulnerable quality and for the hoarseness of Page's voice, which hovered slightly above a whisper — a consequence of what Page described yesterday as an unexplained case of vocal chord paralysis.
The big surprise here came when when Page turned the finale into a Q&A session. The highlight: Google's CEO telling Robert Scoble, who was first in line to ask a question, that he didn't appreciate his now-infamous Google Glass shower pic.
Jon Hamm Of Mad Men Makes An Appearence (Not Really…)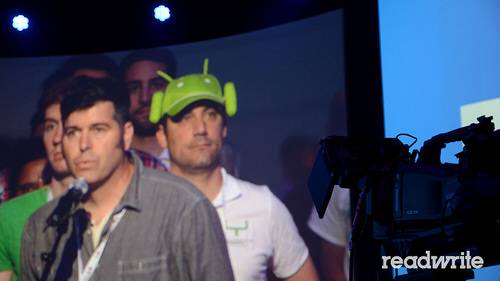 Last but definitely not least is that guy who looked eerily like Jon Hamm (of Mad Men, you philistines) waiting in line to ask Larry Page a question… while wearing the greatest hat ever. Turns out it wasn't Jon Hamm (sigh), though from a distance (and over slightly grainy streaming video) the resemblance is truly uncanny.
Images by Nick Statt for ReadWrite