We usually talk about geofencing for advertisers, where a customer's proximity to a business can trigger a text message or push notification. But geofencing for individual users is just fun – if not more.

Footprint Feed is a mobile app that lets you set up feeds to share your location with people you know through Facebook, Twitter, RSS or specific people via text message or email. "Death to the check in," said Director Rob Cleghorn. "Set-up some feeds and forget about it."
Footprint Feed works with Google Latitude, which runs in the background on your phone to constantly monitor your location. Instruct Footprint Feed where you want to "check in" ahead of time, and who you want to know about it. You can have a text message sent to your parents when you land safely at the airport, or tweet when you visit a new city, or update Facebook that you're at the library (or the bar). You can also "check out" the same way you check in, so your friends know you've left the party as Latitude detects that you've moved on.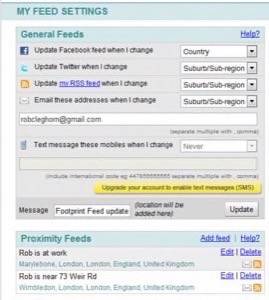 "We've tried to keep it as open as possible, from a bus that you can follow on Twitter to see which stop it's at to that text message you always forget to send your mum to let her know you got home okay," Cleghorn said. "We're all about setting up some feeds, running Latitude on your phone and keeping everyone you choose updated with your movements, automatically."

It's refreshing to see a geofencing app that isn't about advertising (see our recent post, For Advertisers, Location-Based Services "Blew Up Overnight"). Footprint Feed isn't even ad-supported – it's a freemium model that offers most features for free, but for $4.70 a month you get unlimited email notifications and 50 text messages a month.
Footprint Feed was developed by Cleghorn's Footprint Labs, a small location-based services startup in London that created the Facebook app Footprint History, a sort of precurser to Facebook Places complete with an application programming interface or API. Footprint History was retired after Facebook restricted access to profiles by third-party apps.
Footprint Labs just announced SMS support, and is working on support for Facebook Places, Google Buzz and LinkedIn.
A useful app, or would you rather your geofencing came with coupons? Let us know what you think in the comments.