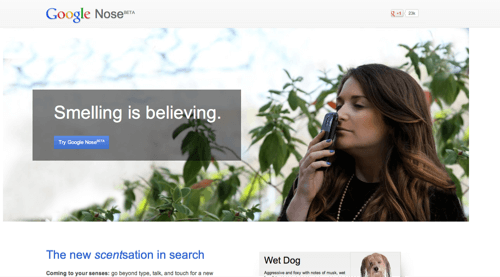 Find some buried treasure, fly in a glass-bottomed jet or mock the Caped Crusader… these are among the many ways you can be fooled thus far on this April Fools' Day, 2013.
The media and technology sectors have been busy already this morning, coming up with some new and clever ways to pull the wool over our eyes on the one day of the year when all the stops are pulled out to deliver the laughs. Of course, some gags are funnier than others, but we'll let you decide in this morning roundup of the funny and the lame.
Google: Class Clown Or Else
If you're judging on sheer number of pranks, then hands down the Mountain View search engine company takes the prize in 2013.
Apparently, when Marissa Mayer took her stop-screwing-around-and-get-some-work-done attitude with her when she went to Yahoo, her former co-workers took that as a sign to cut loose and let their funny flags fly, launching no less than nine goofs.
Gee, if only they could put this much effort into Google Reader.
Badda-Bing, Badda-What?
Not to be outdone, Microsoft tried to bring the funny to its Bing search service. Instead of quantity, the jokemeisters at Microsoft (I mean, come on, Vista wasn't funny?) went for quality.
Reports of a Google-themed Bing search home page led me instead displayed a clever little Easter Island-themed page. Cute, but I was looking forward to the dig on Google. With a little work, you can get it: type "google" in the Bing search bar to hit the jackpot.
Sy Wht?
Twitter is finally figuring out new ways to generate revenue, it seems. Their new Twttr service will enable users to use Twttr consonant-free free of charge. If you want vowels, all you need to pay is an extra $5/month.
Here's the thing: I'm not sure, given the average depth of tweets, that anyone will ntce, er, notice.
What? Is Your Favourite Colour?
You can't have April Fool's Day without some wacky British humour. With their extra letters and aversion to the letter "z," British spelling alone makes anything funnier.
All News All The Time. The Guardian has announced an innovative new tool to enhance the average person's day: Guardian Googles. These new tools will push through left-wing content to you every waking moment, and censor out any temptations to read that naughty Daily Telegraph.
Whee! Liked the looks of that cool Shard building you saw on Doctor Who this weekend? Well, HuffPo UK has revealed plans to build a giant 244.3-meter (801 feet, 6 inches for us Americans) spiral slide around the London edifice (and yes, this would be my number-two on the wish-it-were-real list).
Plane With A View. Richard Branson himself has announced the coming of glass-bottomed planes for Virgin airlines, launching to coincide with the airline's new service to Scotland.
From Around the Web
There's a lot of April Fools humor to be found across the Internets today, beyond just the usual suspects. Here's a quick list:
Spotted another April Fool's gag? Post it in the comments below and share!
Image courtesy of Google.