When it comes to winnowing the Web down to what matters, Flipboard has led the charge – at least on the iPhone and iPad. The popular app, which curates social streams and Web content into a customized digital magazine, has remained an iOS exclusive until now. We spoke with Flipboard co-founder Evan Doll about the social magazine's hop onto Android and how apps such as Flipboard help us stay sane as the social Web streams by.
After both an official and an unofficial beta gave Android users a taste of the hit social magazine app, Flipboard is out in the wild – for real this time. You can now download Flipboard for Android in the Google Play store (rather than sideloading it, as the beta necessitated). Flipboard for Android will come bundled on all new Samsung Galaxy S III smartphones across the four major U.S. carriers, but the app is now available for the ecosystem at large. It's optimized for the wide range of Android display sizes out there, up to 7-inch tablet/e-book reader hybrids, including the Kindle Fire and the Nook Tablet. Flipboard certainly benefits from the large display trend of competitive new Android devices, and it looked stunning on our HTC One X in testing.
Beyond just being an iOS exclusive, Flipboard has been particularly cozy with Apple. The app was selected as Apple's 2010's official "iPad App of the Year," and Flipboard co-founder Evan Doll spent six years at Apple as a software engineer. He remains a self-described Apple fanboy, but is happy to expand the already wildly popular app's reach beyond iPads and iPhones. Now, the company has buddied up with Google, too, getting early access to the Google+ API. Google+ and YouTube are now featured among Flipboard's 12 integrated social streams across both Android and iOS.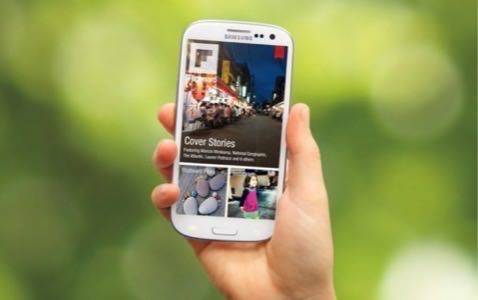 Flipboard is also getting more international support. While the app "self localizes" with content relevant to a given user, Flipboard has now rolled out full language support for Korea, Germany, Spain, the Netherlands and Italy. Forty percent of Flipboard's usage already happens outside the U.S., and that's without formal international language support.
"A few years ago, people thought social networks were a zero-sum game. But there are different social networks for different purposes," Doll told us, explaining Flipboard's open-arms approach to a wide swath of social networks. "We see Flipboard as a great way to unify these different sources of content." But Flipboard doesn't want you to drown outright in this proverbial river of stories, tweets and status updates, he said: "You don't want to have to jump in. You just want to be able to dip your cup in the stream." To accomplish this, the app weaves together human curation through user accounts on social hubs such as Twitter and Facebook with smart algorithmic recommendations. The dual approach aims to expose stories and updates that matter – and ones that might have otherwise drifted on down the river unremarked.
Beyond a pair of homescreen widgets, Flipboard on Android is an identical experience to the iPhone-side app. And just like in iOS, the app remains as translucent as possible, subsuming the user interface into the stream of stories and news. Doll noted that Flipboard was inspired by the clean, graphics-heavy layouts of print publications like National Geographic. "We try not to have too much of our own UI on the screen; the content itself should be the UI," Doll said. "We see Flipboard as a reflection of the evolution of the Web." With 8 million users and 1.5 billion "flips" per month, it's safe to say that Flipboard fans see the resemblance.