On any given day, there are thousands of people snapping iPhone photos and uploading them to Flickr. So many in fact, that the iPhone is one of the top five cameras. That's amazing – but not for the reasons you'd think. It's amazing because the default process of getting a photo from the iPhone to Flickr should be easier. And while any number of apps have attempted to solve that problem, Flickit handles the task in a way that is arguably the most graceful – and iPhone appropriate – of them all.


We've had excellent ways to view photos on Flickr from the iPhone – Flickr's iPhone-optimized mobile site is great and we're fans of the Cooliris iPhone app. Getting them to Flickr however – either by emailing them to a Flickr dropbox or using an existing app – always seemed to lack that certain je ne sais quoi.
Flickit is different. It's a beautiful little app that offers a simple – yet rich – Flickr uploading experience. Or as Lifehacker puts it, "the free Flickit application is [Flickr's] truest friend on an iPhone or iPod touch." We couldn't agree more.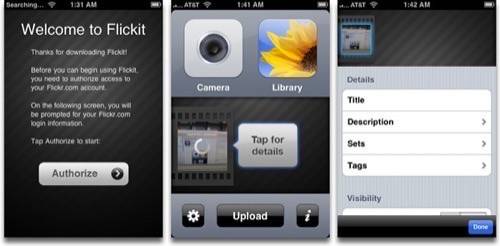 While Flickit's functionality can be found in other apps, the look, feel, and usability give it something special. It has an aesthetic that matches the iPhone, with big chunky buttons and stylish animations. Long story short, Flickit just feels like an iPhone app.
And like the iPhone, it's easy to use. How easy? The IKEA-like instructions should provide a clue.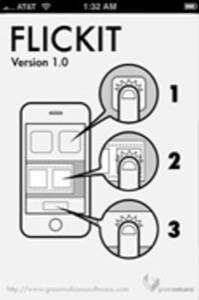 Once you've installed Flickit and logged into Flickr, you'll start with Flickit instead of your camera. Shoot photos directly from the app or grab pictures from your existing camera roll. Select a photo with which to work and you can edit title, description, and tags, add it to a set, choose its visibility, and geotag it with your current location. Press upload and you're done – fast. And it's all thanks to Flickit's streamlined uploading engine.
Downside? Flickit is an upload-only utility. So you're not going to be browsing your photos from it. That's unfortunate because given how they handle the upload process, we'd love to see how they handle viewing.
Want to give it a try? Download Flickit for free.