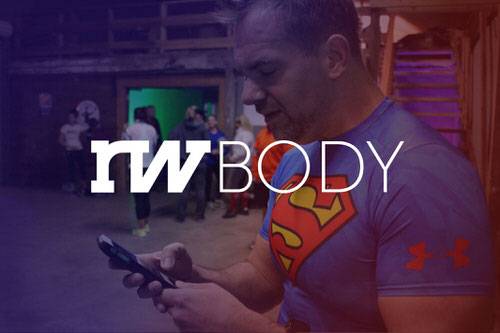 ReadWriteBody is an ongoing series where ReadWrite covers networked fitness and the quantified self.
Fitness apps are hitting the big leagues, with downloads and usage soaring off the charts. As a result, Google and Apple are aiming to sign up developers for their teams and coach them to victory.
Google announced some kit for sporty app builders at its annual I/O developer conference, which is taking place in San Francisco this week. It unveiled Google Fit, a new set of software libraries and tools for storing and retrieving data about fitness activities.
That follows Apple's unveiling of HealthKit, a broadly similar set of tools to help developers build apps that capture data about our bodies.
Google and Apple's moves come as there's continued interest in wearable devices, from smartwatches to more specialized fitness gear. Wrist-based wearables with screens can potentially display real-time information about exercise, while wearable devices with specialized sensors can capture vital signs like heart rate, perspiration, and temperature and transmit it to smartphones.
Both Google Fit and HealthKit aim to do something with the massive amount of data these devices, as well as fitness apps on our smartphones, can generate.
The Fitness-App Revolution
Flurry, a maker of analytical and marketing tools for app developers, saw a dramatic increase in the usage of health and fitness apps over the past six months. From December to June, average daily usage of fitness apps grew 62 percent, while the industry as a whole saw usage grow 33 percent. That's a dramatic turnabout from the past year, when usage of fitness apps grew much more slowly than other categories like messaging.
That growth in usage isn't coming from a few breakout apps. Flurry studied 6,800 iPhone and iPad apps on 100,000 users' devices. Of those apps, the top thousand accounted for approximately 80 percent of activity.
Google is seeing similar growth in Android. Over the past 12 months, its Google Play store, where users download Android apps, has seen the money spent on fitness apps grow by 80 percent, according to Google engineer Shai Barack.
The result is a paradise of consumer choice and a hell of confusion. I've noted how many fitness apps I use and how hard it is to choose between them, even in a simple, well-defined category like run-tracking apps.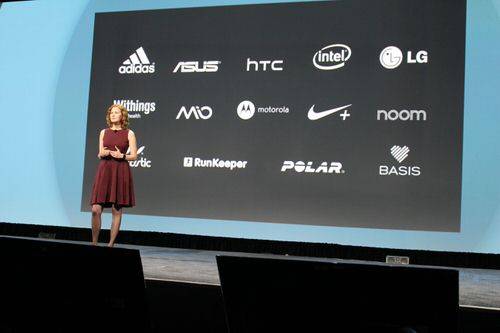 What Google Fit Does
Google Fit—going by the scant details revealed at I/O—is squarely targeted at those fitness apps. Runtastic and RunKeeper have signed on, as have wearables makers like Mio and Basis and sporting brands like Nike and Adidas.
In a presentation after the main keynote, Barack, the Google engineer, explained that Fit will have three main application programming interfaces, or APIs (see our API explainer), for developers: a Sensors API, a Recording API, and a History API.
The Sensors API will help fitness apps talk to devices like bike computers and heart-rate straps, a task which is often challenging because of the wide variety of hardware out there.
The Recording API will take real-time data for, say, mapping a run from an external device or the phone's own sensors, and store it.
The History API will clean and sort the often-overlapping data we get from multiple devices and apps—a very real problem I've encountered when connecting, say, a Jawbone Up activity tracker with my MyFitnessPal food log and my MapMyFitness exercise records.
All of this is built on top of Android Intents, the system Google thoughtfully included in Android from the very beginning that makes it easy, as ReadWrite's Dan Rowinski recently explained, for apps to "shake hands" with each other. Included in Intents is a logical structure for data types.
That, Barack told me, should make it easy for app makers to organize their data in a way that's easy to share with other apps. That would then simplify the handling not just of simple data like a user's weight, but of more detailed information—like, say, body composition. It could also enable sharing of very detailed workout records, so you can easily send a log of exercises to your trainer, or a favorite workout to a friend.
Those are the kind of problems RunKeeper tried to solve with its Health Graph API some years ago. Though elegant in design and squarely targeted at fitness, the Health Graph never found broad acceptance outside of developers looking to connect with RunKeeper, and RunKeeper CEO Jason Jacobs recently told me the company is no longer emphasizing it.
Google Fit vs. Apple HealthKit
Google Fit's approach stands in stark contrast to Apple's HealthKit. Apple's HealthKit, a set of tools for app builders to collect and store health-related information. focuses on the kind of vital signs collected at a visit to a doctor's office, with a light sprinkling of data about physical activity. As I've noted, its data types appear to be poorly thought out and wildly inconsistent, which could limit its usefulness to developers, perhaps fatally.
Why is this so? Well, Apple's HealthKit was developed with a lot of input by medical experts like the Mayo Clinic—the same medical establishment, I'd point out, that hand out useless edicts and mandates that have done nothing to arrest a marked deterioration in our state of fitness. Doctors may be good at the practice of medicine, but even most of them will admit they're far too ignorant about exercise and nutrition.
It's noble for Apple to try to fix the problems of the healthcare industry. But it's not very clear that people are that interested in inputting the often-depressing details of their medical problems. Apps built on HealthKit could play a role in simplifying management of chronic diseases, but those aren't the kind of apps that are burning up the charts in Google and Apple's app stores.
Meanwhile, fitness-app developers like MyFitnessPal and RunKeeper are amassing huge amounts of information about our daily lives—what we eat and how we exercise. As we download more and more apps, we're going to expect that data to move where want it, so we can analyze it and take action. An app that's particularly good at logging our workouts may not be the best one to diagnose motion problems. A run-tracking app may not be the best at analyzing why we're not losing weight.
It's clear that developers are going to keep coming up with new apps that tackle fitness in surprising ways. In order for them to thrive, though, they're going to have to share data—which, after all, is really our data, not theirs.
I'm betting on Google's approach to beat Apple's here. For one thing, Google is betting on fitness, where consumers are clearly interested and engaged, as opposed to the medical aspects of health, which remain scary to most ordinary people. For another, Apple's HealthKit is likely going to be limited to its own devices. And based on its track record, Apple will do a lousy job of storing and syncing data in the cloud.
While Google Fit is initially going to be released this fall for Android devices, a Google product manager told me the plan is to support all devices. And Google Fit will include support for Web-based apps that want to store or retrieve fitness data—which means, with a little work, it can be adapted for fitness apps on any mobile device.
We can't count Apple out. It could rework HealthKit, or scrap it and come up with something new. Call it FitKit. A little healthy competition for the affections of fitness-app developers will only help this sector thrive.
Photos by Owen Thomas for ReadWrite