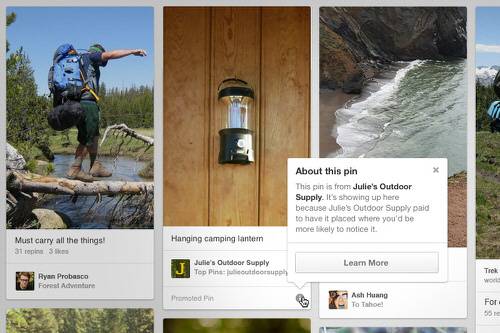 Nearly a month after Pinterest announced it would begin rolling out "tasteful" promoted pins, the feature is finally visible to users starting Wednesday.
As promised, the new pins are subtle enough to miss. In a screenshot a Pinterest spokesperson sent to ReadWrite, a pin promoting a camping lantern blends in with a group of rustic forest images from users the pinner is already following.
Below the pin, users can click on a small grey icon to learn more about the pin and why it is appearing. Clicking "Learn More," directs to CEO Ben Silbermann's blog announcement about the change.
See also: Pinterest's Second Attempt At Making Money Actually Sounds Smart
At this point in Pinterest's promotion experiment, advertisers are not paying for the opportunity. Pinterest developers are still testing the process before actually offering promotion as a service to potential advertisers.
Ads On The Visual Web
It's times like these that we remember our precious social networks aren't really free. Unless we're willing to cough up the cash to keep using them (I'm not), then we have to deal with advertising, that ever-present and necessary evil.
But while it's relatively easier to ignore text ads on the sides of our Facebook profiles and within our Twitter streams, images can be far tougher to miss. Ads on Pinterest, Instagram, Tumblr and other visual sites risk being more obtrusive.
In Pinterest's case, the gentlest way to do this appears to be with visual aesthetics. Pinterest has been called an anti-social social network because users are more likely to follow images and "things" they like instead of people they like. So, a user's Pinterest board will have a more consistent, curated set of images than a user's Facebook feed.
Because of this user behavior, Pinterest has had an especially difficult time making sure paying brands would stand out among a sea of products featured in free images. If not, there'd be no reason for advertisers to eventually give money to Pinterest.
See also: Pinterest Is Testing A New Look That Highlights Big Brands
Have you seen any promoted pins on your Pinterest dashboard yet? Look again: you just might have not noticed yet.