Giant science publisher Elsevier announced this week that it is developing what it calls The Article of the Future, a new method of leveraging the web's multi-media capabilities for presenting academic articles online. The company says it seeks to offer readers "individualized entry points and routes through the content, while using the latest advances in visualization techniques." It's got AJAX and it's got real-time web search.

Some parts of the available prototypes are interesting but opinion in the scientific community seems split. Is this ground-breaking stuff or yesterday's news repackaged by another industry threatened by the web? That depends on who you ask.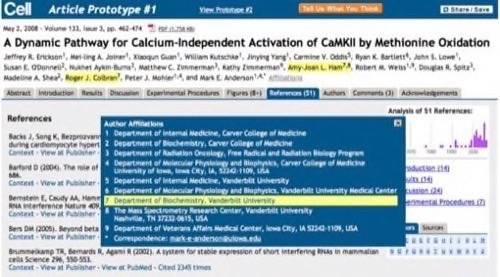 The proposed new format incorporates things as simple as bullet point summaries and playable audio interviews with a paper's author and as complex as click-navigable data visualizations and real-time citation analysis. Some of the AJAX implementations are quite smooth and useful looking. The full summary of proposed features is available on Elsevier subsidiary publisher Cell's site and the company is seeking public comment.
Blogs and websites are weighing in with different points of view. James Dacey writes at PhysicsWorld that "I reckon this is another key development in an interesting transitionary period for both the publishing and media sectors." Several commenters on this article on Canadian Law Library blog Slaw were far less generous.
Gary P. Rodrigues, a former LexisNexis publishing exec, had the following to say there:

There doesn't seem to be much in the way of the 'future' in the 'Article of the Future'. Rather, it seems to me to be a collection of everything that it is possible to do now, but for which there is no commercial demand. Reed Elsevier faces a major challenge to its dominant position in the market for scientific journals from the Open Access movement. It needs to do something major to meet that challenge. The prototypes just don't live up to the hype.
Indeed, the article prototypes are reminiscent of what in the tech world was being called the Social Media Press Release, an attempt to make press releases multi-media and filled with social media hooks that could make them more useful to journalists. That effort seems to have petered out as most people in relevant industries found the format more trouble than it was worth.
There is a possibility that The Article of the Future will suffer the same fate. Elsevier says that it hopes the new format will make consumption of scientific research more efficient and interdisciplinary. We suspect, though, that many people who are interested in reading a paper titled "A Dynamic Pathway for Calcium-Independent Activation of CaMKII by Methionine Oxidation," for example, would prefer to keep out the clutter and stick with a familiar, scannable, academic format. Some of the features proposed are undeniably useful, though, and could lead to change that's incremental, if not revolutionary.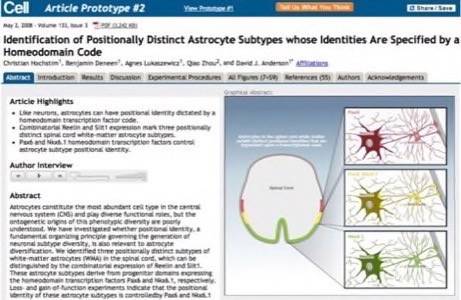 For a more in-depth look at other attempts to disrupt the scientific publishing industry, see Michael Nielsen's article on the topic, this Nature blog post about scientists' use of social networks and this profile of a new social network for scientists called MyExperiment.