Written by Steve O'Hear and edited by Richard
MacManus. This is the second in a two-part series.
In part one of
this series, e-learning
2.0 – how Web technologies are shaping education, I described the way in which
teachers and students are embracing web technologies such as blogging and podcasting.
Although not designed specifically for use in education, these tools are helping to make
e-learning far more personal, social, and flexible. Elgg,
in contrast, is social networking software designed especially for education – built from
the ground up to support learning.

In this article I review Elgg and interview the founders, Ben Werdmuller and Dave
Tosh.
What is Elgg?
Described by its founders as a 'learning landscape', Elgg provides each user with their own weblog, file
repository (with podcasting capabilities), an online profile and an RSS reader.
Additionally, all of a user's content can be tagged with keywords – so they can connect
with other users with similar interests and create their own personal learning network.
However, where Elgg differs from a regular weblog or a commercial social network (such as
MySpace) is the degree of control each user is given over who can access their
content. Each profile item, blog post, or uploaded file can be assigned its own access
restrictions – from fully public, to only readable by a particular group or individual.
[Ed: this is similar to the "smart" social
networks described by Ken Yarmosh in another R/WW post]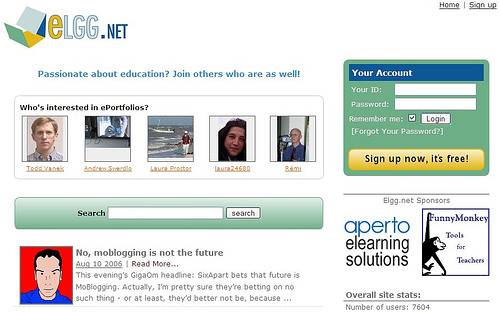 From a developer perspective, Elgg is built on LAMP and is open source – released
under the GPL. The software has its own plug-in architecture, and supports a number of
open standards including RSS (which is used throughout Elgg), LDAP for authentication
(soon to support OpenID), FOAF, and XML-RPC for integration with most third-party
blogging clients. The OpenID support is being developed as part of a project called Open Academic – which will allow a single login across
installations of Elgg, Moodle, Drupal and MediaWiki.
Interview with Elgg founders
I caught up with Elgg's founders, Technical Director Ben Werdmuller and Project
Manager Dave Tosh, to find out more about the project and what they
have planned for the future – including their company Curverider, which provides Elgg-related services.
Who is elgg aimed at, and what types of organizations are currently using the
software?
Dave: Elgg is aimed primarily at
education, although we are starting to see other sectors look at its potential. As
for organizations, users range from France Telecom R&D to the University of Brighton
to MIT.
How does elgg support learning, and what's different about the elgg approach
compared with a traditional Virtual Learning Environment (VLE)?
Dave: Elgg focuses on the learner and interactions whereas VLE's focus on the
course and content delivery. It's about providing an informal space that lets learners
exercise their own thoughts, reflections, make their own connections and be able to
compile a body of evidence that would normally slip through the cracks with the more
highly structured approach that a VLE offers. The creation of ad-hoc communities around
similar interests is what happens when you learn and discuss in real life, and Elgg
allows people to do this in the online space, whereas Virtual Learning Environments do
not.
How does elgg differ from other commercial social networks?
Dave: The main difference is that Elgg is not a centralized service. Whereas
most commercial networks are one space branded in one particular way, Elgg will allow
organizations to host their own systems customized to their specific requirements, but
still retain connectivity from site to site. We're trying to build a truly distributed
learning landscape which allows for locally-produced relevant content, with the wider
benefit of being able to make relevant connections across sites.
What are the various ways of using and accessing elgg?
Ben:
Because Elgg is open source anyone is free to install it on their own servers. However,
obviously you have to have a certain amount of technical knowledge to maintain your own
web server.

If you're just after a personal space for yourself, you can log onto our free service
Elgg.net, which is turning into quite a vibrant community of educators
and students alike. This should probably be your first port of call if you want to learn
more about what the system can do.
Finally, we're about to launch Elgg Spaces. Anyone
will be able to sign up and have their own distinct Elgg environment, visually tailored
to them, without any programming knowledge or need to maintain their own technical
infrastructure. You just sign up and it's ready to go, instantly. If you want to link
your Elgg Space up to other Elgg Spaces, through distributed search and OpenID, you can.
I'm actually pretty excited about this; I don't know of any services that allow you to
run your own social networking site, even outside of the e-learning sphere. [Ed: PeopleAggregator does this too, but I agree it is fairly rare currently] Elgg Spaces
is for the educational market, but there are more turnkey Elgg-based services in the
pipeline.
What is on the future road-map for elgg?
Dave: One of the exciting new developments will be a presentation tool that
will allow learners to capture the growth and development that can occur within these
informal spaces. Effectively this will present a whole new paradigm on how learning
environments can enhance and capture the rich learning that occurs within informal
settings.
We also have the new version 0.7, which will come with a customizable dashboard and
widget creator, as well as a revamped interface. Additionally there will be a vastly
improved admin panel to allow people a higher degree of control over their site through a
visual interface.
Ben: There will also be AJAX-based community real-time chat, internal messaging
and trackback functionality.
How is Deleting Online
Predators Act (DOPA) likely to impact elgg? and e-learning 2.0 in general.
Dave: We're getting a fair amount of interest in the K-12 sector, but because
Elgg can be installed on school infrastructure and be configured so that the wider world
can't get access to it, DOPA will not impact its use.
Ben: In the wider e-learning arena it may have implications – a lot of people
are using commercial services like Nuvvo (or more generalized ones like Flickr) in their
teaching. This would seem to be ruled out by DOPA; probably a good thing in the few cases
where people are actually setting up classrooms on Myspace and the like. This doesn't
mean we in any way approve of the Act; it's shortsighted, needlessly wide-ranging and I
think based on a half- understanding of the web as a medium.
Tell us more about Curverider. What's the business model for the company and how
does it fit in with the Open Source Elgg?
Ben:
Curverider Ltd is the company we initially set up to provide Elgg-related services. As
well as Elgg.net and the Elgg Spaces product described above, we also run a premium
support service for people running their own Elgg install, and will customize features
for larger installations. For example, we've been working on a heavily customized Elgg
installation for a forthcoming site run by MIT.

We're also launching a range of themed blogs that cover the subject areas we do
business in – The Internet is People is up
already, discussing the same sorts of issues that Read/WriteWeb covers – through a
human-orientated (as opposed to business or technical) lens. Edufilter will be up shortly and will announce and
review educational projects and products.
Summary
Well that wraps up my coverage of e-learning 2.0 for now – thanks to Ben and Dave for
their time – and Richard for giving me the opportunity to be a Read/WriteWeb guest
blogger.
———
Steve O'Hear is currently a fellow for the UK's
National Endowment for Science, Technology and the Arts (NESTA). He is also a freelance
journalist and technology consultant – and has recently completed his directorial debut,
a documentary titled In Search of the
Valley: a personal journey into the psyche of Silicon Valley.