Written by Steve O'Hear and edited by Richard
MacManus. This is a two-part series in which Steve will explore how Web technologies are
being used in education. In Part 2 he will profile Elgg, social network software for education, and interview
its founders.
Much has
been written on Read/WriteWeb (and elsewhere) about
the effect that web technologies are having on commerce, media, and business in general.
But outside of the 'edublogosphere', there's been little coverage of the impact it is
having on education. Teachers are starting to explore the potential of blogs,
media-sharing services and other social software – which, although not designed
specifically for e-learning, can be used to empower students and create exciting new
learning opportunities.
As I wrote in The
Guardian last year:
"Like the web itself, the early promise of e-learning – that of empowerment – has not
been fully realized. The experience of e-learning for many has been no more than a
hand-out published online, coupled with a simple multiple-choice quiz. Hardly inspiring,
let alone empowering. But by using these new web services, e-learning has the potential
to become far more personal, social and flexible."
The traditional approach to e-learning has been to employ the use of a Virtual
Learning Environment (VLE), software that is often cumbersome and expensive – and which
tends to be structured around courses, timetables, and testing. That is an approach that
is too often driven by the needs of the institution rather than the individual learner.
In contrast, e-learning
2.0 (as coined by Stephen Downes) takes a 'small
pieces, loosely joined' approach that combines the use of discrete but complementary tools and web services – such as blogs, wikis, and other social software – to support the creation of ad-hoc learning communities.
Blogging
Blogging is increasingly finding a home in education (both in school and university),
as not only does the software remove the technical barriers to writing and publishing
online – but the 'journal' format encourages students to keep a record of their thinking
over time. Blogs also of course facilitate critical feedback, by letting readers add
comments – which could be from teachers, peers or a wider audience.
Students use of blogs are far ranging. A single authored blog can be used to provide a
personal space online, to pose questions, publish work in progress, and link to and
comment on other web sources. However a blog needn't be limited to a single author – it
can mix different kinds of voices, including fellow students, teachers and mentors, or
subject specialists. Edu-blogging pioneer Will
Richardson (author of a book entitled
'Blogs, Wikis, Podcasts and Other Powerful Web Tools for Classrooms') used the blog
software Manila to enable his english
literature students to publish a readers
guide to the book The Secret Life
of Bees. Richardson asked the book's author, Sue Monk Kidd, if she would participate
by answering questions and commenting on what the students had written – to which she
agreed. The result was a truly democratic learning space.

From the Secret Life of Bees Study
Guide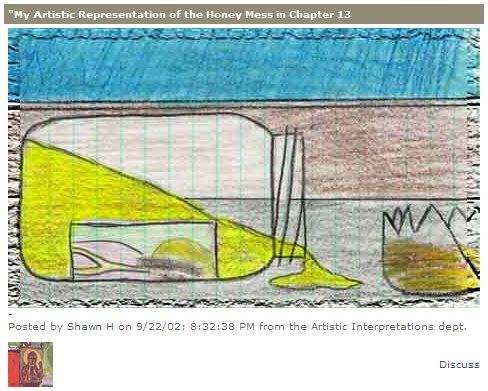 More edu-blogging examples
Under the guidance of Ewan McIntosh,
Musselburgh Grammar School in Scotland has, for the second year running, published a travel blog of the school's annual trip
to Paris and Normandy (using TypePad's hosted
blogging service). Additionally, the student council publishes a blog to keep the
school's community informed and involved on various issues. McIntosh has also pioneered
the use of Podcasting in education (more below), and last year, the school's MGS Podcast was short-listed for a New
Statesman New Media award.
School children in the UK are proof that you're never too young to start edu-blogging.
Inspired by their teacher John Mills, the seven year-old students at West Blatchington
School in Hove blog fanatically. The school
even holds blogging assemblies, as I found out when I had the privilege of meeting the
next generation of bloggers for
a film I presented last year for Teacher's TV.

Teacher's TV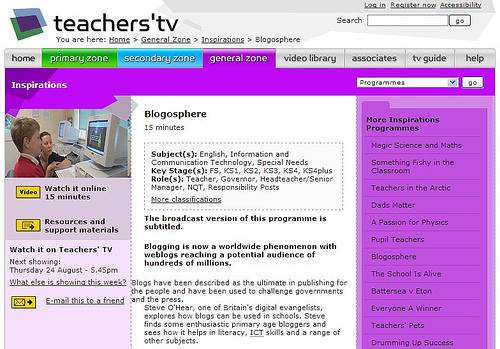 Teachers who are subject specialists are also using blogs to provide up-to-date
information and commentary on their subject areas, as well as posting questions and
assignments and linking to relevant news stories and websites. Media studies teacher Pete
Fraser runs one such blog (using Blogger) for his students at Long Road sixth-form
college, in Cambridge, UK.
Inevitably, educationalists are also using blogs to share their innovative use of web
2.0 in education – and, in turn, spread good practice. Prominent UK edu-bloggers that I'm
subscribed to (aside from those already mentioned) include Josie Fraser, Miles Berry, Peter Ford and Terry Freedman.
Podcasting
Podcasting has become a popular technology in education, in part because
it provides a way of pushing educational content to learners. For example, Stanford
University has teamed up with Apple to create the Stanford iTunes University – which provides a range
of digital content (some closed and some publicly accessible) that students can subscribe
to using Apple's iTunes software.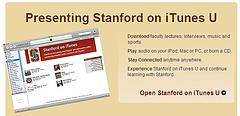 However, student-produced podcasts are where it's at when it comes to
educational podcasting. Swap 'user-generated content' for 'learner- generated content'
and you soon get the picture. Apple, with its strong presence in the education market,
has been quick to recognize the learning potential of student podcasting. Apple is heavily marketing its
iPod and associated content creation tools (iMovie, GarageBand, and iTunes) to the
education sector. The podcasting section of iTunes even has a category dedicated to
education.
For a great example of a student-produced podcast, check out the MGS Podcast which I wrote about for the
Guardian. As with blogging, podcasting provides students with a sense of audience –
and they are highly motivated to podcast because the skills required seem 'relevant' to
today's world.
Media sharing
The photo-sharing site Flickr is also finding use
within education – as it provides a valuable resource for students and educators looking
for images for use in presentations, learning materials or coursework. Many of the images
uploaded to Flickr carry a Creative Commons
license, making them particular suitable for educational use – and the tagging of
images makes it much easier to find relevant content.
Students can also use Flickr to publish their digital photography to a wider audience.
And like blogging, the commenting function on Flickr allows for critical feedback. A
lesser-known feature of Flickr – the ability to add hot-spot annotations to an image –
also has much potential as a learning tool. Beth Harris, director of distance learning at
the Fashion Institute of Technology, State University of New York, has used this feature
to enable her students to annotate and discuss a
series of paintings as part of an online art history course.

Annotating and discussing on Flickr
Pete Fraser (mentioned above) has been experimenting
with the use of video-sharing site YouTube with his
media studies students, as part of a course on new media. Rather than have students
prepare a traditional presentation, students were asked to produce a short video on a chosen
new media subject – examples included MySpace and the rise of the iPod. Videos were then
published onto YouTube, where they can be viewed and commented on by classmates and the
wider YouTube community.
DOPA and Social Networks
The educational potential of social software and services is huge. However, much of
the work being done by educators (of which I've barely scratched the surface) is in
danger of being undermined by the recently proposed Deleting Online
Predators Act (DOPA). This legislation attempts to address the moral panic over sites
like MySpace and the perceived 'dangers' they pose to children, by banning the use of
commercial social networking websites in US schools and libraries which receive federal
IT funding. A "commercial social networking website" is defined as any web service
that:
"…allows users to create web pages or profiles that provide information about
themselves and are available to other users; and offers a mechanism for communication
with other users, such as a forum, chat room, email, or instant messenger."
Summary
In part two, I'll be profiling Elgg – a social
network for education – as well as talking to the project's founders about their future
plans for Elgg and their thoughts on the impact DOPA might have (if passed) on the
emerging e-learning 2.0 space.
———
Steve O'Hear is currently a fellow for the UK's
National Endowment for Science, Technology and the Arts (NESTA). He is also a freelance
journalist and technology consultant – and has recently completed his directorial debut,
a documentary titled In Search of the
Valley: a personal journey into the psyche of Silicon Valley.
Photo at top of page: Leigh Blackall