Drone copters are starting to get smart enough to take on complex tasks with little input (see our review of the best drones).
The drone startup Matternet, for instance, will release its first product on March 30—a quadcopter capable of carrying a kilogram of cargo up to 20 kilometers (that's 2.2 pounds over 12.5 miles). The drone, which is a bit larger than the consumer variety, is capable of carrying out autonomous flights at the push of a button.
Using an associated app, you simply select a nearby drone and a destination. Matternet's software determines the best route and spots any obstacles, such as a no-fly zone around an airport. Then the drone takes off—no further input needed.
Matternet CEO Andreas Raptopoulos sees potential for the drone among on-demand delivery services like Instacart and Postmates, which could use them to quickly send off items to customers. But it could also be used to fly blood, or even a transplant organ, from one hospital to another.
The only thing stopping it currently are FAA rules forbidding drones to be operated out of sight of the pilot. That could change soon if the FAA decides to grant more relaxed guidelines for their operation. (Though that's very much in question right now.)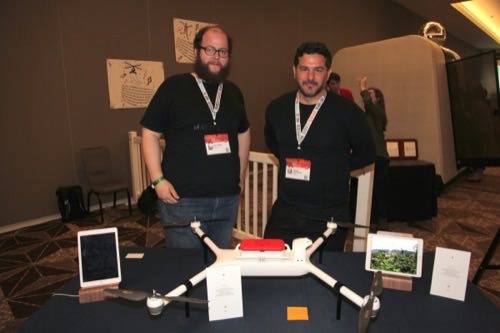 The Robots Are Coming! Hurray!
At a SXSW "robot petting zoo," Matternet's drone was joined by machines built to respond in the case of a disaster or to take on essential tasks that would otherwise require lots of manpower or expensive equipment.
AirRobot, a sleek, stripped down traditional drone (i.e., an unmanned aerial vehicle resembling a pilotless plane), has responded to 18 out of the 43 disasters at which robots have been utilized by responders. It can fly much lower than a helicopter, giving crews more precise intelligence. It's been used at train crashes and mudslides to provide live video feeds of disaster. Teams can use the feed to monitor the situation and plan their response.
Halodrop, another drone at the zoo, uses live streams to monitor major infrastructure for damage. Instead of a five person crew working for a week, it can check, say, an entire bridge in three hours.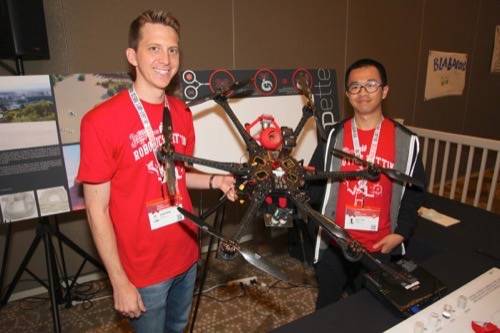 The most striking bot at the zoo was Muppette, the product of two architects who grew tired of the limited build area on their office's 3D printer. They began building a 3D printing drone in their spare time with an off-the-shelf drone and sensors. A tube snakes out from the drone's belly, where it can deposit a concrete mix to build a temporary shelter. In the case of a disaster, it could effect temporary repairs to roads or other essential infrastructure.
There's no doubt that drones are entering our lives. The question is whether the world will see only the bad, or welcome the good.
Lead photo courtesy of Matternet; other photos by Signe Brewster for ReadWrite