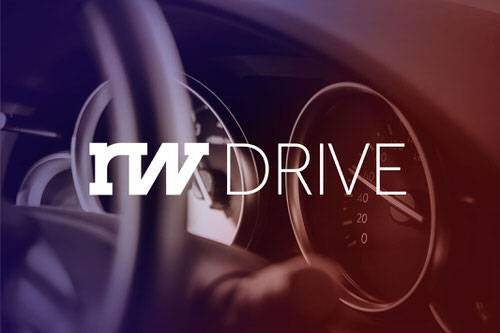 ReadWriteDrive is an ongoing series covering the future of transportation.
April is the national commemorative month for all kinds of things, including poetry, welding and soy foods. But it's also National Distracted Driving Awareness Month.
Unfortunately, the recognition of this month for distracted driving is a hallow gesture—just like the half-hearted attempts at developing apps that prevent cell phone use while driving.
After a week of trying to find an app that prevents me from all cell phone use from behind the wheel entirely, I've given up.
Don't get me wrong: I wholeheartedly believe that distracted driving is a menace. According to the National Highway Traffic Safety Administration, an estimated 421,000 people were injured in car crashes involving distracted driving in 2011—and the number has been steadily going up since then.
More than 3,000 people are killed in those accidents each year. And yet, society is willing to pay that price in exchange for keeping our phones operational inside the car.
Not Too Hard to Solve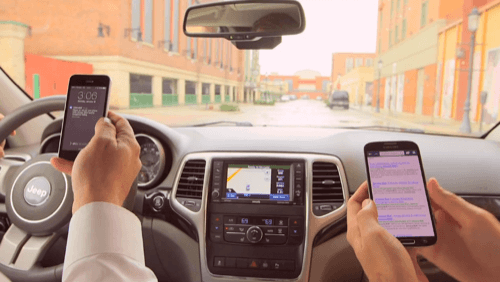 "The technology for sensing when a phone is moving is easy," said Jeff Haley, acting director of Distracted Driving Foundation, a small non-profit based in Bellevue, Washington. Haley also believes it's not hard to turn off the phone's ringer, disable texting, or disallow apps when traveling in a car.
"But if the driver can turn it off at anytime, it's merely a reminder to reduce temptation," he said.
According to Haley, few people are willing to buy and install phone-blocking technology. After all, how often do we pay for services that actually limit functionality?
Given the sorry state of distracted driving technology, you have to be extremely motivated to use these apps. The Distracted Driving Foundation lists about 25 apps on its website—there are a few more on Apple's App Store—but I couldn't find a single one that was easy to use. Most were either defunct, required onerous sign-up processes, asked for subscription plans, or simply didn't work as advertised.
Just look at the App Store ratings for the "STANDD – Stop Texting and Driving Distract" app (unfortunately, this was typical for most of distracted driving apps). There are only three reviews so far. One said, "Does Not Work." Another more emphatically read, "Does Not Work At All." And my favorite comment bluntly stated, "BS."
No Product, Because No Market Demand
Haley hit the nail on the head when he told me, "Developers don't have much incentive because people aren't spending money on these apps." That's why he's advocating for a government mandate to force all cell phone carriers to block usage when the phone is moving. But that would require technology that prohibits phone usage from behind the steering wheel, but doesn't affect the passengers. It gets even more complicated when you try to expand this concept to buses and trains.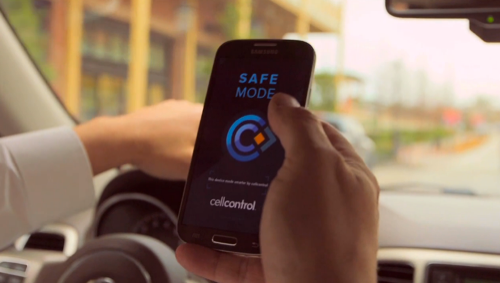 Cellcontrol, the most successful technology I've discovered, makes a noble attempt to differentiate drivers from passengers. A hardware device, roughly the size of a pack of cards, is mounted behind the rear view mirror (like those transponders one use for e-tolls on the highway). The device emits a high-frequency audio signal—beyond human hearing—that's picked up by the cell phone's microphone.
"We send a key-press to the phone that says, 'press the power button,'" said Joe Breaux, chief technology officer at CellControl. "We're turning the screen off, and then we turn it right back on to say we've locked the phone."
It's basically an Apple workaround. "Apple doesn't offer any public APIs that would allow blocking applications," said Breaux. (Android offers more visibility and access.)
I installed the Cellcontrol hardware in my car, and the iPhone app on my phone. It worked okay some of the time, but I found it too unpredictable. The zones were not entirely accurate, and the system had issues figuring out the phone's location, simply when I tried handing it off to a passenger. This might have to do with latency, a delay of sometimes four or five seconds, but it adds up to a user experience that was mediocre at best.
Human Bugs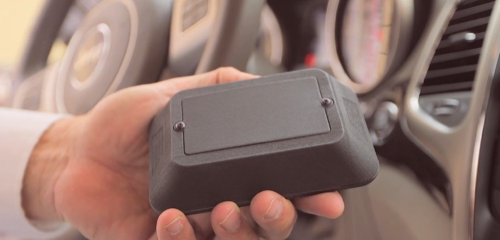 Breaux blamed Cellcontrol's shortcomings on the multiple versions, bugs and variations of different phone systems.
"It can't be 100%," he said. "It might be out for a split second and then it comes back to block a few seconds later. Ninety percent of the time you're phone is being blocked, and there's no inappropriate usage. And when you're in the passenger seat, 90% of the time you get most of the usage you expect. It beats doing nothing."
That's only partially true. I got so frustrated with its idiosyncrasies—and one of its bugs that prevented me from Bluetooth-based streaming music—that I simply deleted the app entirely. I re-installed it the next day to give another try, but within a day, I deleted the app again.
"The problem of distracted driving is created by technology, and it should be solved by technology," Haley said. The acting director of the Distracted Driving Foundation is trying to raise money for academic research into foolproof technology that Congress and/or insurance companies could fully support and implement. Without massive public support, however, that's going to be a tall order.
For now, I'm going to take a low-tech approach, by throwing my phone in the glove box while driving. But I'm doubtful that society, hooked on ubiquitous 24/7 connectivity, is going to accept any restrictions to digital access—regardless of the cost.
All photos courtesy of Cellcontrol