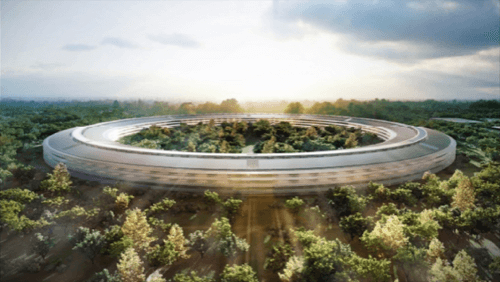 It's a mobile world now, and Apple wants to take it over. Every iPhone is a bigger hit than the last. And it's all glued together by iCloud. "The truth is in the cloud," Steve Jobs said at the iCloud introduction. iCloud's ubiquity is what makes Apple's post-PC world possible.
At least it would if it worked. And it doesn't. My iCloud account is so screwed up, not even Apple knows what to do. I doubt I'll ever trust it again.
My First Mac
I was a little kid when I got my hands on a Mac for the first time. It was a Power Macintosh 6100. It was the mid-'90s, a dark time for Apple. But for a kid exploring the possibilities of a computer for the first time, the pizza box Mac did everything I could dream of doing.
I've trusted Apple ever since. That company taught me how to use a computer. My limited capabilities on Android or Windows are all crudely ported from the classic Mac OS. Likewise, I made the leaps to OS X and iOS because of my grounding in System 7, Mac OS 8, and Mac OS 9.
It wasn't until lately that the trouble started. I started trying to sync all my devices together. It's a post-PC world, right? In our dreams. Cloud services are Apple's Achilles' heel. They always have been. It didn't matter so much before the iPhone/iPad Age, but now it's critical, and Apple still can't get it right.
Everybody's got a different problem. Some people report missing songs in iTunes Match. Others can't get their contacts to sync, or they get tons of duplicates. Apple's new Podcasts app will suddenly send you 100 unplayed podcasts from months ago. And as I've learned lately, even the document and data syncing that Apple touts to developers has crippling problems. iCloud doesn't work yet, and I don't know how Apple plans to create a post-PC world without it.
Mental Models
Apple has always sucked at syncing and Web services, and even Apple fans won't pretend otherwise. Before there was iCloud, there were three previous attempts at syncing data across devices. There was iTools in 2000, then .Mac in 2002, and finally MobileMe in 2008. It was all goofed up, and everybody knew it. Steve Jobs knew it. I never even tried to use Apple's cloud services until recently.
Since I started writing for a living, I've relied on Dropbox. It works just the way a born-and-bred Mac user expects the cloud to work. It's just a folder, only it's everywhere. It was a natural choice for iOS developers to build in Dropbox as the file system for apps like text editors, so the words I'd write on my phone would be waiting for me on my Mac when I got home.
But the more I used an iPhone, the more I grew used to the simplicity of its organization. Apple hid the file system from iOS users, so it just became a matter of finding the best app to do the job and getting used to it. Once I found those apps, I began to appreciate the freedom to let go of that mental image of which folders my files were nestled inside.
In July, Oliver Reichenstein wrote a blog post that opened my eyes. By allowing only one level of folders in iCloud document storage, Apple is trying to relieve users of that burdensome mental model everywhere. So I decided to try it. I switched on iCloud document storage for my writing app. Since I use the same app on all my devices, everything was always just there.
Your Account Is… Messed Up
Then one day, it just wasn't. Truth be told, I don't know what I did wrong. But somewhere along the line, just using iCloud normally, something broke down. The story I had written on my phone that day had disappeared. And it all went to hell. None of my iCloud apps would sync anymore.
And because I'm a Mac guy at heart, I knew where to look to see the scope of the problem. In 10.7, Apple started to hide the ~/Library folder, but the first thing I always do when I update my system is put it back. There's a folder called /Mobile Documents in there. It's the way to access your iCloud documents and data through the Mac's file system. And mine was completely garbled. Even the name of the folder had garbage characters all over it.
I had a problem.
I called Apple support, and they almost refused to help me. They claimed my problem was with third-party apps – you know, the ones they test and approve in the App Store – and they "don't support" those. I had to buy Pages, Apple's word processing app for iOS and Mac, while I was on the phone to demonstrate that this was iCloud's fault. And then support was just stumped.
I'm fortunate enough to have a friend at the Fruit Company, an engineer. He has his best people on the case. But all they can tell me is that my account is mysteriously messed up, and they're still trying to figure out exactly how.
Apple's problem is not that it's a control freak. The problem is that Apple doesn't have control. I hate to murder a cloud metaphor here, but iCloud is made of vapor. It's presented as one simple thing, but it's really a hodgepodge of technologies, some of which work better than others. Many third-party developers have already given up on iCloud. I couldn't use it even if I wanted to.
Out Of Control
As iOS has ascended to become Apple's main operating system, and as OS X has evolved to support it, the typical fear-mongering line has been that Apple is locking down the experience, taking away control, dumbing it down. Apple geeks have always loved to tinker, and the tech press has pushed the message that the freedom to do so is going away.
For years, when confronted by geek friends with this criticism, I've disputed it. If you don't like the constraints of iOS, you can jailbreak it. If you screw up your device, you can just restore it to factory settings. As for the Mac, there's nothing a little tinkering in the terminal can't fix.
Almost.
I used to know how a Mac worked. I don't anymore. I can't fix my problem. Apple can't even fix my problem. The greatest Apple geeks on Earth can't fix their iCloud problems. My trust is eroding.