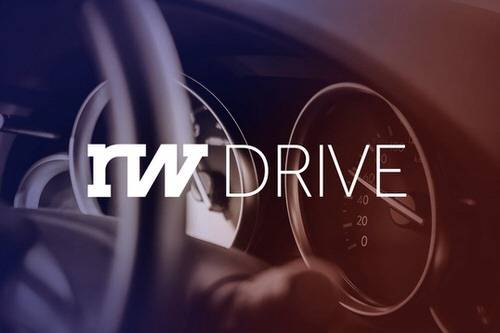 The first self-driving cars will hit the market in about 2017 or 2018. But that's not fast enough for Kyle Vogt, the chief executive and founder of Cruise Automation.
Last month, the company launched the industry's first after-market assisted-driving product—a $10,000 self-driving technology package that can be added to (2012 or newer) Audi A4 or S4 cars already on the road.
See also: Why Google's Driverless Car Is Evil
"By preempting a lot of the big players in this space, I hope it accelerates the timeline for adopting this technology," Vogt told me an interview last week. Cruise started accepting reservations for the first set of 50 Cruise units on June 23. Shipments are expected in 2015.
"There's an assumption that the only players in this space are Google and the carmakers," said Vogt. Yet, he said, there are about 20 or 30 research groups that have built impressive autonomous vehicles. "For whatever reason, nobody has tried to bring that to market. We're the first to do it."
Doug Newcomb, an independent car technology expert specializing in self-driving technologies, has doubts about the viability of small start-ups playing with the big boys. "Unless you're Google or a tech equivalent with automotive ties, I think it will be hard to jump into this space right now," he said.
Even if the technology works, the installation and service aspect of the business is challenging, according to Newcomb. For its initial run, the small Cruise team is doing installations individually by hand.
Driving Viral
Cruise's first product, dubbed RP-1, won't provide fully autonomous driving. Instead, it handles the relatively simpler challenge of automatically keeping the car in its lane and controlling acceleration and braking—as long as the car stays in its lane.
See also: The Internet Of Cars Draws Nigh
Use of Cruise will be limited to select California highways. The system's GPS geofencing determines which roads are kosher. "When we have confidence that we've seen every inch of a road—and know that our system can handle it and read the lane markings—then we will unlock that section of freeway, and enable it for use with Cruise," Vogt says. Cruise's first two test vehicles—and eventually by all its customers' vehicles—will gather data for mapping and safety validation.
Fifty vehicles is a modest pilot run. But Vogt believes Cruise could go viral—much like previous products that he helped develop. He's a co-founder of Twitch, the immensely popular Web video and game-streaming service, as well as Socialcam and Justin.tv.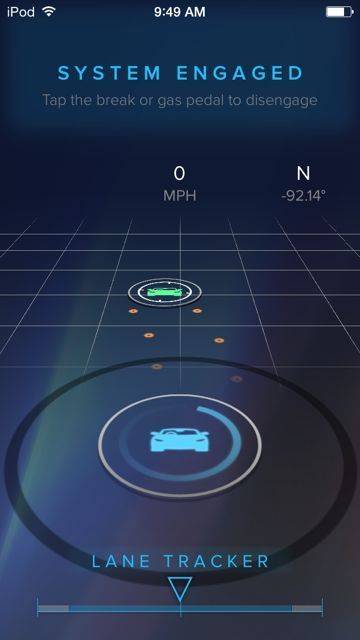 Autodesk acquired Socialcam in 2012 for $60 million. Vogt isn't talking about how Cruise is being funded. The San Francisco-based company currently has eight employees.
Prior to those start-ups, Vogt worked on autonomous vehicle technology while studying computer science and electrical engineering at MIT. He came away convinced that assisted driving doesn't need to be too expensive or complex for a small start-up. Cruise uses two cameras, radar, GPS, and other sensors—but not the expensive spinning lidar sensors deployed by Google, Nissan and other current developers of self-driving technology.
Smaller, Faster, Cheaper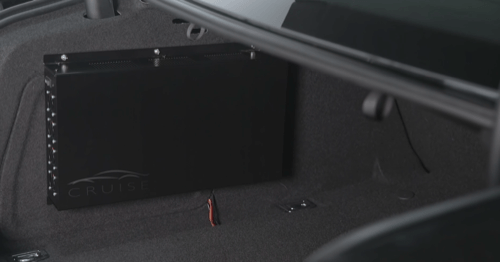 The world has changed a lot in the decade since Vogt worked on self-driving cars at MIT. "Back then, we had a rack of servers in the back of a pickup truck that used three kilowatts of power," he said. "Now, basically I'm getting the same computation ability from tiny chips in a small enclosure that fits inside your trunk."
According to Vogt, like Lidar, supercomputing and cloud computing are not required. "It's image processing and sensor fusion which are computational intensive, but not beyond the capability of standard consumer-class hardware."
See also: What Google's Driverless-Car Future Might Really Look Like
The system also doesn't rely on custom electronics or Audi-specific features. It's designed to be ported from one vehicle to another. RP-1 uses actuators, hidden in the driver's side footwell, to physically control steering, braking, and acceleration. Cruise started with Audi cars, because of the brand's youthful and edgy appeal to potential Cruise customers.
Vogt didn't seem concerned that an expensive aftermarket system—one in which requires an extraordinary amount of trust from its users—might have limited market potential. He's banking on growing demand for intelligent driving software.
There have been a number of small electric car start-ups—including AC Propulsion and Coda—whose consumer products didn't succeed. But they morphed into suppliers of propulsion and energy storage suppliers. Even much-ballyhooed Tesla Motors, best known as the maker of the Model S, has derived substantial revenue from selling its electric powertrain technology to Daimler and Toyota.
I asked Vogt if he was really focused on building the company around after-market product sales or if perhaps he had his sights set on becoming an automotive software supplier. "It's too soon to say for sure," he said. "We're keeping all those things open for now."