Future Simple's PipeJump is attempting to pry its way into the crowded CRM market space, and the latest enhancements to its PipeJump sales tracking app may prove to be the right moves. The service, which aims for the lower end customer, has been signing up 250 accounts per month and today released version 3.5 that encapsulate several features. The service has been available for several years.
PipeJump has a very neat and clean UI that is immediately obvious, something that Salesforce and other more complex CRM tools can't claim. The idea is to show the sales pipeline – from an incoming lead through the qualifications and quotation process until you finally book the business – as graphical as possible. Activities are literally moved along by dragging and dropping them from one classification to another. You can see an example below of the interface.


New features which have been added as of today include an email "dropbox," meaning each activity has its own email address. Emails sent to this address are added to the activity stream. There is an integrated Twitter feed and better tagging of activities, as befits a modern social application. But perhaps the most intriguing is its integration with Google Apps, so that as you are reading your email or viewing your Google Calendar you can insert items directly into the PipeJump activity streams.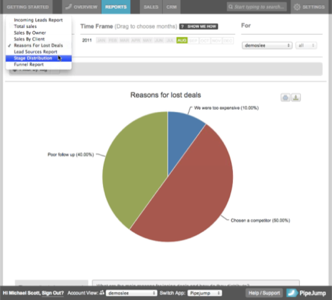 Pricing for PipeJump remains the same: ranging from $14 per month for one user up to $140 per month for 20 people and unlimited activities. Of course there are free 30-day trials. There are also ways to import 37signals' Highrise and Salesforce CRM contacts projects directly, to make it easier to convert things and get started.
Future enhancements planned by Future Simple include adding iOS and Android apps to the mix, to make it even easier to track and manage your sales pipeline.