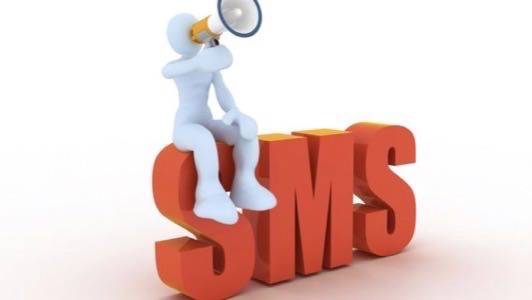 This week, the old standby for mobile communication, the text message, turned 20 years old. The very first SMS (which stands for Short Message Service) was sent from Neil Papworth of Sema Group from his computer to Richard Jarvis of Vodafone in the United Kingdom. It ready, simply, "Merry Christmas."
A merry Christmas it must have been. That text message was the harbinger of a revolution in communication that has redefined how people talk to each other. The old telecommunications standby, the phone call, has decreased in relevance since the rise of SMS and most young people these days prefer the text over a call. SMS was instrumental in the popularization of the Internet-based pidgin language as people across the world replaced numbers for words and truncated whole sentences to fit into 160-character messages. Love it or hate it, but the pervasiveness of SMS has forever ingrained "LOL," "OMG" and "4ever" into the English lexicon.
Yet, the question for SMS on its birthday week is simple: how long will it remain a relevant communications platform?
A Little Gray Hair, But Still Going Strong
According to research from Simmons National Consumer Study from Experian Marketing Services, 48% of adults aged 18-24 say that text messaging is just as meaningful as a phone call. The same study shows that 59% of cellphone-using adults text during any given week. The same study shows that 95% of people use cellphones to talk in a week. Only 8% of adults use their cellphones to instant message or chat.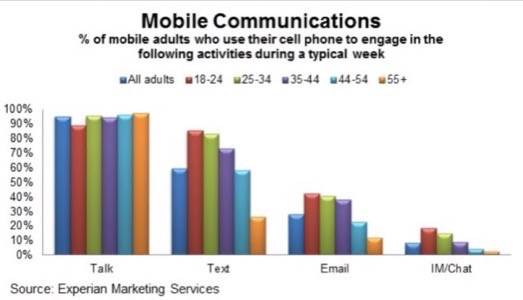 Those numbers tell us that the text message is not on the verge of collapse, but the elements that will lead to its demise are certainly available, and growing.
Text messaging is not going to "die" any time soon, like so many other woebegone technologies of yore. The SMS will live on people's smartphones for years, perhaps decades, in one shape or another. But the services that will replace it are already on users cellphones and will continue to grow in importance.
Smartphones Offer Texting Alternatives
The harbinger of the fall of the text is the smartphone. The following notion cannot be overstated: Smartphones are the equivalent of powerful computers that go wherever we do. As such, almost anything that can be done on a computer can now be done on a smartphone or a tablet. That means popular chat and instant messaging services that were once the domain of the PC are now available to anybody with a smartphone and a data connection.
Almost all of the major smartphone operating systems now have their own proprietary messaging services. For Android, that means Google Talk (also referred to as GChat, but Google does not actually call it that). For Apple's iOS that means iMessage. Microsoft has its Windows Live Messenger. Research In Motion has BlackBerry Messenger (BBM). These services are used by hundreds of millions of people across the globe. Several of these services integrate texting into a unified messaging system, such as the message service in Windows Phone 8 as well as iMessage.
Outside of platform-specific messaging systems, services like Skype or Facebook Messenger can work across any mobile device that has the app installed. In addition, there are many different enterprise-grade communication services from the likes of Citrix, Cisco and Fuze (among many others). Many of these also offer traditional unified communications (UC) features like voice and video calling, tele-presence and chat-based messaging.
Then there are cross-platform apps that can be used by any smartphone. One of the biggest is called WhatsApp, a popular service that offers cross-platform messaging on any device that has a data plan (see WhatsApp Denies Facebook Deal Rumor – But It Still Makes Sense). Pinger is a similar cross-messaging service. There are also apps that mimic old push-to-talk (PTT) walkie-talkie like services, such as Voxer, an app that allows you to leave a text or voice message to another user.
The fact of the matter is that traditional phone services like the call or the text are beginning to be pushed to the wayside as telephones become more like computers. That does not necessarily mean that texting is doomed, but it decreases its relevance and may eventually push it to the margin of mobile communications.
Facebook's Big Messenger Play
On Tuesday, Facebook announced an interesting move that could end up being a significant blow to the future of texting. The social network released a new Messenger app for Android that allows people to use Facebook's communication service without a Facebook account. All you need to do is download the Facebook Messenger app on Android, enter your phone number, and begin texting all of your mobile contacts. The new Messenger for Android will be able to communicate with any of your contacts, start group chats and share pictures. Eventually, Facebook Messenger will come to feature (non-smart) phones as well.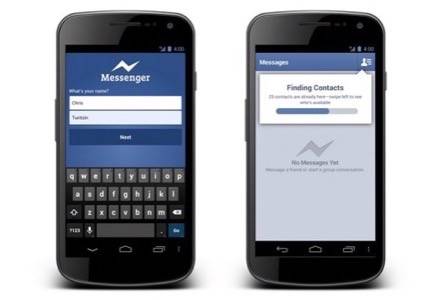 Facebook has 604 million monthly active mobile users as of Sept. 30, 2012. As we noted yesterday, the social network may have saturated its mobile user base in the United States, but it believes that it can still make a huge impact in the rest of the world, especially growing countries like India and in the Middle East. The release of Messenger without a Facebook account will go to India first before heading to other locations.
Marginalization Is Inevitable
In the end, texting may prove to be one of those types of technologies that never fully dies. As its name implies, it is fairly simple and works wherever there is a cellular connection around the world. As such, it has all the ingredients to be a backbone of communications infrastructure for a long time. In addition, companies like Twilio or Media Friends (through its HeyWire service) make SMS capabilities available to a plethora of businesses and apps that might require that type of communication capabilities.
In the long run though, texting is going to be replaced by the data plan on your smartphone. Oh, there will probably always be an SMS icon somewhere on your phone, but in the years and decades to come, it will become a relic of a bygone era, a reminder of the technology that helped spur this Mobile Revolution and change the very nature of communication.
But, as your smartphone becomes more like your computer and the proliferation of data services like "4G" LTE become ubiquitous, the texting will become a marginal feature. That is not a sad fate for SMS, but a byproduct of innovation and evolution.
Lead image courtesy Shutterstock.