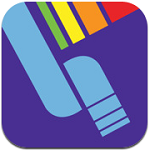 Apps like Plancast and Upcoming are great for finding out about big, pre-planned parties and networking events, but what about the impromptu afternoon game of beach volleyball or post-work happy hour?
Hurricane Party, a startup out of Austin, Texas, is launching just in time for SXSW and hopes that its iPhone app can fill this space and help users to "find, share and create a party on the fly."
We spoke with Hurricane Party CEO and co-founder Rene Pinnell, who explained that the name came from the idea of emergence. Emergence is when a complex system arises from a combination of simple parts and interactions. Pinnell said he was discussing the idea of emergence with co-founder Eric Katerman when the idea for the app came about.
"At some point in the conversation Eric said, 'You know, hurricanes are kind of like a party,'" said Pinnell. "You have friends, alcohol, and a place and they all just need to come together at the right time."
Thus was born Hurricane Party.
"Most people don't decide what they're going to do until they're almost out the door," explained Pinnell. "Most services aren't designed for that."
The app, available on the iPhone, helps to bring people together spontaneously by giving users a way to quickly ping their friends and invite them to meet up for any manner of events. Users quickly create a party, by choosing a location, time and friends to invite. Invites can be set to three privacy levels, from invite only to friends only to public, with the former two settings allowing you to broadcast the event on Facebook and Twitter. Invitees receive a push notification if they have the app installed, while those without the app or without a smartphone receive a text message invite. From there, both SMS and app users can find out more details, RSVP to the event, check in when they arrive and redeem Hurricane Party "specials".
Pinnell was quick to explain that this wasn't simply another "deals" app. Instead, Hurricane Party specials are just that – something special. For example, one pilot customer – a "purveyor of artisan sausage" in downtown Austin – will offer a specially paired coffee and bacon combination to Hurricane Party users. At this year's SXSW, Hurricane Party is going to be working with Ice Cream Man, a man who travels the world giving away ice cream. Every time Ice Cream Man stops, he will create a Hurricane Party for users to find and come get free ice cream.
Speaking of SXSW, Hurricane Party planned this week's release (as has every other startup on the face of the planet) to coincide with the festival. Some apps, however, are better suited than others for breaking out at SXSW and we can see Hurricane party being one of them. Over recent years, complaints have grown increasingly common over the size of SXSW Interactive. Hurricane Party, however, could give users a quick way quickly organize their friends when, once again, the Foursquare party is full beyond belief.
So before you head out to SXSW this year (and even if you aren't) give it a download and see if you can't turn your mundane afternoon into a Hurricane Party.