At Apple's Worldwide Developers Conference, executive Craig Federighi offered up tons of announcements about changes heading to iPhones and iPads with iOS 9—namely, smarter voice features and updates designed to improve the experience of making apps and using them.
See also: App Makers Now Have More Access To The Guts Of The Apple Watch
The new version of the company's mobile software enters the developer preview phase Monday, followed by the public beta stage in July and the official roll-out this fall. Here's what we can expect.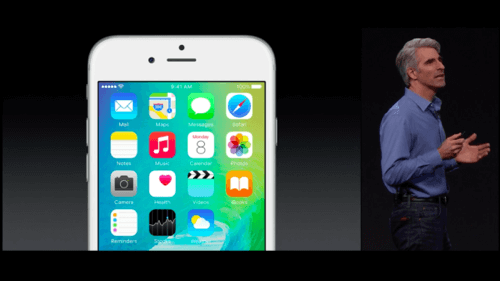 Siri Smartens Up
According to Federighi, Siri is getting a lot more intelligent. The well-coiffed exec showed off a demo of Apple's digital assistant understanding natural language, letting users speak in their own words to get meaningful responses. So if you're reading an email and ask your device to "remind me about this when I get home," Siri will know exactly what "this" is, and will set the reminder to ping you once you get to your place.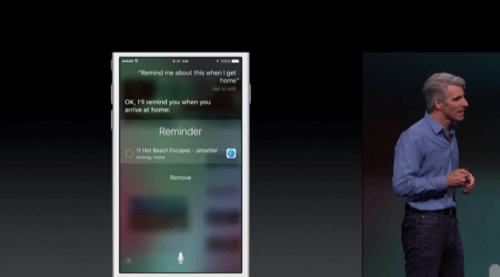 Siri is also going to be more "proactive": The feature can queue up audiobooks when you get into your car, give you reminders about when to leave for appointments based on traffic, and play music as soon as you plug in your headphones. Siri will also auto-add events you receive in your email to your calendar, and can search your emails for possible caller ID suggestions, when calls from an unknown number come in.
Android users will find some of these tricks familiar, since Google Now has offered many similar features. However, Google Now's predictive abilities have been rather hit or miss. Apple clearly thinks it can do perform better, but the real proof will come this fall, when the public gets to put the new and supposedly improved Siri through its paces.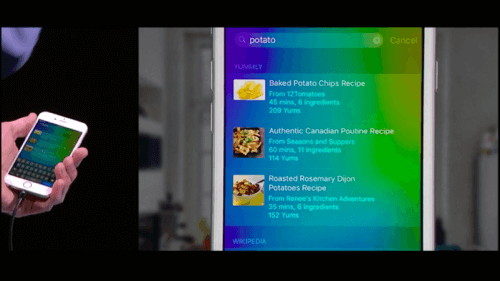 And Apple's search API and deep linking features round out how much smarter iOS 9 will be overall. With Siri and more comprehensive Spotlight searches, users will be able to speak or type search terms to uncover results from the Web, from Apple's services or deep within supporting third-party apps.
See Also: Apple's iOS 9 Search API Is Huge For App Developers
New Apple Pay Powers
The tap-to-pay feature that iPhoners love to use, Apple Pay, is also getting a bit fancier.
Jennifer Bailey, one of two female executives Apple put on stage Monday, explained more stores new stores will start accepting Apple Pay. To help speed the initiative further, the company joined forces with Square to produce a new Apple Pay-supporting Square reader. The hardware unit—which will come equipped with the Near Field Communication short-range wireless technology that enables the tap-to-pay action—could make it easier for a broad range of brick-and-mortar retailers to join the Apple Pay fold. Square will shell out initially for 250,000 free readers, but the later cost—at $49—still comes in at a mom-and-pop shop-friendly price tag, as does the 2.75% transaction fee.
Apple Pay will also support the purchase of goods via Pinterest's forthcoming buyable pins and the transmogrification of Apple's Passbook app into a new app called Wallet.
Notes, Maps, News, and Swift
Apple is taking on other companies' services in a few other areas, too, imitating Google's Keep app with Notes, making improvements to its Maps app, and rendering Flipboard useless via a redesigned News app, which seems to replace the old Newsstand app.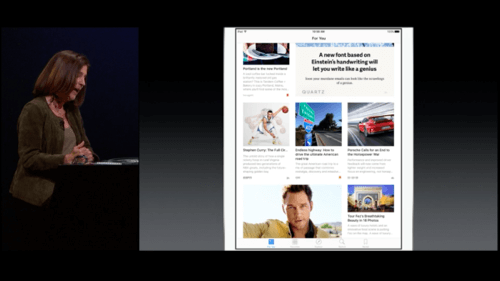 Notes has a new checklist feature, and can support sketches and drawings, giving a new way for users to keep track of their thoughts and ideas. Meanwhile, the Maps app finally offers public transit directions. Previously, the app kicked users out to other third-party apps for bus and train navigation. Now, Maps will directly support transit features, including "multi-modal routing," so users can select different forms of public transportation, when necessary.
As for News—stop me if you've heard this one—users will choose publications and topics, and the new app will form a list based on those selections.
These changes amount to more robust features for Apple's homegrown apps, but third-party developers haven't been left out of the loop. In fact, Apple just open-sourced the second version of its Swift programming language, giving outside app makers access to all of Swift 2's inner workings and the opportunity to participate in its evolution. They'll also get a suite of improved development and testing tools, to make app creation better and faster: Developers can use Swift 2 to make apps for Mac OS X as well, or use the new Linux versions of the software tools, which won't require the use of an Apple gadget just to make apps for Apple's platforms.
The iPad Is A Computer Now
The QuickType keyboard has an amazing improvement that turns your iPad into a trackpad. By using a two-finger gesture on the virtual keyboard, users will be able to bring up a cursor for easier selection on-screen. It's a brilliant tweak that'll make the iPad much more friendly for productivity.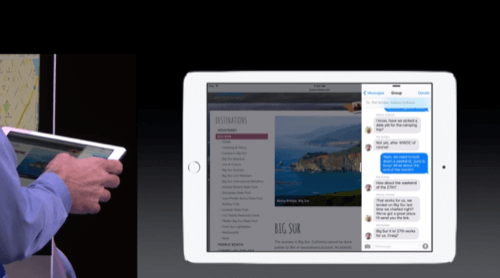 After being rumored for over a year, split-screen multitasking has finally come to the iPad—though, not every iPad, unfortunately. Federighi showed off two new multitasking features that join the app switcher that has lived on iPads for a while. Slide Over allows users to swipe in from the side and open a second app, while the first app goes dark in the background. That feature's coming to all iPads that can run iOS 9. It's a welcome addition to make the iPad much more useable, at least for those devices that can run it.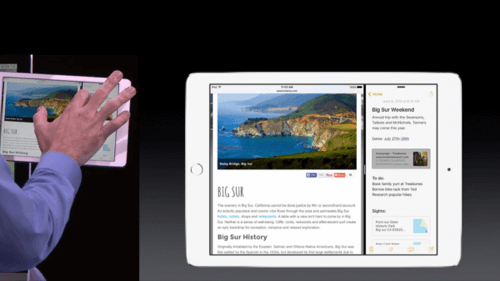 Split View might be even better. The feature allows two apps to remain open on the screen at the same time. It looks a whole lot like Microsoft's Snap feature, which has been a staple of PCs since Windows 7 (as well as Samsung and LG's same screen multitasking on some of their Android handsets). Unfortunately, Apple is only bringing Split View to the iPad Air 2.
One More Thing…
This year, Tim Cook's "One more thing"—the catch phrase predecessor Steve Jobs was known for—didn't relate to a new hardware announcement. Rumors ran high at one point that Apple would introduce a new, revamped Apple TV, but last-minute reports nixed that notion. Instead, Cook gave us Apple Music.
The company's new music streaming service seems to take a lot of old ideas and mix in a few new ones. Think of it as a cross between Spotify, Twitter, YouTube, and Rdio, all in one app.
For starters, Apple Music will pick up where the old Beats Music left off, creating individualized playlists created by human beings. But that also smacks of the Google-owned Songza service. Both offer playlists based on genre and activity, though Apple Music benefits from the wider breadth of its music catalogue. A new Connect feature will let users follow their favorite artists and check out behind-the-scenes content about the music creation or touring process.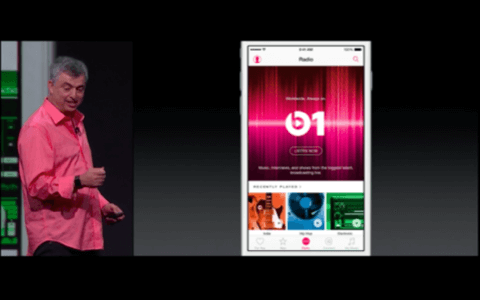 Finally, Beats One is a 24/7 music streaming service that broadcasts out of New York, Los Angeles, and London, presumably with exclusive content. All of this can be yours for $10 a month, or $15 for a six-person family subscription. The first three months of the service will cost nothing when it launches on June 30 on iOS devices. Somewhat surprisingly, it will hit Windows and Android in fall 2015.
Speaking personally, as far as "one more things" go, Apple Music was a bit underwhelming, considering that the features have been available in one form or another elsewhere. The key, of course, will be Apple's deals. For instance, when Beyoncé released a new album exclusively on iTunes in late 2013, it showed how the iPhone maker could generate new, exciting interest in its music platform.
Features can only do so much to draw in users; ultimately, it's the catalog that matters. Apple's library is vast, as is its reach. If it tempts popular artists to offer exclusive content that can't be found anywhere else, Apple Music could be a smash. (In that regard, Jimmy Iovine could be pivotal.) If not, it might as well get in line behind Samsung's Milk Music on the growing list of music streaming services no one cares much about.
Screenshots by Brian P. Rubin, Richard Procter, Adriana Lee, and Owen Thomas for ReadWrite