You can learn a lot about the Apple Watch … by digging into Android smartphone data.
Specifically, App Annie's latest report—Insights Into App Engagement: Q1 2015—How (And How Much) Users Use Their Apps—offers insight into how Android owners use their phones. With most usage tied up in communication and social apps, two categories perfectly positioned for the Apple Watch, the future for the Apple Watch looks more like that of the iPhone, not the iPad.
Namely, that is, a big deal now—but an even bigger deal in the future.
How We Use Our Phones
We may not call each other much anymore (voice has been in decline for years), but that doesn't mean we're not social. We're constantly chatting with others, as App Annie's report of Android smartphone usage shows. We just don't talk to people that happen to be in the same room with us, and we tend to talk in text.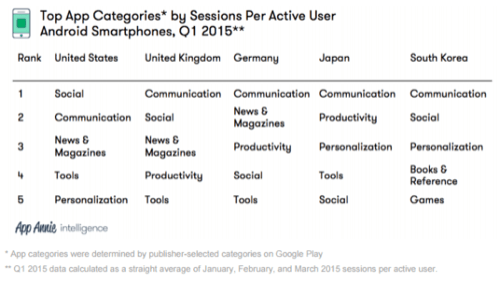 This predilection for communications and social apps isn't just an American thing, either: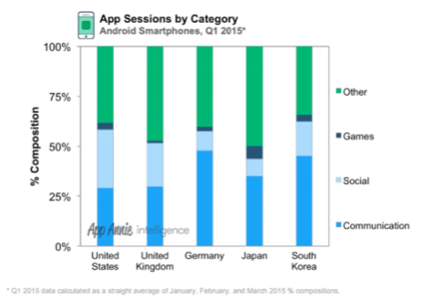 And though there are regional preferences for particular apps, Facebook and WhatsApp tend to dominate: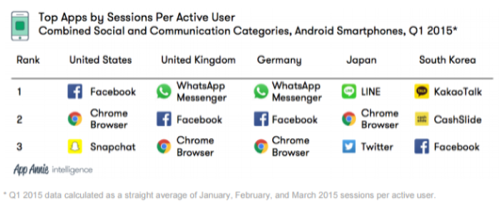 All of which should be making Apple feel pretty comfortable with its watch.
Built For Social Communication
The Apple Watch, after all, can be the perfect communications device. But maybe not in the way we normally think of communication. (And, I suspect, not in the somewhat cheesy ways Apple suggests we will use its Watch, like sending heartbeats.)
For instance, I suspect we're veering toward a world of even shorter-form chatter. On the desktop we moved from letters to the more informal (and, hopefully, abbreviated) email, which in turn gave way to 160-character (and even more informal, LOL!) text messaging.
Typing on the Apple Watch is not great. But it's also not really what the Watch was designed for. Sure, you can do it, just as I can write this post on my iPhone. But my iPhone is far better suited to checking interest in my post on Twitter and responding there, and the watch is even better for quick feedback on our digital lives.
In other words, it's not really for "authoring" texts or other messages; it's more for receiving feedback and then giving some of our own.
Some (like my wife) will point to Siri as a way to send longer-form text-based messages, but I can't see us all blathering away to our wrists. It's noisy, anti-social, and not really the point.
That point isn't necessarily to author on the Watch. Most of us don't actually do that anywhere, including when we have a laptop sitting nearby. We're lurkers and tend to read what others write, and look for signals of approval (likes, favorites, retweets, etc.).
As Drupal founder and Web visionary Dries Buytaert has argued, this is what the future looks like:
The current Web is "pull-based," meaning we visit websites or download mobile applications. The future of the Web is "push-based," meaning the Web will be coming to us. In the next 10 years, we will witness a transformation from a pull-based Web to a push-based Web. When this "Big Reverse" is complete, the Web will disappear into the background much like our electricity or water supply.
Think notifications, not apps. Which is exactly what the Apple Watch does well, and will soon do better.
Build For The Watch
Despite Apple Watch's natural fit for a communicative world, app developers have been struggling to build apps that fit into its paradigm: long on notifications and glanceable moments and short on iPhone-lite experiences.
This should perhaps be obvious but, as ReadWrite's David Nield highlights, developers have found it "tricky to build the first wave of apps for the Apple Watch."
The reason, as Instapaper and Tumblr developer Marco Arment learned through hard experience, is that Apple Watch developers want to port their iPhone and Android apps to the Watch, just as many first tried porting their websites to smartphone apps a few years ago.
It doesn't work.
Arment writes: "It's unwise and futile to try to shove iPhone interfaces and paradigms into the Apple Watch. Instead, design for what the Watch really is."
Having spent some time with the Apple Watch, it's clear that some developers grok this. The Uber experience for Apple Watch, for example, feels like it was born there. Other apps, like Twitter, don't, simultaneously giving too much and too little information.
As developers figure out how to build for the Watch (rather than merely optimizing a smartphone experience for it), the Apple Watch will move from "so-so luxury" to "must-have companion." We're still a ways from that point, but given our urge to communicate, and the Apple Watch's ability to streamline our communications, the odds are very good that it will become an enduring hit like the iPhone, not a fading fad like the iPad.
Lead image courtesy of Apple