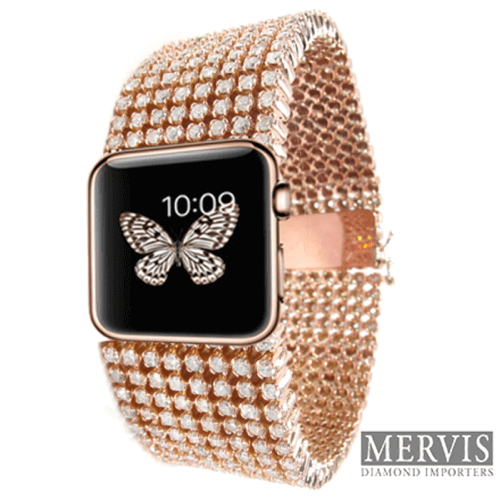 If you thought $5,000 was too much for a luxury Apple Watch, then this show of excess really ought to smack your gob: Mervis Diamond Importers just opened pre-orders for its diamond-flanked Apple wrist gizmo for upwards of $30,000, CNET reports.
Mervis, which offered a $20,000 iPad in 2010, tricked out Apple's wearable with 18-karat rose gold and eight rows of top-grade diamonds. The result looks something like several diamond tennis bracelets tied together to form a wristband, judging by the mock-up the business posted on its Facebook page last week.
See also: The Apple Watch Will Cost How Much?!
Technologically, there's no difference between the $349 base model Apple Watch and this opulent version. The value lies in the band's hundreds of stones, which collectively total more than 15 carats and individually boast high grades of E/F in color and VS1/VS2 in clarity.
As for the metal, if rose-gold doesn't match the other baubles on your bling-festooned self, take heart: Mervis can cast the watch in white gold or platinum as well. Hopefully it will do a better job crafting the product than it did with the mock-up above, which seems to smush the Apple Watch into a shorter casing.
Speaking of the setting, it's not evident whether the device can pop out, so that an Apple Watch 2 can one day take its place. That seems rather important, considering the Mervis watch's price tag exceeds mortgage down payments in many parts of the country.
But if you have the funds, then the only other thing you'll need is patience: The Mervis custom luxury edition of the Apple Watch won't ship until at least June 2015.
Photo courtesy of Mervis Diamond Importers