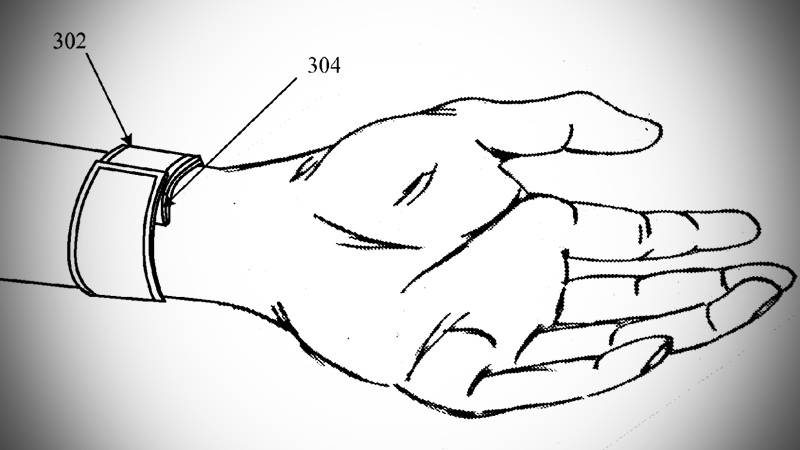 Apple is working on a smart watch. Any lingering doubts about that notion took a further hit yesterday when a patent filing for such a device surfaced, adding more fuel to an already frenzied fire of speculation.
According to the filing, Apple has conceived a watch-like device with a flexible, touchscreen display and the ability to connect to other devices (like your iPhone) via a wireless protocol, probably Bluetooth 4. There's been plenty of unsourced speculation about what the so-called iWatch would do. In the patent, Apple chimes in and specifically mentions reviewing recent calls, editing playlists, receiving text messages and using maps. Other details in the filing point to the use of solar and kinetic energy to help power the watch, which will undoubtedly require far more energy than your old Casio calculator watch.
See the drawings from Apple's patent filing below.
The patent filing describes a "wearable video device" that functions just like the slap bracelets that were popular among kids in the early 1990s:
In a first equilibrium position they can be flat. The second equilibrium is typically reached by slapping the flat embodiment across the wrist, at which point the bracelet curls around the wrist and stays relatively secure in a roughly circular position.
The History of the iWatch Rumor The patent is just the latest evidence that Cupertino plans to move into wearable computing via our wrists, rather than starting with something more intrusive like glasses, as Google is doing. The Apple watch rumor first started coming together last August when a report surfaced pointing to a possible Bluetooth 4 link between the iPhone 5 and a future generation iPod Nano. The watch connection was a bit of a stretch, but visions of a Dick Tracey-esque future got people excited nonetheless.
The whole thing really started firming up a few weeks ago, when Nick Bilton wrote that "Apple is experimenting with wristwatch-like devices make of curved glass" that runs iOS. Citing multiple anonymous sources, Bilton said that Apple is actively testing a device that doesn't sound all that different from what this patent describes.
Of course, companies like Apple have patents filed for all kinds of things, many of which never see the light of day. But a move toward wearable computing clearly makes sense, especially as one of Apple's chief competitors in the mobile space is very publicly planning to launch its own futuristic accessory next year.
Between Bilton's reporting and the details in the patent filing, it seems highly likely that a smart watch is on the horizon for Apple. As for exactly when such a product will drop, that's anybody guess. But expect the Apple rumor mill to keep churning on this one.
Here are a few figures from Apple's patent filing: