On stage at WWDC, Apple's Craig Federighi announced new developer tools to give app makers deeper search powers in iOS 9.
The new search API (application programming interface) will offer developers deep linking, and their users will be able to more easily conjure search results from within third-party apps with a single tap.
Federighi explained:
We now have an API for search. So now when a user performs a search, we can find content behind the apps they have installed on the device, and pull those up in results. And when they tap, they're deep linked directly into the application. We even provide a convenient back link so they can get right back to their search results. We think these kinds of intelligence features really make a huge difference in your experience in iOS.
The search API is a major move for developers. Now, when users enter terms into their iPhones or iPads, supporting apps will be able to return relevant results. In short, that takes the burden off of users to figure out what the best app might be to find what they're looking for. Now, iOS 9 and Siri will do the heavy lifting there.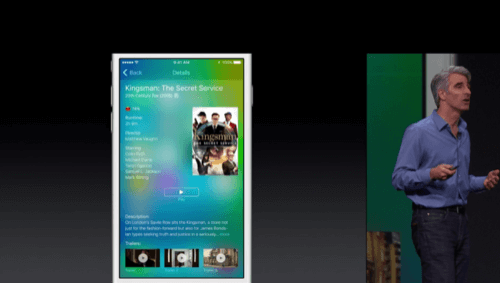 Even better, the new deep linking feature will allow users to stay focused on the task at hand. They won't have to abandon their search to open up separate apps to access the content they're looking for. The deep link feature will bring them right to the correct apps and content, and the integrated "back" feature brings them back to their searches so they can stay focused on what they're looking for.
Screenshots by Brian P. Rubin for ReadWrite