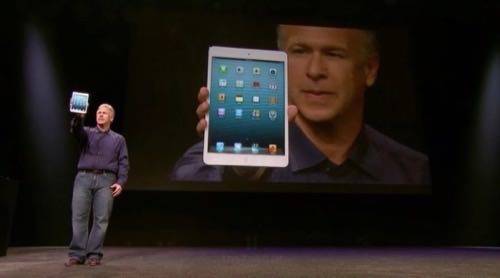 Today at an event held in San Jose's California Theater, Apple gave an audience of rabid tech news hounds what we've all been waiting for: the iPad mini. Long rumored, the iPad mini will join its big brother, the 9.7″ entity still somewhat amibiguously known as the new iPad, released earlier this year.
The new iPad mini weighs .68 lb. and is a sliver-thin 7.2mm with a 7.9″ screen. It features a 1024 x 768 resolution – same as the iPad 2. That means iPad apps are already optimized for the new screen size. The device comes in "black and slate" and "white and silver" models (what we like to think is a choice between good and evil). The iPad mini hums along on the same A5 processor that debuted with the iPad 2, with a FaceTime 1.2MP front-facing camera and a 5MP f/2.4 camera in the back.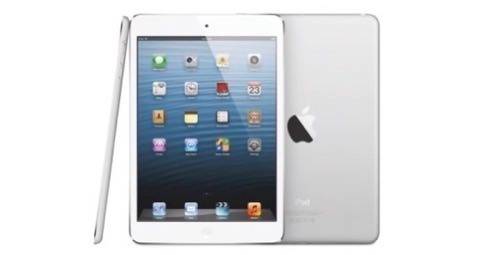 The iPad mini equipped for Wi-Fi only will start at $329 for 16GB of storage, and from there it's $429 for 32GB and $529 for 64GB. If you want a little more connectivity on your tiny iPad, you'll be shelling out at least $459 for a 16GB 3G version, and $559 and $659 for 32GB and 64GB, respectively. That compares with 7-inch Amazon Kindle Fires and Google Nexus 7s starting at less than $200.
The new iPad mini boasts a metal case and taller, wider screen than its competitors, in a thinner, lighter package. But prior to the announcement, the most relevant speculation revolved around Apple's smaller tablet's price point – increasingly the most relevant detail as companies like Amazon and Google take any measures necessary to keep pricing down on the new wave of smaller, more affordable slates. And Apple was not willing or able to match those prices – positioning itself as Mercedes to Google/Amazon's Toyota/Honda.
In spite of Steve Jobs's best wishes, Apple will now be competing in the tablet market with a one-handed iPad – but it's doing so under duress. With products like the Kindle Fire and Nexus 7 aggressively carving out the 7-inch tablet space at much lower prices, Apple is actually playing catch up for once.