After Andy Baio co-founded and sold social events listing site Upcoming.org to Yahoo! he could have spent the rest of his days doing whatever he wanted. He spent a year and a half writing, but this month he decided to join another startup (Kickstarter.com), because he loves building social software.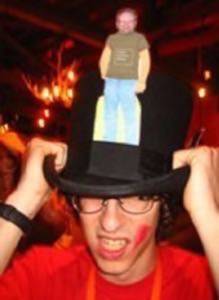 Baio is a thinker, a hacker of big social patterns and an admirer of the collective intelligence that emerges from groups of people acting independently on the web. We sat down with him this week and discussed some of his ideas about what makes good social software grow.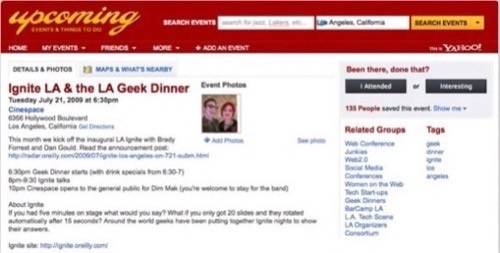 In addition to Upcoming, Baio is also well known for his quirky, smart writing and link sharing at Waxy.org. His best known works there include tracking piracy data for Oscar nominated films for the past six years, the first published interview with an Italian factory worker who mysteriously produced the most-viewed video of all 2008 on YouTube and a number of fascinating experiments with Amazon's Mechanical Turk system, including one titled The Faces of Mechanical Turk – he payed Turk workers a small sum to post their pictures with a sign saying why they participated.
After years of experience, observation and thought, here are a few pearls of wisdom Andy offered us about how to build compelling social software. You can also follow Baio on Twitter @waxpancake.
Build to Existing Social Connections
The company Baio has joined is called Kickstarter. It's a service that lets people fund small projects by collecting "all or nothing" pledges from people around web – if a project's financial goal is met by its deadline then the money is collected, but if the goal isn't met then no one's contribution is withdrawn. The site will open to the public at the end of August, but one principle that he's had underlined by his experience with beta testers and from his time at Upcoming is this: you can't just post a request for funds or an events listing up on the web and expect strangers to stumble upon it and give it support. In both cases, these sites provided infrastructure that allowed users to reach out through their own established networks and say "here's where we're processing your show of support."
It's like social middle-ware, these kinds of services are neither inherently viral nor really destination sites where people come to browse. They add value in ways that people can't easily produce themselves – RSVP lists, maps, etc in the case of Upcoming or time-delayed money processing in the case of Kickstarter – and thus give users an incentive to reach out and ask friends to visit their pages on the sites.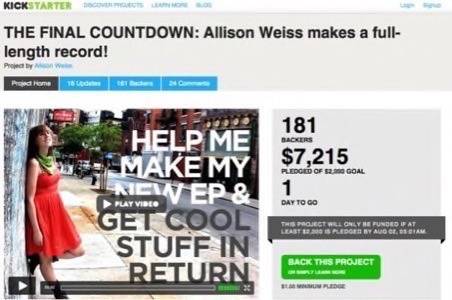 Social Goals Are Front and Back End Heavy
Kickstarter's early beta tests mirror what Baio saw at Upcoming when it comes to distribution of social input. It tends to come in the most at the very beginning and at the very end. At first, project initiators are enthusiastic and do a lot of promotion. Then, if they later get close to their goals then they do a final push to promote their project. That's especially true with Kickstarter, where 90% of a fund raising goal is as good as nothing at all – users will lose all the support they've gained unless they put out another push to pass 100%
Baio says that he's looked at the numbers and found that the two biggest factors in project success at Kickstarter appear to be offering rewards if the goal is met and sending out regular updates to supporters of a project.
The Kickstarter crew isn't creating content themselves, they are creating software for other people to create content. "One thing I found out over the last year," Baio told us, "is that writing doesn't scale. When you code, it takes on a life of its own. I ignored Upcoming for a year after my son was born and it kept growing. I did not write a line of code in a year and it got more popular."
That too seems intuitive, but building software in a way that makes it easy to offer rewards, prompts people to send out regular updates and helps them create good content for themselves on your site could be the difference between a good idea and a successful one. That's true for both the particular projects on Kickstarter and the site itself.
Games Are Good – But Make Sure Users' Goals Align With the Site's
Baio is a big fan of games. He likes iPhone games (his favorites include ZenBound, Eliss and Edge), he likes retro 8-bit style games and he likes the prospect of bringing game-like elements into non-gaming environments.
As a part of that thinking, Baio believes it's important to make sure that users' interests on a site align with the interests of the site itself. On Kickstarter, "success depends," he says, "on your ability to promote your work." And thus to promote the site as well.
The risk here is that a game-like system of rewards can change the way people behave in ways that aren't helpful. "Yahoo Answers, for example," Andy says, "got the point system totally wrong. They tuned it for traffic instead of for quality. People get points for offering any answer at all to questions, so you've got all these people just entering one word answers to loads of questions so they can climb the leader board."
Successful examples? Baio pointed to the UK Guardian's MP Expenses experiment, where readers are crowdsourcing analysis of hundreds of thousands of expense reports filed by members of Parliament and finding some pretty funny claims. That's similar to the Sunlight Foundation's Transparency Corps. (Check out that project's latest – a crowdsourced national directory of state-level elected officials on Twitter – cool!)
In systems like that, and especially in Baio's much-studied favorite Mechanical Turk, users "have full control over their choice of tasks. They turn work into a little bit of play."
Build to existing social connections, maintain engagement during the quiet spells in the middle of goal pursuit and make it like a game – but be careful how people play. That's some of Andy Baio's advice. You can begin to see it in action at Kickstarter.com. That site's full functionality will open to the public at the end of August.
Top photo by Jeremy Keith on Flickr.