A whole lot of "whoa" went into Amazon's new Fire Phone. Its Firefly feature lets you look at anything, anywhere, and instantly buy it. Dynamic Perspective takes movement related gesture control to a degree not yet seen in smartphones. Mayday brings next generation customer service. The Fire Phone is packed full of features and hardware, tied with a neat little Amazon bow.
Yet Amazon made a huge mistake with the Fire Phone: It agreed to cooperate with the cellular carriers. Amazon likely had no choice in the matter. But it's still going to pay for it.
The Amazon Fire Phone will be exclusive to AT&T for $199 on a two-year contract (or available with a payment plan through AT&T Next). The 32GB version of the Fire Phone will be $649 without a contract. Amazon makes one concession to price, giving people that buy the phone its Amazon Prime service free for one year (existing Prime subscribers will get an additional free year of service).
See also: Amazon Launches Fire Phone, Glutted With Clever Bells And Whistles
Absolutely nothing about the pricing and availability of the Fire Phone is unique. And that is profoundly disappointing coming from a company that makes it a habit to break other company's business models and run them into the ground.
Amazon just took all the good will that it built with the truly unique and interesting features that it built into the Fire Phone and threw it all away by adhering to the standard smartphone pricing scheme that all other premium smartphones use. The Apple iPhone is available for $199 on a two-year contract. So is the Samsung Galaxy S5, the HTC One M8 and so forth.
See also: A Free Smartphone Would Mean Selling Your Soul To Amazon
One big hope for the Amazon smartphone—one that's been in the rumor mill for more than three years—is that Amazon would shake up the cellular market with a lowball price for a premium smartphone and, possibly, subsidized data plans for its users. Amazon was apparently unable, or at least unwilling, to go that far. Users will pay for all the data they use through AT&T as well as being sucked into the two-year service contract through the carrier.
In the end, that just makes the Fire Phone another fancy rectangular piece of metal, glass and plastic.
No Prime Data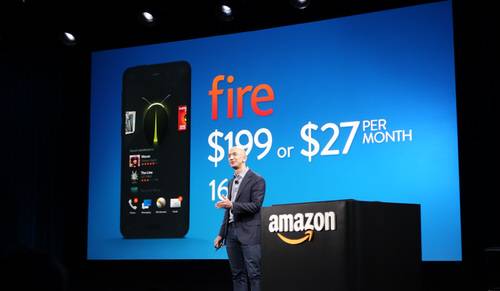 Over the past few years, we have speculated about what Amazon could do to make a truly different smartphone experience. Almost none of that speculation had anything to do with hardware features or software innovations. Amazon's market opportunity existed in blowing up existing data and smartphone device pricing.
For several years, Amazon has been a small-time MVNO—mobile virtual network operator. MVNOs license small amounts of cellular bandwidth from wireless carriers in order to resell it or give it away as part of a broader service. If you have a Kindle that can download books wirelessly via cellular data that you don't pay for monthly, that's because Amazon is an MVNO.
Amazon had an opportunity to create a truly unique data plan for the Fire Phone. It could have subsidized data for users—say, a free 1GB of data a month. It could have offered to pay for all data associated with Amazon Prime services, like the new Music app or Prime video or book downloads. Or it could have tied subsidized data to use of Firefly, perhaps by offering to cover 1GB in data cost for every $100 spent via the service.
Amazon did none of this. Instead, it's being a good team player and abiding by the rules that AT&T sets for all smartphones on its network.
No Prime Price
When Amazon released its first Kindle Fire tablet, the most remarkable aspect of the devices was the price. Amazon was able to completely undercut the market leader (Apple's iPad) by selling the Kindle Fire for $199. Amazon basically sold the Kindle Fire for its cost of manufacture, confident it could recoup its investment by drawing users into its Amazon Prime services and getting people shopping on Amazon.
The Fire Phone, however, doesn't do anything remotely so pathbreaking. It's a classic $199 device on contract, $649 off contract—exactly the same as Apple's iPhone. The Fire Phone's price is a tacit admission that Amazon couldn't crack the nut that is AT&T (or any of the other carriers, apparently). To get the Fire Phone into AT&T stores and onto AT&T's network, it had to play by the carrier's rules.
No Prime Distribution
In the United States, we have yet to see a top-end smartphone that has successfully circumvented the carriers. Google wanted to create a completely new smartphone buying dynamic when it released the original Nexus smartphone available solely through its own website. It didn't work. Amazon has likely learned the same lesson.
Worse, though, Amazon has been suckered by another longstanding carrier ploy—the "exclusive partnership." Nokia learned how badly such deals can work out the hard way, when most of its premium smartphones ended up as exclusives to the likes of AT&T (Lumia 1020) or Verizon (Lumia Icon), thus shutting them out from millions of potential customers. Few smartphone makers outside of Apple and Samsung have the leverage to escape the trap of carrier exclusivity.
Business Insider's Jay Yarow suggests that Amazon deliberately priced the Fire Phone at a standard level to limit demand for the device. (It's worth remembering that Jeff Bezos is an investor in Business Insider.) Hardware projects inherently lose money, Yarow notes, and selling a lot of phones out of the gate would mean that Amazon would be losing a lot of money by selling the Fire Phone in vast numbers.

The problem with that theory is that Amazon has shown time and time again that it does not care about making a profit and is willing to lose as much money as necessary to control a market. We've also seen this same exclusivity tactic from carriers—especially AT&T—too many times to think it's actually a double-reverse play by Amazon to keep its losses down.
For all its bells and whistles, gimmicks and technological advances, the Fire Phone is probably not going to sell well. AT&T probably already knows this. Soon Amazon will as well.
Lead image by Taylor Hatmaker for ReadWrite