Today near its Seattle headquarters, Amazon released its long-rumored Amazon Fire smartphone. Like Amazon's Fire tablets, the Fire phone runs a modified version of Android and ties deeply into Amazon's services—but that's where the similarities end.
The Fire Phone—notably not called the Fire "smartphone" in spite of its braininess—will go on pre-sale today. The 4.7-inch device will be available on AT&T exclusively and offers an above-average 32GB of internal storage for $199.
See also: Amazon Fire Phone's First Mistake: Cooperating With AT&T
Amazon CEO Jeff Bezos, who delivered the entire event on stage, didn't spend much time on the device's hardware in the traditional sense. He noted the device's design quality and "obsessive fit and finish" and lingered over its impressive camera—and unlimited cloud photo storage—before diving into the real core of the Fire phone. These are two exclusive "features"—one called "Firefly" and the other less playfully named "Dynamic Perspective."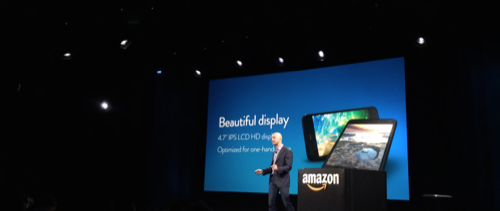 Firefly—activated via a dedicated button of the Fire phone—is effectively a "buy now" feature for the phone. Through audio and image recognition, plus a hefty dose of machine learning, Firefly can recognize everything from your brand of laundry detergent to your favorite episode of Game of Thrones. And then it will let you buy them on Amazon. It's a trick that will play nicely into Amazon's shopping and digital-media ecosystems.
The Fire phone's other big trick, what Bezos calls "dynamic perspective," confirms the 3D rumors that have floated around the device, though in a pretty novel way. Thanks to an array of infrared, depth-sensing, front-facing cameras, the Fire phone tracks the head position of its user in real-time and reacts accordingly.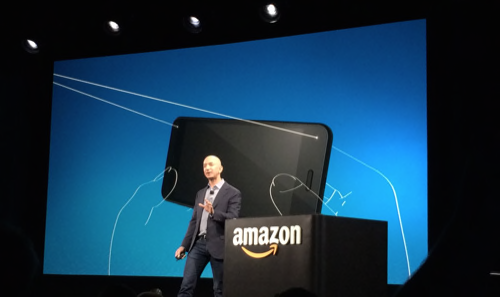 Demonstrated live, the effect looks more like virtual reality than 3D as we've come to know it. The additional sensors also allow the Fire phone to pull off some useful tricks, activated by tilting the phone. For example, in the maps app, tilting the phone pulls up a contextual menu. In the Kindle app, it can scroll through pages without occluding the text with your finger.
With its Fire phone, Amazon played many of it cards quite close to its chest. Early rumors hinted at a "3D" display of some kind, but its machine learning features and dynamic depth effects appeared altogether innovative at first gloss. Beyond that, the smartphone will come with a full 12 months of free Amazon Prime, the company's premium online ecosystem of expedited product shipping, movies and TV shows, and now streaming music.
All photos by Taylor Hatmaker for ReadWrite