The trend of AI technological advancement has quickly accelerated in the current digital- and data-driven age. AI Security Tools are making waves as both industry disruptors and necessary influencers among law firms all over the world.
These tools are generally applied research algorithms designed to better aid automated processes using machine learning and big data analytics.
Making use of these tools, from streamlining legal research and document review to aiding with case outcome forecasting, gives a competitive edge to those legal professionals looking to leverage this cutting-edge technology.
The purpose of this outline is to provide insight into the potential of how AI Security Tools can improve legal practice everywhere that seeks innovation with due diligence toward navigating compliance frameworks & maintaining ethical standards.
Role of AI Security Tools in Legal Practice
Ensuring Data Privacy and Confidentiality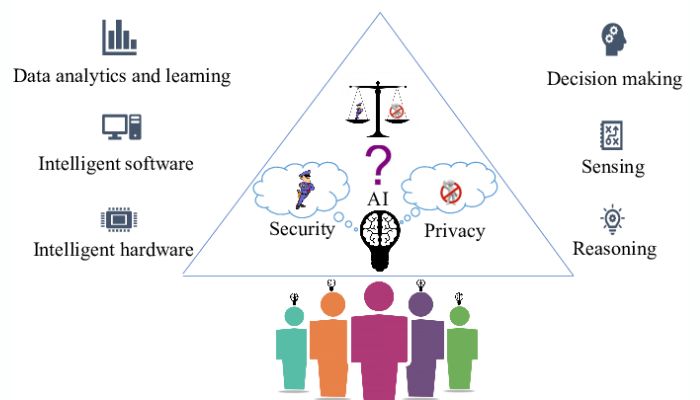 Data privacy and confidentiality are of primary importance in legal practice, given that information relating to clients needs to be kept secure. AI security tools can increase data protection for law firms in several ways.
For example, utilizing AI for encryption can make it even harder for unauthorized users to access any valuable or confidential information stored within a firm's systems, highly reducing the risk of data breaches and cyberattacks.
Another way AI can help impose higher levels of client data protection is through its use as a secure storage method – by implementing advanced encryption technologies already embedded on cloud servers offered by many providers today.
This eliminates the need for manual security practices and thus results in high-quality, top-notch data risk management.
Detection and Prevention of Cyber Threats
Utilizing AI Security tools for the detection and prevention of cyber threats is critical to protect law firm credentials and confidential data.
AI-powered threat monitoring systems are capable of anticipating potential security breaches and attempting other malicious attacks on computer systems, offering better protection than traditional network security tools.
With automation and predictive analysis, firms will benefit from streamlined tools designed to identify and mitigate threats in the fast paced digital age.
Streamlining Legal Research and Document Review
Accelerating the legal research process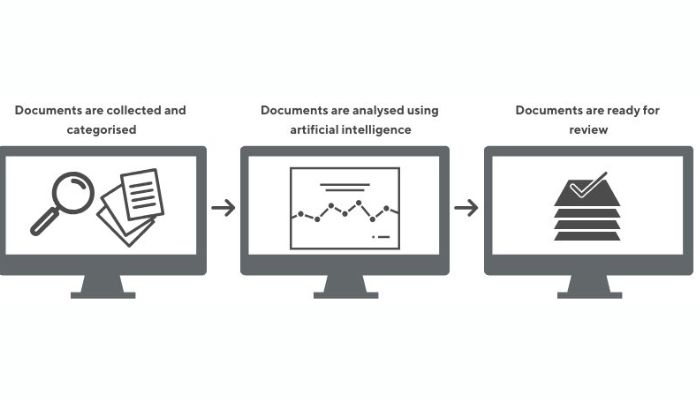 Streamlining legal research and document review are key corners of modern legal practice, and AI-integration steps make such processes more efficient. By utilizing advanced search algorithms us ing AI, professionals can accomplish faster case law analysis to support lawsuits with valid evidence.
AI-driven document review processes automate the task of reading through massive editorial pieces, reducing manual labor but also increasing accuracy in detecting important facts.
Acting as an information filter, these responsive mapping capabilities draw connections between information to create conclusions attorneys can trust and expedite decision-making toward achieving positive outcomes.
AI-driven document review and analysis
AI-driven document review and analysis is rapidly gaining popularity among legal professionals as a better and faster data processing approach to investigations. Using AI-powered analytics for efficient information retrieval in complex procedures, can significantly reduce the tedious effort of manually organizing documents.
AI algorithms are equipped to identify and retrieve relevant records in quick succession, and detect pattern anomalies, particularly highlighting areas of interest and potential risks flying day manual scrutiny.
Parallel computational resources make the process itself more efficient resulting in cost savings for firms when they use such automated solutions which go beyond automating workflow-related approaches that occur being largely repetitive.
Supporting Compliance and Regulatory Requirements
Navigating complex legal compliance frameworks
Navigating and understanding complex legal compliance frameworks can be an arduous process in the legal industry.
AI security tools can help to simplify this process by automating checks for compliance and providing alerts of any changes in regulations or details that could be missed with manual review.
Additionally, such tools help to mitigate any risks associated with noncompliance by enabling law firms to stay ahead of any applicable regulations and remediate any issues quickly through biased-free algorithms.
AI tools for automating compliance checks and reporting
The AI tools can support the compliance needs of law firm professionals by helping to automate compliance checks and reporting.
AI works by scanning corporate data and flagging potential anomalies or breaches related to regulatory requirements. Additionally, these automated processes make it easier for event log analysis and to ensure timely reports on key risk indicators monitored in compliance projects.
This helps faster increased visibility by pinpointing errors or omitted events associated with intrusions or suspicious activity that may pose legal risks and dangers. AI can ultimately reduce misreporting costs considerably as well as the cost of remediating violations leading to an increase in overall expense management in legal organizations.
AI Support for Contract Management
AI-based contract review and analysis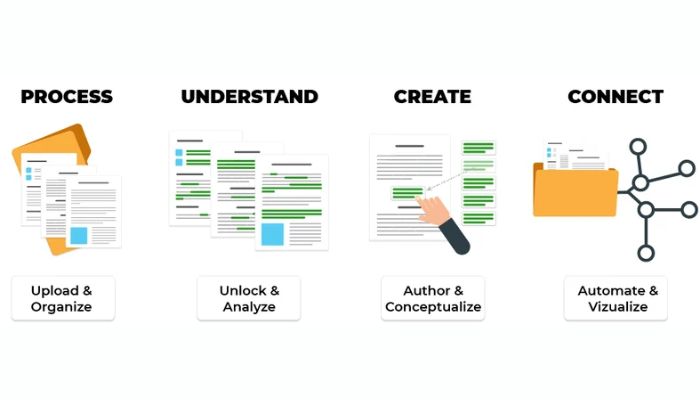 AI-based contract review and analysis are being widely adopted by law firm professionals to streamline data processes related to contract management. AI techniques can be leveraged to quickly search through massive documents, automate the identification of language discrepancies in contracts, and automate legal due diligence for smarter decision-making.
As such, lawyers may choose standardized or developed approaches that use AI to drive many sophisticated multivariate analysis reviews accurately and consistently giving offices more time to develop strategies in other areas.
Moreover, AI tools can ensure the use of appropriate terms for specific contracts thereby reducing potential litigation risks in case of breaches or disputes. Finally, it promises a better due diligence process overall by analyzing transactional history with visually unbiased insights from related documents.
Ensuring contract compliance and minimizing legal risks
AI Security Tools can aid Contract Management in a Legal Practice by helping to ensure contract compliance and minimizing legal risks.
Utilizing an AI-driven approach helps to quickly analyze for inconsistencies in contract language, along with instantly flagging potential problem areas which may incur additional costs or liabilities normally overlooked.
Additionally, AI can help—by more accurately interpreting the fine details of contracts—attorneys implement efficient solutions by lessening tedious manual assessments that require significant time and resources exploring each document line-by-line.
Enhancing Legal Decision-making
Predictive analytics for case outcome forecasting
Predictive analytics are AI tools that help law firms and legal professionals predict how certain cases might turn out and gain insights to further support their decision-making.
These AI models analyze large sets of data to produce valuable insights into legal trends, potential evidence in a case, similarities between leading/prior successful cases, or judges' preferred outcomes.
By procuring a statistical interpretation of the case put up before them, lawyers can then utilize these modeling results to bolster their strategy for achieving desirable outcomes in their own current case.
In this way predictive analytics spearhead excellent and astute legal decision-making mechanisms tethered with AI inspiration.
AI-powered insights to aid in strategic planning
AI has revolutionized legal decision-making processes, allowing lawyers to critically assess potential scenarios in order to make well-founded decisions. AI gives law firm professionals access to more accurate, up-to-date data than ever before.
Using AI-powered insights, lawyers can consider data from various perspectives that can improve their understanding and help identify any risks associated with proposed strategies or options.
Novice and experienced professionals alike are now able to make data-informed decisions as well as quickly identify the larger consequences of a situation prior to taking action which allow them to have confidence in their judgment.
Addressing Ethical Considerations
Maintaining transparency in AI algorithms
Ethical considerations must be taken into account when utilizing Artificial Intelligence (AI) in the legal industry. Transparency of the underlying AI algorithms used is paramount for accountable decision making and to maintain trustworthiness in autonomous systems.
To ensure trust and accountability, organizations must share information to stakeholders, such as full reporting on accuracy levels and concerns or bias in AI data sets so stakeholders may understand how their decisions are being impacted by AI tools.
Only with effective communication of the issues can organizations effectively use powerful AI tools with safeguards in place to prevent harmful outcomes via algorithmic prediction errors, unintended bias and more.
Mitigating biases in AI tools for equitable legal representation
Using AI Security Tools in the legal industry must come alongside efforts to actually ensure that it is truly fair and equitable. This includes regularly assessing AI models for bias as these kinds of resources can sometimes exhibit institutional advantages and explicit acts of racism and prejudice.
Electronic mechanisms to ensure public participation procedures such as crowdsourcing requests for feedback are also being used to identify inconsistencies passed over by agile software development teams.
As legal professionals implement more of these technology assets, they should make an ongoing effort to investigate any potential discrimination or prejudice found in the algorithms which remain yet unseen.
Conclusion
AI Security Tools provide law firm professionals with a wide range of capabilities to streamline and simplify legal practice.
These tools can help manage data security and privacy risks, detect and prevent cyber threats, facilitate efficient research and document review, streamline compliance procedures, support contracts management as well as enable predictive analytics in decision-making.
It is essential to ensure the responsible use of AI tools while recognizing the ethical considerations of such integration. By effectively evaluating risks associated with available options personal risk is significantly mitigated making sure trusted legal work is provided under conditions of the highest quality.