In 2014, we finally have Microsoft Office for the iPad.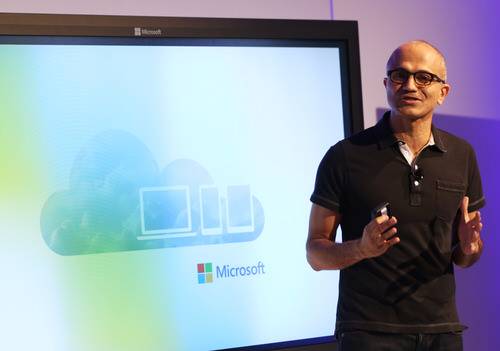 At Satya Nadella's first Microsoft event and public appearance since being named CEO in February, the company announced its longstanding productivity suite for Windows will henceforth be available to use on Apple's family of tablets, including the iPad mini and full-size iPad (2, 4, or Air).
Microsoft Office is now a free download from the App Store, but only for viewing Word, Excel and PowerPoint documents. For creating and editing those documents, however, you'll need to pay for Microsoft's Office 365 service, which starts at $70 per year.
It was possible to use Microsoft Office on an iPad before today's announcement. Office Mobile for Office 365 Subscribers is a free app for those already paying for the service, which is a virtualized version of Office, albeit not exactly optimized for the iPad. Furthermore, there have been a handful of available third-party tools that similarly delivered a virtualized desktop version of the productivity suite on an iPad, but perhaps that's not the best way to interact with documents, since Office wasn't optimized for a smaller screen.
Now that Microsoft finally got its act together to bring a native version of Office to the iPad, it seems like many people that would have really needed this, oh, let's say two years ago, have already moved on to other apps, or have simply given up on waiting for such a development.
There have previously been, ahem, other numerous ways to access Office and Office-like services on the iPad. One of our favorites was the release of OnLive Desktop in 2012, which was a free virtualized version of Windows 7 that included Microsoft Word, Excel and PowerPoint already installed. It didn't take long for that service to shut down, as is to expected for anyone violating Microsoft's terms of service, but now we have iPad Office, and here are five things to look forward to when it comes to that news.
It's Free. Office for iPad is free, but for creating and editing documents, an Office 365 subscription is needed. Subscriptions start at $70 a year.
Word, Excel And PowerPoint Are Included. More Microsoft apps are sure to come, but the powerhouse items are now there for the picking.
Word Document Formatting is Fully Enabled. Everything Word users love is right there on the iPad app, including the toolbox ribbon at the top for all of one's needed features.
Excel Includes Specialized Numeric Keypad. To keep formulas handy, Excel includes a special numeric keypad—just for the iPad.
PowerPoint Laser! While doing a PowerPoint presentation on the iPad, touch and laser pointer will appear for that crucial stage-like performance ambiance.
Lead image by Madeleine Weiss for ReadWrite; right image courtesy of Reuters