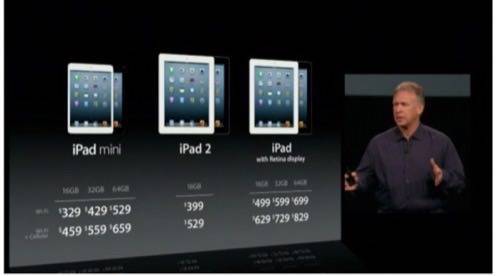 Apple is very proud of the stats that say consumers use their iPhones more than Android smartphone users. The media and Apple sycophants eat this stuff up, point to greater profits and say, "who cares about marketshare, Apple is winning!"
The question we have been trying to answer at ReadWrite for a while is: why? Why do iPhone users spend more time on their devices? Why do developers make more money in the Apple App Store than Google Play? Where does this voodoo come from?
Nobody really has a good answer to this question. Psychology and sociology are hopeless dead ends. Demographic information about age, gender and location of users can only tell us so much. There are really no fundamental differences between the base groups of users of each platform. Android users are not from Mars and iPhone users are not from Venus. They are from the same neighborhoods in the same towns all across the world.
Mobile analytics firm Flurry thinks it has some answers. In new research published today, Flurry gives three reasons why iOS dominates usage patterns, despite the fact that Android has the far higher install base. While Flurry doesn't quite hammer the nail on the head, at least it is bringing some useful data to the discussion.
App Share Vs. Device Share
Flurry positions the battle as App Share versus Device Share. Apple leads in App Share while Android leads in Device Share.
In the chart below, Flurry shows Device Share as a percent of iOS devices over the past four years (100% equals Apple while the line shows Android).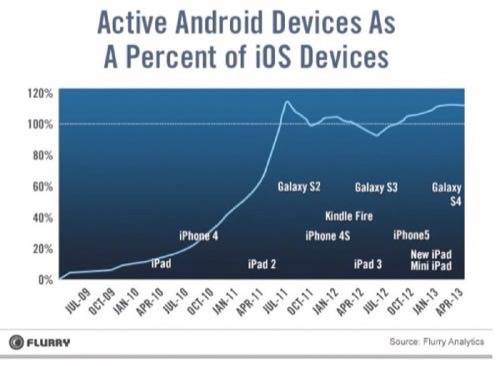 In the next chart, Flurry shows the difference in app usage between the two platforms (100% equals iOS owners app use with the line representing Android's comparative percent of that use).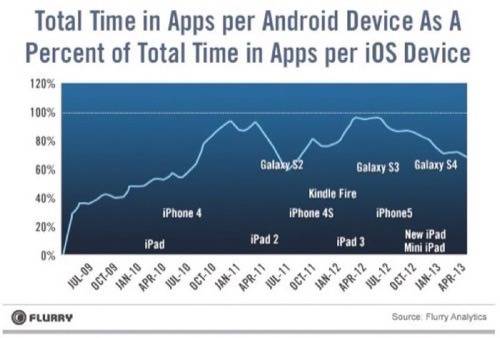 Why Is There A Difference?
Flurry posits three reasons for the difference between App Share and Device Share:
A pocket computer against an upgraded phone: Flurry thinks that, since Apple popularized the concept of mobile app with the App Store, people were attracted to the iPhone and iPad for apps. "There's an app for that," became the popular marketing slogan for iPhones. Android on the other hand has cheaper devices, often given out for free by carriers on two-year contracts. The theory goes that Apple users were looking for pocket computers that were app-centric while Android users were just getting smarter phones where apps were a nice thing to have, but not essential.
Fragmentation leads to limited app content: Apple has a fairly narrow mix of screen sizes and different versions of its iOS operating system for developers to contend with. Apple has four different screen sizes: 3.5-inches (all iPhones before the iPhone 5), 4-inches (iPhone 5), 7.9-inches (iPad Mini) and 9.7-inches (iPad). For the most part, Apple also has most of its users on the most recent version of iOS. Android, on the other hand, has a massive variety of screen sizes running older versions of the operating system on different type of computer processors. Because of this, Flurry postulates, the amount of content and the ability to easily update apps hurts Android against its iOS counterpart.
Because Apple is bigger, it feeds off itself: Here, Flurry presents the avalanche effect. "It is that the arguably larger and richer ecosystem of apps that exists for iOS feeds on itself. iOS device owners use apps so developers create apps for iOS users and that in turn generates positive experiences, word-of-mouth, and further increases in app use," Flurry's report states.
If you couple Flurry's theories with some recent data from research firm Experian, some of it starts to make sense. Android users spend 28% of their time with their smartphones making calls. iPhone users spend 22% of their time on calls. That supports the notion that Android owners are using their smartphones more as upgraded phones than pocket computers. iPhone users spend more time texting. Other than that, the difference between usage of each platform is fairly similar.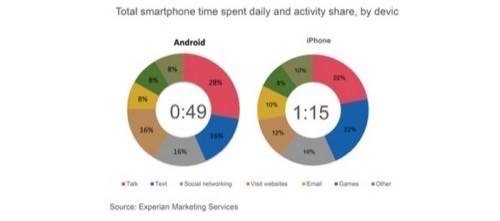 Do you agree with Flurry's theories? Or is the difference between App Share and Device Share an unquantifiable phenomenon? Let us know what you think in the comments.