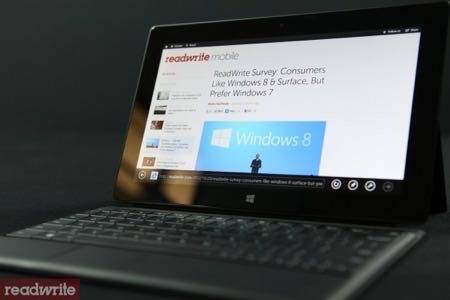 After spending the weekend checking out the Microsoft Surface with Windows RT, it's clearly the best … the best … the best … something. I'm just not sure exactly what. Maybe the best not-quite-iPad-ultralight-laptop-wannabe ever made. And I mean that in the nicest possible way.
One of the key goals for Microsoft's Window 8 operating system is to blur the lines between computers and tablets, and the new Surface certainly does that. So well, in fact, that I'm not quite sure exactly how the darn thing fits into either category. In essence, it's some weird hybrid trying to establish its own niche.
What makes the situation even more confusing, is that this Surface uses Windows RT, an oddball version of full Windows 8 for the low-power ARM chips commonly used in tablets. The Surface with Windows 8 Pro, which Microsoft isn't talking about much these days, will have the real Windows 8. The RT version is like Windows 8 but without the traditional Windows part –- there's no desktop and it doesn't run standard Windows programs without modification. And you can get RT apps only from the new Microsoft Store.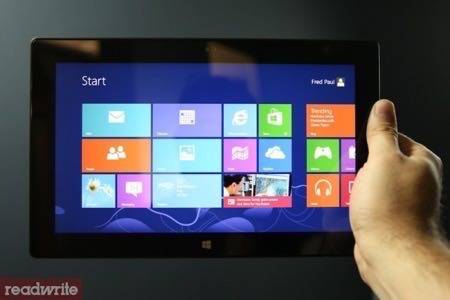 Tablet First
That makes this Surface a lot more like a tablet. So let's look at it in tablet terms, at least to start with.
The $499 base model is pretty darn tablety. Weighing 1.5 pounds and holding a 10.6-inch 16:9 widescreen ad 32GB of storage, its specs say tablet pretty clearly.
The magnesium case is kind of square and boxy, but well made and solid feeling. It's nice enough to hold, but there are too many ports and connectors and sharp edges to be as sexy as an iPad. The built-in kickstand is a nice touch, but doesn't really work well on your lap –- it turns out the Surface needs a surface to sit on!
As I've said before, I really like the Windows 8 interface on smaller devices. It's significantly different than the iOS/Android approach, and many of its innovations make perfect sense on these small touch-screen devices.
The problem, as just about every observer has pointed out, is that there simply aren't all that many Windows RT apps available yet. It does come with pre-installed special versions of Microsoft Office, which is nice, but that's about it.
That means you'll be relying on your browser a lot, and fortunately the included IE10 browser is plenty nice indeed. I especially liked the default full-screen view, which maximized the available real estate –- as well as putting the address bar at the bottom of the screen. That makes it easier to reach when using the touch screen. A nice touch.
Overall, the Surface's snappy performance seems pretty comparable to the latest iPads. I never felt like I was waiting for things to happen, and all the side-to-side scrolling that Windows 8 requires was fast and fluid.
But if the Surface is going to live or die purely as an iPad competitor, it's facing an uphill climb. It's not cheaper, and its apps deficit is crippling.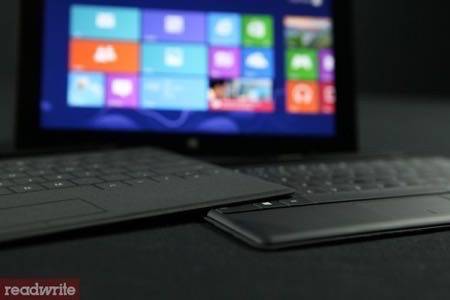 Wannabe Laptop?
Instead, the Surface is all about being a tablet that also brings some of the advantages of a laptop. And key to that strategy are the two attachable keyboard options.
I was able to try them both (I wrote half of this story on one, the other half on the other), and they too have a bit of split personality…
Both keyboards include a small touchpad at the bottom, so you don't have to reach for the touch screen to move the cursor every time. That's a nice touch.
The $119 Touch Cover gives the Surface a bit more content-creation capability, wihout adding too much bulk. But in my tests, I made many more typing mistakes than normal (and I make a lot of errors on even the best keyboards). The flat keys don't travel, so you can't really tell where you fingers are going. It's way too easy to to miss keys entirely or accidentally hit a neighboring key. At least it doesn't cover up a big chunk of the screen like software keyboards do.
Switching to the $129 Type Cover keyboard improved my typing with real key travel and separate keys. It's the recommended version for serious writing tasks. But the Type Cover is also bigger and and thicker than the Touch Cover. Which makes the Surface more like a laptop. And it's still not as good as the keyboard on a decent laptop.
I gotta tell you, for real work, I still think a laptop is the way to go. The Windows RT version of Surface can't run Windows programs and is noticeably slower than a real laptop.
It's also a bit more awkward to use. The magnetic hinge/connector that attaches the keyboards is pretty slick, but it doesn't have the structural integrity to actually hold anything in place. The kickstand set up works pretty well on a hard surface, but is unstable on your lap. Laptops may not be as portable as the Surface, but they may be usable in more situations –- at least for content creation.
What's The Surface For?
Sure it's cheaper, and lighter than those devices, with much better battery life. But I just don't think it could replace my laptop. So at that point I might be happier with a laptop and separate tablet.
That doesn't leave a very broad use case for the Surface with Windows RT. It could be a third device, along with your laptop and pure tablet, for when you might want to do a little work but don't want to carry the big old laptop just in case.
I still haven't got my mitts on a Surface Pro (few have). But I'm hopeful that it will do a better job of being both a laptop and a tablet. Even though it's heavier, and its more powerful chip will likely trim battery life, it should come closer to being a laptop replacement – with a higher-res screen, 64GB of storage, included pen input, and most important, the abilty to run all your Windows programs.
But will it be flexible and portable enough to be a viable player in the tablet competition? We won't know till next year. So while the Surface With Windows RT wouldn't be a must buy for me, I'll withhold my final Surface judgements till then…
Photos by Eliot Weisberg for ReadWrite.