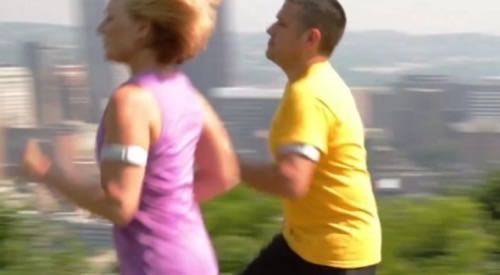 One of the top trends in digital health is wearable body sensors. The Nike+ sensor shoe is the Usain Bolt of this market, with its flashy image and impressive results. Startup Fitbit has also gained a lot of traction, with its small clip-on device. But still in the race for gold is a dot-com veteran, BodyMedia. It's been producing "senseware" since 1999! A recent $12 million funding round suggests that BodyMedia has plenty of legs left.
BodyMedia's core product is an armband that has four sensors to track movement, temperature, heat and "skin response." The data is then processed and analyzed by an online "Activity Manager" and a variety of specialist mobile apps, such as a food log. The whole set-up is called BodyMedia FIT and the company terms it an "on-body monitoring system." Putting it simply though, BodyMedia helps users count calories and lose weight.
Live Long & Prosper (Tip: Patents Help)
When BodyMedia launched in 1999, even at that early stage of the Internet it was a product based on sensors – or "senseware" as it was termed back then. According to a 2000 Wired article: "The company will sell a line of ready-to-wear sensors that link users to a companion Web site. Think of it as Quicken for the health-conscious."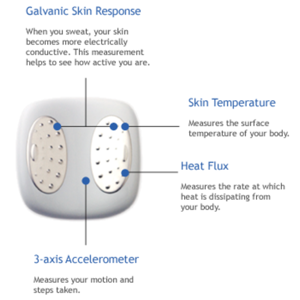 Over the past 13 years, BodyMedia has raised a total of $49 million – including its most recent round of $12 million in May of this year. At least some of that money is being spent on a patent lawsuit against Basis, a health tracking watch that we previewed last April and is due to launch this year. BodyMedia CEO Christine Robins told MobiHealthNews that "we have spent years and millions of dollars prosecuting our patents."
Choose Your Form Factor
Regardless of BodyMedia's store of patents, all of its competitors have similar functionality. They all "sense" things like motion and temperature, enable the user to upload their body data to a website or mobile app, provide an app for food logging, and have social networking features. The main difference between the companies offering these products is the form of the device. BodyMedia uses an armband, Fitbit a device that clips onto your pants, Nike+ a pair of shoes, Basis a watch.
The Fitbit device seems to be the easiest to wear for long periods of time, since you can clip it onto your clothing (although be wary of accidentally putting your device through the washing machine, as this author did after just a couple of weeks of usage – and no it didn't survive). But ultimately it's a personal choice about which device best suits your lifestyle. Let us know your thoughts on wearable sensors in the comments.