More than half of the devices launched at CES earlier this month were connected. That's according to the GSMA, a worldwide association of mobile operators and related companies. GSMA calculated that more than 90% of TVs at CES, 70% of automotive devices, 44% of healthcare devices and 30% of cameras were connected.
GSMA predicts there will be 24 billion connected devices in the world by 2020. That's up from 9 billion today. It identified car connectivity as an especially important product category to watch.
At this year's CES, more than 40% of the connected devices announced were gadgets such as laptops and smartphones. The rest were non-gadgets, such as those in the "home lifestyle" category, which, according to the GSMA, made up 30% of the connected devices at CES. The products in the home lifestyle category included connected TVs, smart refrigerators and Internet-connected washers and dryers.
The trend towards increasing connectivity in devices will accelerate in upcoming years. As one example, GSMA predicts that more than 40% of vending machines will be connected by 2020. It estimates that connected devices will be a US$1.2 trillion market by 2020.
GSMA also listed some less traditional connected products seen at CES:
A smart window pane with built-in apps, including computerized "blinds".
Connected, roaming vacuum cleaners.
Tablets built for underwater computing or designed for home and office video surveillance.
A space-age personal work environment complete with a reclining chair, multiple computer monitors and a connected air filter.
GSMA has come up with a catch-phrase for this trend: "The Connected Life." It defines this as "a world where all technology devices intelligently connect." A more common term is Internet of Things. Either way, everyday products and devices are increasingly getting connected to the Internet.
There are approximately 9 billion connected devices today, according to the GSMA. About 72 percent of those are mobile devices. That figure will drop to 48 percent by 2020.
Put another way, by 2020 the GSMA predicts there will be 24 billion connected devices in the world and over half will be non-mobile devices. These will include connected home devices, healthcare devices and automotive technology.
GSMA is particularly bullish on the automotive sector, which it predicts will account for 1.4 billion connections by 2020. To put that into perspective, in 2011 just 1 percent of the world's 1.8 billion road vehicles were connected. However, by 2020 GSMA expects that figure to reach 14 percent. Car connectivity features will include new in-vehicle applications, phone features and navigation.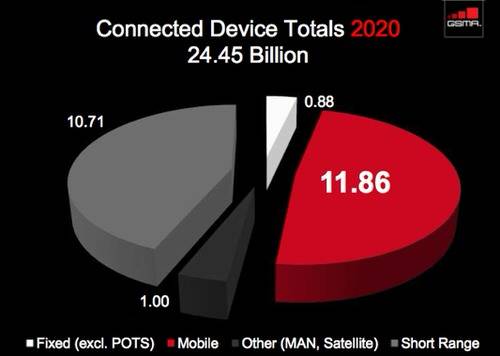 We knew the Internet of Things was slowly becoming a reality, but these new statistics and predictions by the GSMA show that commercialization of this trend will be driven by cars, home appliances and healthcare devices.