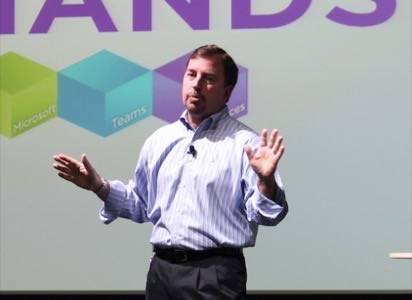 We learned today that Yahoo CEO Scott Thompson's resume boasts a computer science degree he never got. This news is likely to have a ripple effect as we learn who else in the Valley has tried to pull a stunt like this. Here's what happened to 10 other executives who fibbed on their resumes.
Ronald Zarrella, Bausch & Lomb
Title: Chief executive officer
Tenure: November 2001 – January 2008
Lie: Zarrella said he earned an MBA from the Stern School of Business at New York University. He did attend the program from 1972-1976, but he didn't graduate. His previous employers never checked.
Punishment: He had to forfeit $1.1 million from a bonus. He remained at Bausch & Lomb, who thought he was too valuable to fire him outright.
George O'Leary, University of Notre Dame
Title: Head coach, football
Tenure: Five days, 2001
Lie: O'Leary claimed to have a earned master's degree in education from "NYU-Stony Brook University," which are two separate schools. In fact, he took two courses at SUNY Stony Brook and didn't graduate. He also claimed to have earned three letters in football at the University of New Hampshire. He never even played in a game.
Punishment: It took five days after he was hired for his superiors to find the inaccuracies. O'Leary resigned. He blamed the inaccuracies on resume padding from earlier in his career, which "were never stricken."
Marilee Jones, Massachusetts Institute of Technology
Title: Dean of admisions
Tenure: Hired at entry level in 1979, full-time dean of admissions from January 1998 – April 2007
Lie: Jones made up degrees from Union College and Albany Medical College, neither of which has any record of her attendance. She also claimed a degree from Rensselaer Polytechnic Institute, which she attended as a "part-time, non-matriculating student," and she never earned a degree.
Punishment: She resigned. The dean for undergraduate education said MIT couldn't "tolerate this kind of behavior."
Kenneth Lonchar, Veritas Software
Title: Executive vice president and chief financial officer
Tenure: 1997-2002
Lie: Lonchar claimed to have an accounting degree form Arizona State University and an MBA from Stanford. He had an undergraduate degree from Idaho State University, but that's it.
Punishment: Forced to resign. The company's stock price promptly fell by 16%.
Jeff Papows, Lotus Corporation
Title: Chief executive officer
Tenure: 1993-2000
Lie: In 1999, the Wall Street Journal uncovered a boatload of lies. Papows exaggerated his rank in the military, made up a Ph.D from Pepperdine University and claimed to be an orphan, even though both parents were alive and well.
Punishment: Papows' exaggerations came out at the same time as he was hit with a sexual discrimination lawsuit from a former employee. He resigned.
Dave Edmondson, RadioShack
Title: Chief executive officer
Tenure: Hired as vice president of marketing in 1994, CEO from 2005-2006
Lie: Edmondson made up psychology and theology degrees from the unaccredited Pacific Coast Baptist College in California. That school doesn't even have a psychology program.
Punishment: He resigned.
Patrick Imbardelli, InterContinental Hotels Group
Title: Chief executive, Asia Pacific
Tenure: Hired at Bass, InterContinental's predecessor, in 2000, chief executive, Asia Pacific from 2003-2007
Lie: Imbardelli falsely claimed he had a Bachelor of Business degree from Victoria University in Australia.
Punishment: He left the company on a two-month notice period. InterContinental Hotels did not disclose whether any compensation had been paid.
James Peterson, Microsemi Corporation
Title: President and chief executive officer
Tenure: 2000-present
Lie: Peterson falsely claimed to have a diploma from Brigham Young University, and the company repeated the claim in a press release.
Punishment: Peterson was fined $100,000 and forced to forego a bonus, but he was not fired.
Richard Li, Pacific Century CyberWorks Ltd.
Title: Chairman
Tenure: 1994-present
Lie: The Pacific Century CyberWorks website claimed that Li "graduated from Stanford University with a degree in computer engineering." Li actually left after three years without graduating.
Punishment: The media discovered the fabrication, but Li got away with it. The company admitted in a statement that he "left before completing his degree, for personal reasons." Li said, "I was in a rush to go work at an investment bank, so I didn't finish my course." The oversight was blamed on lower-level company officials.
Albert J. Dunlap, Nitec
Title: President
Tenure: May 1974 – August 1976
Lie: Dunlap erased two jobs from his employment history after being terminated from both for a variety of reasons. He went on to have a storied career in the 1980s and '90s as a brutal downsizer and cost cutter, which earned him the nickname "The Chainsaw" and made his autobiography, Mean Business, a best seller.
Punishment: Dunlap was fired by Max Phillips & Son of Eau Claire, Wis. after just seven weeks for neglecting his duties and talking disparagingly about his bosses. He was fired by Nitec for accounting fraud and bad management. In 1998, Dunlap was fired as CEO from Sunbeam following accusations of accounting fraud. When The New York Times revealed he had worked for and been fired by Max Phillips & Son and Nitec, he was investigated by the Securities and Exchange Commission and eventually paid $500,000 in fines without admitting or denying the allegations. He paid $15 million to settle shareholder lawsuits and was banned by the SEC from serving as an officer or director of public companies.
Lead image by Yodel Anecdotal.