A new report published by IDC paints an intriguing picture of the wearables market as it looks in the middle of 2015. The market grew 223% over the course of the previous year, and Apple—new to the sector and with only one wearable to its name—was bested only by Fitbit, in terms of devices sold during the last three months.
That puts reports of rather underwhelming Apple Watch sales into perspective. (Apple hasn't released official figures of its own, of course.) While the smartwatch has yet to make an iPhone-like splash so far, with nearly 20% of the market, but it's already threatening to dominate the nascent wearables movement.
See also: How Wearables Startups Can Overcome The Hardware Challenge
Considering the Apple smartwatch only went on sale in March, that's an impressive return—though, obviously, Tim Cook probably hopes for more.
Still, for those just entering the market, there's still potential. Some might even take this as good news: With Apple lifting the profile of the whole industry, even those turning up later may still capitalize on an expanding opportunity.
Where The Competition Stands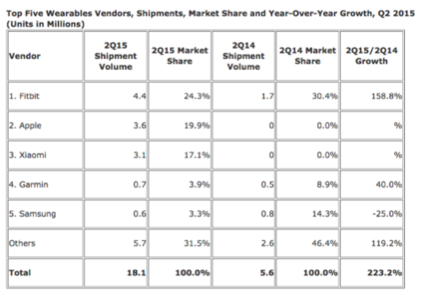 The report shows that Samsung, which was in way before Apple on the front lines of this new wave of wearable tech, languishing down in fifth place. Just ahead of Huawei and Jawbone, it weighs in with 3.3% of the market, despite issuing out various models of wrist-worn devices. The South Korean company saw wearable tech shipments drop from 800,000 in Q2 2014 to 600,000 in Q2 2015, according to IDC's figures.
See also: Why Apple, Google, And Samsung Want To Lock You In With Wearables
In total, 18.1 million wearables were shifted in the second quarter of 2015, compared with 5.6 million in the same quarter the previous year. Of those, 4.4 million devices were made by Fitbit, and 3.6 million devices were Apple Watches, if IDC's calculations are accurate.
Apple's lead, however, has another global competitor nipping at its heels: Chinese tech juggernaut Xiaomi is right behind it, with 17% of the world market.
Wearables: Smart Vs. Basic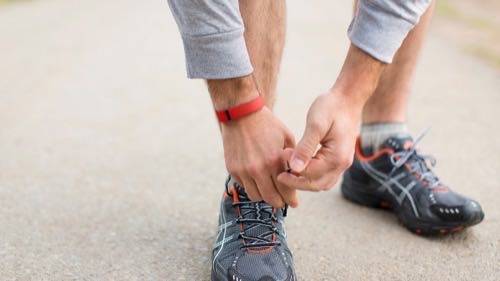 As for the top two, IDC analysts believe Apple could be number one by the end of the third quarter, because it has something that Fitbit doesn't: a smart device with a third-party ecosystem behind it.
The WatchOS 2 update, coming this fall, will allow developers to run apps natively on the Apple Watch.
Fitbit's "dumb" devices haven't been doing badly though: The company's 159% growth in sales over the year is not to be taken lightly, and IDC thinks there's more to come. "Fitbit resonates with customers because it has remained true to its simple value proposition of tracking fitness to encourage healthier lifestyles," the report explains, "rather than promising the multi-purpose functionality that most smart watches have sought."
Xiaomi and Garmin made up the rest of the top five, and IDC sees a divide between wearables powered by a fully realized smart platform (like an Android Wear watch or the Pebble watch) and more basic fitness trackers that stick with integrated functionality. According to sales last quarter, two out of three "smart" wearables (capable of running third-party apps) were Apple Watches.
See also: 5 Things You Need To Know About Xiaomi
One challenge facing wearable makers, whether they're trying to compete with Apple or Fitbit: setting appealing prices, while still offering enough features to make their products more compelling than the established leaders.
But there's good news with the findings, too: "[Apple's] participation benefits multiple players and platforms within the wearables ecosystem, and ultimately drives total volumes higher," says Ramon Llamas, research manager for IDC's wearables team. "Apple also forces other vendors—especially those that have been part of this market for multiple quarters—to re-evaluate their products and experiences." Take note Samsung.
"Fairly or not, Apple will become the stick against which other wearables are measured, and … everyone will be watching to see what other wearable devices it decides to launch, such as smart glasses or hearables," adds Llamas.
Images courtesy of Apple and Fitbit; chart courtesy of IDC