Written by Alex Iskold and edited by
Richard MacManus.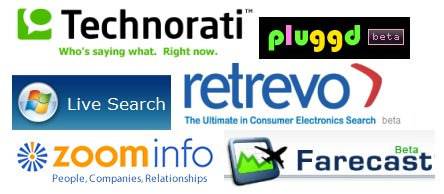 This week at DEMOfall I saw two vertical search applications that made me think that
this area is getting mature and ready for prime time. Pluggd and Retrevo
launched technologies that are not only good at finding podcasts and consumer electronics
(respectively) – these sites categorize and present information in fundamentally new,
different and intelligent ways. They do it so well that generic search just can not
compete.
In this article we look at the rise of vertical search and how it may end up
threatening Google. We profile some of the more innovative and interesting vertical
search engines – selected primarily based on how they organize the search results and
allow the user to navigate through information. Try them out if you have not done so yet
and let us know what you think… is vertical search ready for prime time?
Tradeoffs between generic and vertical search
There are always tradeoffs between generic and specialized applications, particularly
in the area of information processing. The generic applications cover a wider spectrum,
but specialized applications excel in their niche – because they have an intimate
understanding of the semantics of information in their topics.
In the end, there will always be place for generic search – because it may not be
economical to have a vertical search engine for every vertical. However, in major
verticals, specialized search engines might take a big bite out of the generic search
engines' market share – including Google's advertising pie.
Vertical Search Engine Profiles
Technorati
Perhaps one of the most beloved companies of the social computing era, Technorati certainly deserves the attention that it
gets. This company helped define the blogosphere and continues to innovate and pioneer in
that space. Technorati turned blog search into a portal, a playground and an all around
useful site for bloggers, techies, marketers and statisticians. You can use Technorati to
find top blogs, links to your blog, popularity by topic and many other things. To be
fair, I have to say that I do see occasional downtime, but I think that they are working
hard to overcome this. [Richard's note: occasional downtime has been a constant issue
for Technorati since their inception]
Other noteworthy blog search engines:
Google blogsearch – very clean,
simple and reliable; but too bare and lacks the cool factor of Technorati.
Bloglines has a blog search which is very comprehensive, but the presentation is not
up to par.
Pluggd
Pluggd was one of the most talked about companies
at the recent DEMOfall. Pluggd's core business is essentially crawling podcasts. This is
exciting, but it is not why this company is going to be written about in the mainstream
media. Pluggd developed unique technology which searches for your keywords inside the
podcasts. And to top it all, its not a straight search – but a semantic search which
utilizes ontology. For example, if you search for the word 'PGA' in a podcast that has a
segment on golf, you are going to get matches in sections that talk about PGA, golf and
Tiger Woods. The interface utilizes heat maps to show importance and ranking of every
match. In a single word – fantastic! We interviewed Jonathan Thompson, CTO
of Pluggd during our DEMOfall coverage.
Other noteworthy podcast search engines:
Odeo – nice interface, but it is somewhat
slow and matches are not as good.
Podzinger is actually really nice and was my
favorite before Pluggd, because it was able to search inside podcasts.
Live Image Search
Microsoft is still coming up to speed in the new web market, with Windows Live. The Image search though is a clear winner in the images
vertical, in my view. The features and functions are very useful – and make a huge
difference in user experience. The less/more information slider is great and the zooming
effect is not just fluff, but adds a lot to the user experience. All and all it is clean
and very usable.
Other noteworthy image search engines:
Riya is coming up very strong. They are very
creative and focused on semantics. They just need more data and they will become a strong
player.
My second pick in this category is Google Image
search. Its clean, like most Google searches, but it is also very precise.
Retrevo
Retrevo, which we covered during our
DEMOfall coverage, just launched a vertical search engine for electronics. The most
noteworthy feature and the one that took most work according to the Retrevo folks, is
'search inside product manuals'. The company managed to assemble and index a truly
gargantuan collection of product manuals. But it was worth it, because you can now simply
type in a question and get an answer straight from the manual. So throw away those piles
of paper manuals and free up your offices and kitchen cabinets. In addition to the
manuals search, Retrevo has a very intelligent interface and categorization of data. You
see search results from product sites, blogs, reviews and discussion forms all neatly
organized into easy to navigate categories. For me Retrevo drums the beat of vertical
search louder than others – it knows its space, context and semantics very very
well.
Other noteworthy electronics search engines: none!
People
People are such an integral part of the web today. For better or worse our digital
adventures are being recorded. We leave our digital fingerprints as we touch what we
think is intangible – information. ZoomInfo
is a vertical search engine for People. To be upfront, I have a lot of problems with
ZoomInfo, so many that I sent feedback email and exchanged emails with one of their
product managers (I do not do this very often). But fundamentally, there are interesting
and useful aspects of ZoomInfo – and the main one is that it lets you be found. It
invites you to claim your digital fingerprints. And I do not think that is such a bad
thing – if anything it is fun to look back and to see what you have done in the past! But
I also recognize that this is a very sensitive and controversial issue, so please share
your thoughts with us particularly on this topic.
Other noteworthy people search engines:
LinkedIn is a great people search engine, you
can use it to reconnect with your colleagues and probably locate a lot of business people
who are online, particularly in the Technology sector. I am an avid Linked In user, I
think they have an exemplary interface and great feature set.
Travel
Farecast is just purely brilliant. I am not
sure if it is going to be widely adopted – because it is sophisticated – but it is a gem
of an idea. This travel search engine applies idea of a stock market to help you decide
when to buy an airline ticket. It does it by showing you prices of the ticket in the past
and gives you a verdict if it makes sense to buy now (and if not, when it would be better
to buy). I've heard the founder explain in a podcast what a battle it has been to get the
data from travel companies and airlines. Well looks like he prevailed and launched the
service, although it is not available in all cities yet.
Other travel search engines:
Kosmix has an interesting collection of vertical
search engines, which includes Travel. It is clear that with their technology, they can
venture into many other verticals. Their claim to fame is a patented algorithm for
automated clustering (I think hierarchical clustering would be more technically precise),
which automatically organizes results by topic. It's very very good. To me this is sort
of in between generic and specialized search, but the algorithm is great – so it
feels more like a specialized search.
Music
Yahoo and Google music are the best I've seen so far, with
Yahoo's one being more user friendly. I think that both engines can be improved by being
smarter and more context sensitive. Again Google does its usual plain interface, which in
my mind just does not work when you go vertical.
Other music search engines:
BiggerBoat is entertainment search, which
just launched. They cover music and movies. It has been hyped up so I expected more. So
far it underdelivers in the user interface. However, I was told that it has some
interesting features like ability to narrow the results by category. For example, if you
search for Madonna, you can then further slice it by sad or happy, slow or fast, etc.
This is interesting and useful, but they need to do a better job presenting this to the
user.
The Alexa twist
We conclude this post with an interesting twist. Late December 2005 Amazon announced

Alexa Web Search Platform. This event went fairly unnoticed and even now there is not
much hype about it. But it is really brilliant. As I have written previously, Amazon is
becoming the real web services company and Alexa Web Search Platform is very much part of
the play. This platform combines grid computing and crawling technology and allows anyone
to very quickly build specialized vertical search applications. No doubt this is Amazon's
clever move to overthrow Google with the help of techies of the world. Will it work? I
think it might, but take a look at it and other vertical search technologies and let us
know what you think.