While the COVID-19 global pandemic has compelled most businesses to cut their expenses, there is an even more compelling need for balancing accounts, inventory management, and avoiding customer churn. Even the marketing sector has undergone a huge paradigm shift with automated lead generation for better and deeper reach amongst the masses.
Lead generation is one of the most important elements of B2B marketing and is consequential for the growth and thriving of a business. But, then again, is Lead Gen really such a difficult task?
The process of Lead Gen begins with identifying and reaching the right consumer masses, getting them to visit your website, product, and service catalog, and convincing them to purchase for lead conversion. It doesn't end here as you have to put constant efforts to nurture these leads for a lifetime.
The way to begin is to have the right lead generation tools. These tools are consequential and have distinguishing features that you will want to explore.
Features of Lead Generation Tools
Here are some of the common features that a lead generation tool must-have.
1. Usability
Top lead generation tools offer impeccable ease-of-use and make the entire job of spreading the word across the masses easier and better. They don't require core technical aptitude or coding skills for the best results.
2. Platform Integration
The modern business landscape integrates different types of business software and automation that work in close association to achieve the desired business outcomes. So, all the top lead generation tools offer seamless integration across all the major platforms for effortless working.
3. Diverse Functionality
Best lead generation software has a diverse set of features and functionalities for holistic and comprehensive support to marketers. From analytics to reporting and from lead flows to landing pages – lead generation tools come with a rich toolbox for marketers.
4. Landing Page Builders
As per Forbes, businesses with more than 40 landing pages get 12 times more leads than those with five or lesser landing pages. Further, landing pages with videos can increase your conversions by 80%.
And, these stats indicate the importance of having a robust and reliable landing page builder tool. When you can automate the entire process, you automate lead conversion, which is certainly a major business growth driver.
5. Marketing Dashboards
All-inclusive marketing dashboards for B2B and B2C marketers are yet another important feature offered by the top lead generation tools. These dashboards are equipped with everything a marketer might need for lead generation, marketing automation, lead management, account-based marketing, and much more.
After having a brief overview of the various important features of lead generation software, let us move on to explore its different types.
Types of Lead Generation Tools
Lead generation tools can be broadly divided into the following categories:
1. Email Marketing Tools
These tools offer unparalleled performance when it comes to online lead generation and is among the best online lead generation tools.
2. Email Lookup Tools
They prove to be extremely useful when you need to connect with people that are not on your email list. These tools allow you to find their email addresses and contact details and help you connect with them.
3. Marketing Automation
Marketing automation tools automate tasks such as social media posting, email marketing, and ad campaigns, etc. Hence, they not only improve work efficiency, but they also help marketers in offering more personalized customer experiences.
4. Calendar Scheduling
The calendar scheduling tools help you overcome the challenges of scheduling meetings and by-pass the back-and-forth email chains. They give your prospects more flexibility and keep your calendar packed effortlessly.
5. Form Collection Tools
Form collection tools do the task of collecting email addresses and other personal contact details of your website visitors that can be your prospective customers. They help you create the email lists for drip campaigns and content promotion, etc.
6. PopUps
Popups do an incredible job when it comes to grabbing the attention of your visitors. They also collect email addresses and other personal details.
7. Live Chat
Live chat tools allow you to cater to your website visitors in many ways. From grabbing the attention via chat prompts to displaying the messages regarding the latest deals, to solving queries, etc. – they allow potential customers to get in touch with your team in a quick manner.
8. Inbound Lead Generation Tools
These tools help you bring more leads to your website and other channels. It involves creating content and campaigns to drive more traffic to your website, which leads to conversions.
9. Contests
Contest tools are great for creating brand awareness and getting the participants and people, in general, to sign up for your email list. Once done, you can continue to add them to your email drip campaigns.
10. Marketing Management Tools
The marketing management tools help you maximize lead generation, measure performance, and improve the quality of leads.
11. Social Media and Forum Tools
When it comes to collecting leads from social media channels and forums, these tools offer the best assistance by collecting the email addresses and other contact information from social media channels such as Twitter and LinkedIn.
Now, let's dive in and take a quick look at the top lead generation tools and what makes them worthy of their ranking.
Top Lead Generation Tools
Without further ado, let's look at the best lead-gen tools.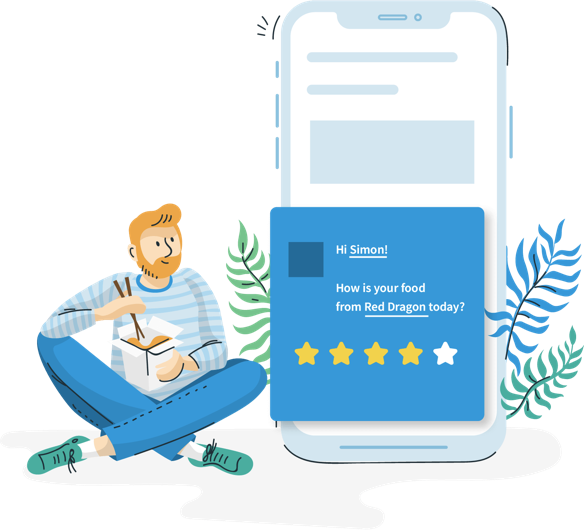 Qualaroo is one of the top lead generation tools that are smart and allows you to ask the right question at the right time and gather quality feedback from your customers and visitors.
You can show the surveys and popup lead generation forms on your website as well. You can target the customers via specific actions, events, behavioral patterns, cookies, location, and even the data received from your apps.
It offers advanced targeting and a unique feature – Qualaroo Nudges that improve your response rates as well.
Pricing:
There are three plans – FREE, ESSENTIALS ($25 pm), and PREMIUM ($50 pm). You can use any one of them for free for 15 days.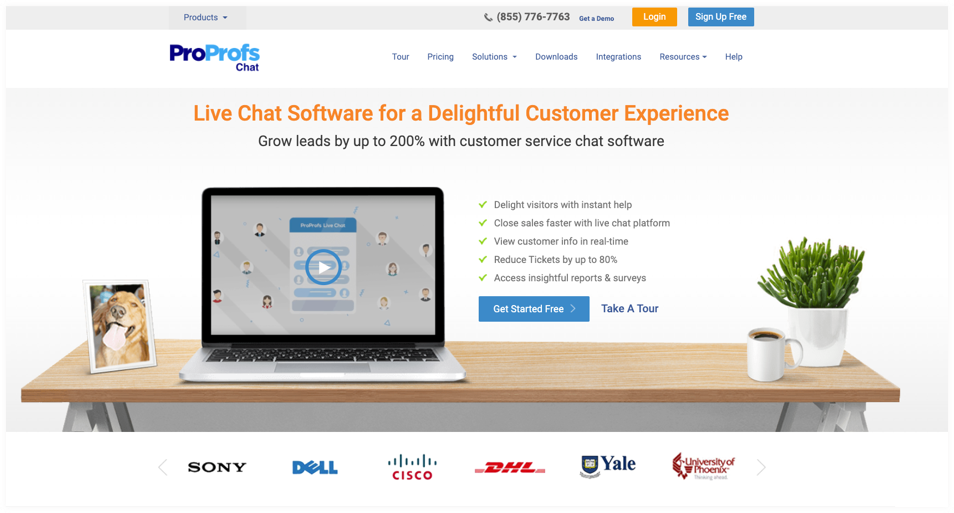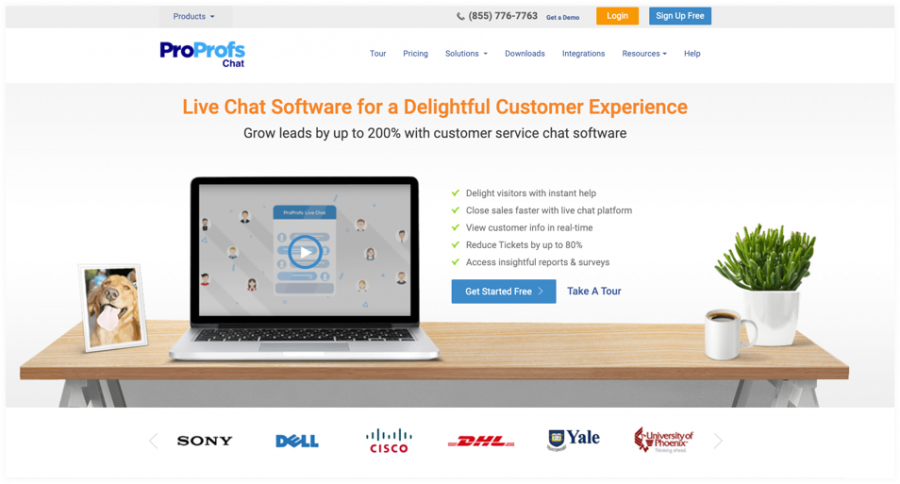 ProProfs Chat is one of the top inbound lead generation tools that optimizes your sales funnel. It allows you to capture qualified leads and saves them to a CRM software of your choice. One unique feature is the "announcements" via which you can share the upcoming events, sales, updates, and new product launches with your website visitors.
It offers multi-faceted engagement tactics that your sales team can use to identify upsell opportunities.
You can use ProProfs Chat to create a highly reliable lead generation system that comes with important features such as a customized pre-chat form by which you can collect data and direct the incoming visitor queries to the right teams or departments.
Pricing:
There are three plans – FREE, ESSENTIALS ($12.75), and PREMIUM ($17). You can use any one of them for free for 15 days.

AeroLeads is an internet-based lead generation tool that allows you to capture qualified leads in the form of company details and email addresses. It sits as a sleek Google Chrome plug-in and allows you to add the contact details to a lead management page.
You can search and add the contact details collected by the AeroLeads plug-in to see them on the lead management page finally. Next, you can edit, filter, and sort the collected leads easily. It can be easily integrated with other major platforms and software.
Pricing:
You can select from their four plans- TAKE OFF ($49 pm), CLIMB ($149 pm), CRUISE ($499 pm), ENTERPRISE (Price decided on a call with the team)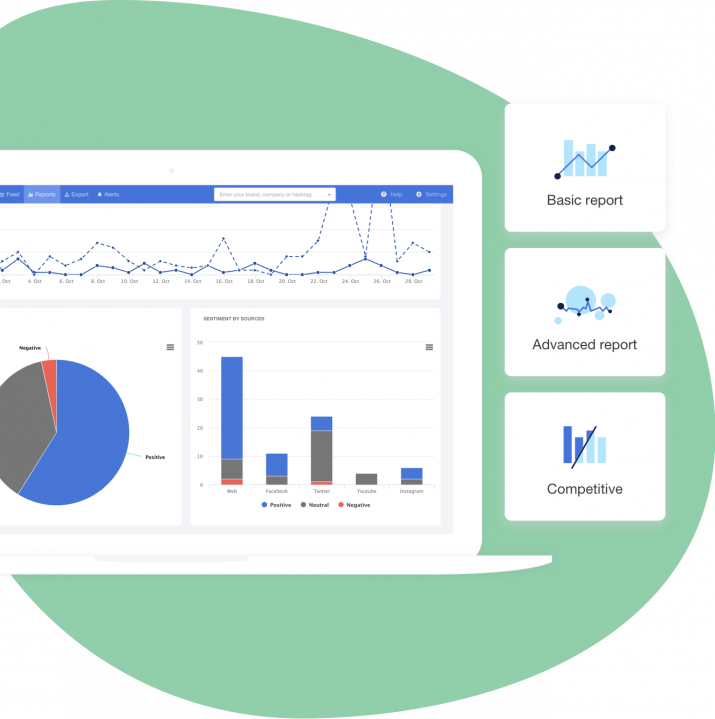 Mediatoolkit is an online media monitoring and analysis tool that can help you learn about all your social media mentions 24X7 from any source in the world.
You can automate your social media and website monitoring and filter the results via powerful search filters, such as Tags, Boolean Search, Location filters, and Language filters, etc.
It has a unique data analysis dashboard that helps you do the sentiment analysis, influence scoring, and generate excel data sheets for reporting and assessment. You can create custom alerts and save your data in various forms such as PDF files or excel sheets etc.
Pricing:
There are four plans, Pro: 117$ pm, Medium Business: 444$ pm, Enterprise: 1100$ pm, Agency: Pricing on call.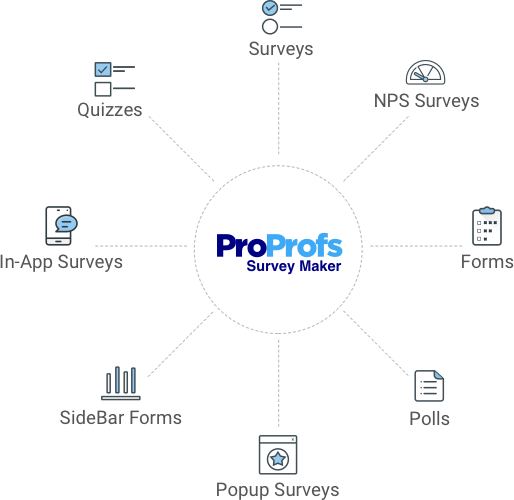 A cloud-based software, ProProfs Survey Maker, empowers you to gather qualified leads and capture their recurring troubles.
The software comes with an impeccable knowledge base and a huge library of questions that allow you to understand the purchase intent, exit intent, and overall experience of your customers and prospects.
It allows you to customize the customer interactions and comes with a fantastic survey distribution system that distributes surveys via email, website, social media, and embedded links.
So, the odds of you reaching the relevant prospects are higher and better.
Pricing:
There are three plans – FREE, ESSENTIALS ($50 pm), and PREMIUM ($100 pm). You can use any one of them for free for 15 days.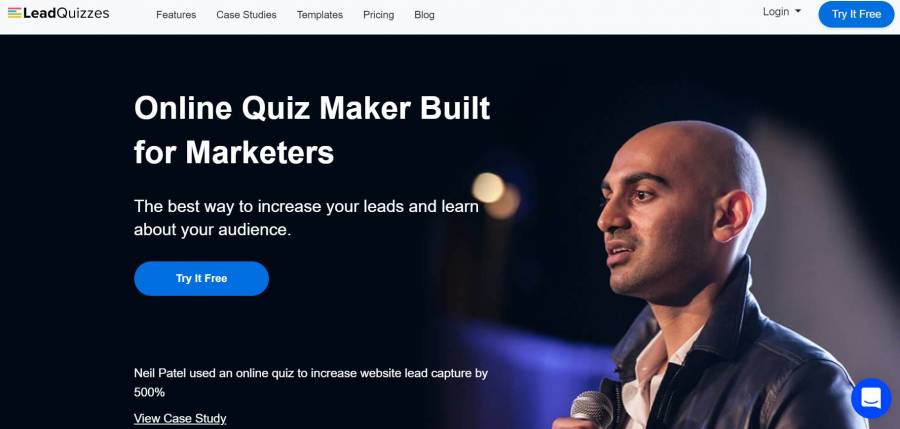 LeadQuizzes is another impressive online quiz maker that is one of the best lead generation software for SMEs and start-ups.
The marketers can create surveys, increase their leads, and learn about their customer behavior without needing a developer. The tool comes with powerful popup controls that allow you to capture more leads and data from your website.
Pricing:
There are three plans – Standard: $49, Pro: $99, Premium: $249.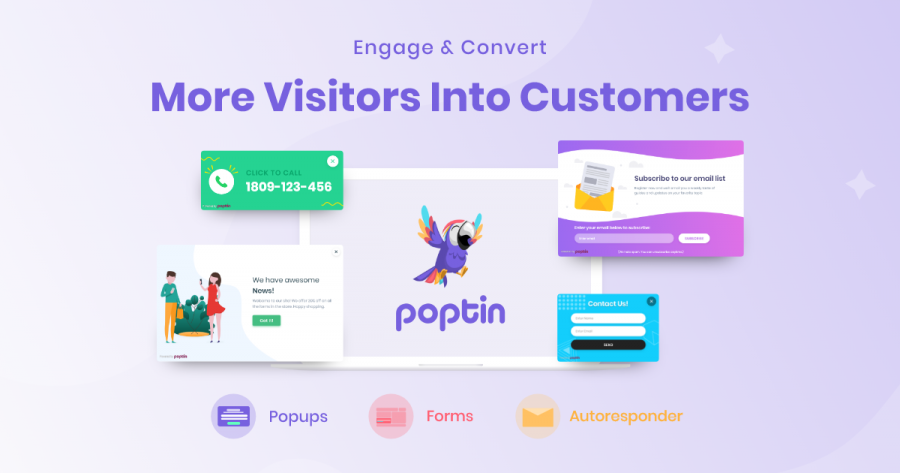 Poptin lets you create engaging forms and popups for your websites within minutes and helps you make an offer that your customers cannot refuse.
It helps you reduce shopping cart abandonment by offering popups and boosts visitor engagement by conducting surveys and collecting feedback. You can make user-relevant offers for better-personalized experiences and make use of the autoresponder emails to send coupons or welcome emails to improve customer experience.
Poptin allows you to create Email forms, Advanced forms, and Contact forms, etc., for improved lead generation.
Pricing:
There are four plans to choose from – FREE Plan, Basic Plan ($19), Pro Plan ($49), Agency ($99)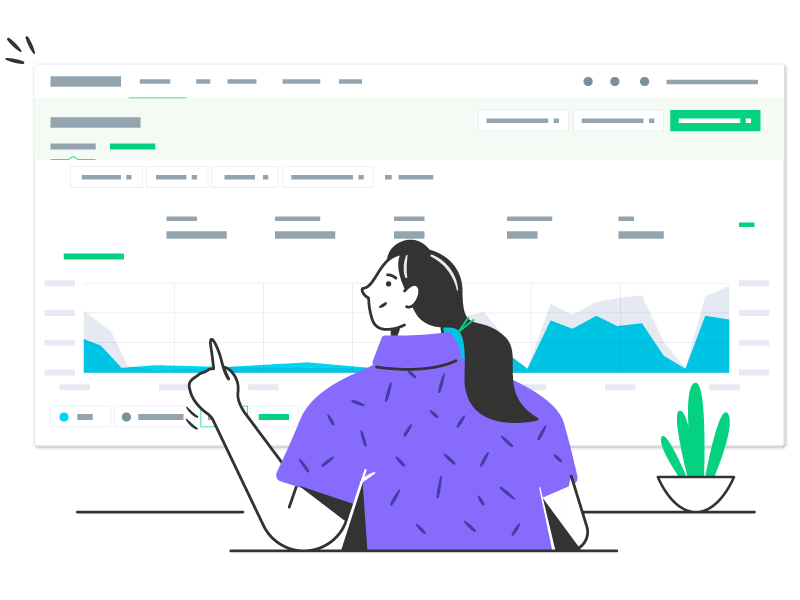 RollWorks is an account-based platform that is perfect for B2B marketers and ABM solution seekers. This is powered by machine and data learning and is undoubtedly one of the top lead generation tools.
The tool comes with the ABM Readiness Assessment Guide that empowers the B2B marketers with the right insight into their ABM readiness. You can identify the ideal customer profile for your business and target accounts and key buyers to improve your ROI.
You can also engage the existing accounts and measure the impact of your lead generation activities.
Pricing:
There are four plans, out of which the Starter plan is available at $975 per month, and the others, namely – Standard, Professional, and Ultimate, require team contact for pricing.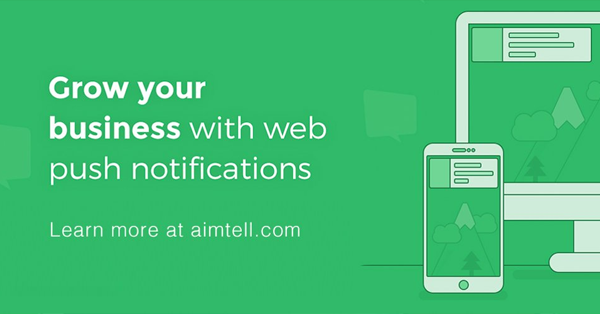 Aimtell offers better visitor engagement via web push notifications and helps you acquire, engage, and retain leads as well as customers after they leave your website.
You can send highly personalized push notifications to your visitors, customers, and prospects for better reach and better customer engagement. You can acquire subscribers and automate their user journeys effortlessly.
Pricing:
There are four plans to select from – Basic: $49, Plus: $99, Pro: $199, Enterprise: $299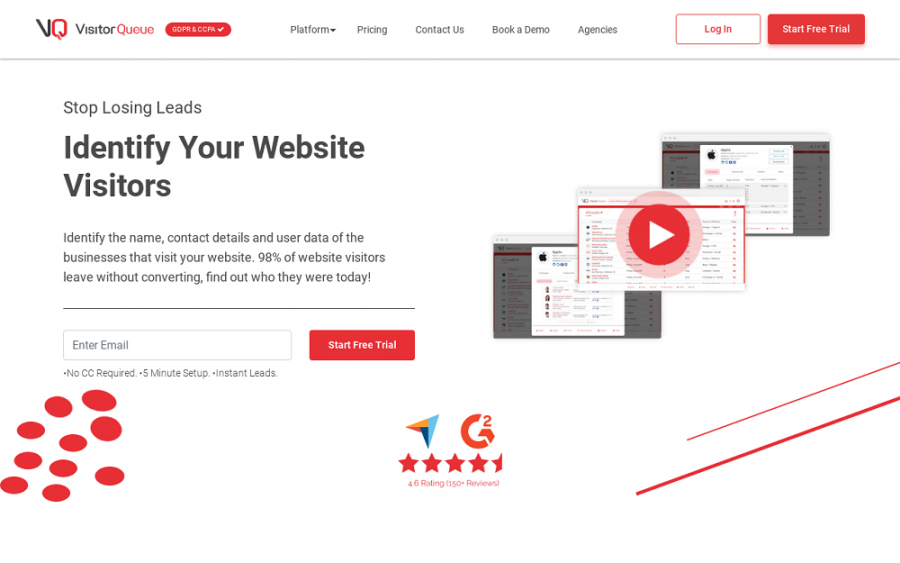 VisitorQueue allows you to identify the name, user data, and contact details of the people and businesses that visit your website. You can share the collected data with your team and enjoy better conversions without much ado.
The tool allows you to access the key decision-makers' contact details of other companies or businesses that visit your website. You can enjoy an unlimited number of users in every plan, and the tool comes with dedicated customer support.
You can enjoy seamless integration across all the major platforms and software.
Pricing:
Five plans are priced according to the number of unique companies per month – 100 companies: $31, 300 companies: $63, 500 companies: $79, 1000 companies: $135, 2000 companies: $199
LeadBoxer is an automated lead generation tool that speeds up the lead qualification and helps you grow your revenue. You can capture new leads and also gain actionable insights into your website visitors.
The tool offers real-time information about online visitors and shows the users currently interacting with your website. You can optimize workflows to solve your customer intelligence issues by using this tool.
Pricing:
There are two plans – Basic: $231 pm, Premium: $586 pm.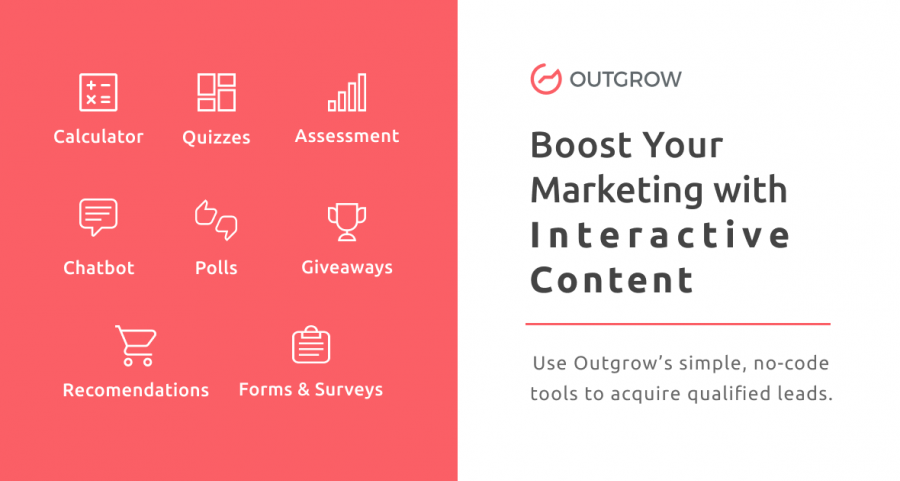 Outgrow allows you to create engaging, interactive content such as assessments, quizzes, surveys, polls, and calculators. All of them are top lead generation content pieces and can be generated with ease without any coding experience.
You can share the content as a slide, pop-up, or embed it on a webpage or URL of your choice. Outgrow comes with many pre-built templates and impressive layouts optimized for engagement, conversion, and screen sizes.
This tool has a separate dashboard for better end-to-end analytics and can integrate with more than 500 3rd party sales and marketing tools. You can also add buttons like 'Follow,' 'Like,' and CTAs such as 'share' on the result page.
Pricing:
There are four plans – Freelancer (Quiz Only): $14 mo, Freelancer: $25 mo, Essentials: $95 mo. and Business: $600 mo.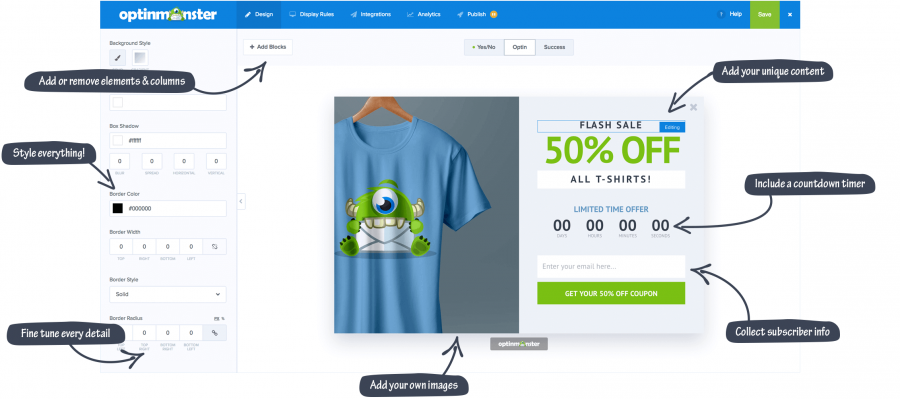 Optinmonster is one of the best lead generation tools that help you grow your email list exponentially.
The easy drag-and-drop builder allows anyone to create stunning pop-ups and lead generation forms that can be optimized for higher conversion rates. With more than 50 in-built templates, you can create six types of lead generation content, of which some are highly impressive, such as full-screen welcome mat, floating bar, and lightbox pop-up.
The worth of Optinmonster lies in its powerful segmentation and targeting engine that allows you to offer highly personalized customer experiences. You can target the right people at the right time by showing a highly relevant offer.
Further, Optinmonster works on all types of websites and platforms seamlessly.
Pricing: There are four plans – Basic plan: $9, Plus Plan: $19, Pro Plan: $29, and Growth Plan: $49.


Leadfeeder is one of the best lead data collection tools and enables you to identify details of your visitors, such as their Email addresses, and company names, etc.
What makes Leadfeeder an amazing tool is that it tells you what companies visited your website even when they don't fill any contact form.
It also finds the contact information of the employees working at that company, so you have the leads that never inquired about your products and could turn out to be excellent potential leads for your sales pipeline. You can install the Leadfeeder Tracker for a trial.
Pricing: The LITE plan is available for free, and the PREMIUM Plan is priced at $55 monthly.
Prospect.io is a type of prospecting and outreach tool that allows you to turn your contacts into sales and leads. It is an automated lead generation software that not only helps you find the email addresses of your prospects but also verifies them.
You can also track the data on every interaction by using Prospect.io. It is a modern sales automation platform that integrates effortlessly and sits quietly in your browser as an extension.
So, whenever you want, you can launch a cold Email campaign right from your browser and allows you to sell your products and services to decision-makers.
Pricing: There are two plans – Essential: $149 and Business: $299, both billed monthly.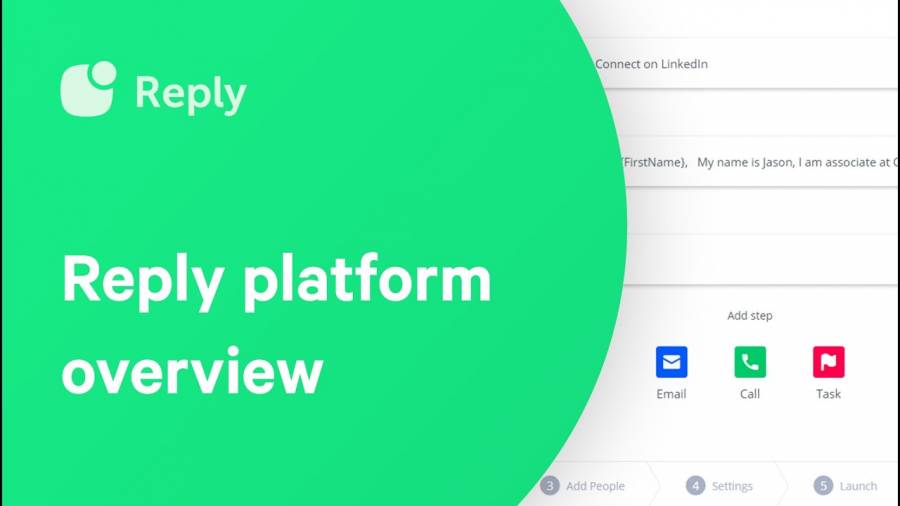 Reply.io is an Email look-up tool that automates your sales outreach list, such as follow-ups, personal details, tasks, social touchpoints, and calls.
It automates the manual tasks of a sales rep, such as sending a follow-up. The tool comes with several integrations and team management tools that allow for efficient and effortless working.
The tool extension allows you to add new contacts to your multi-channel sequences, make direct calls, and manage & access your tasks.
Pricing: There are three plans – Individual: $70, Business: $60, and Enterprise: $50, all billed monthly.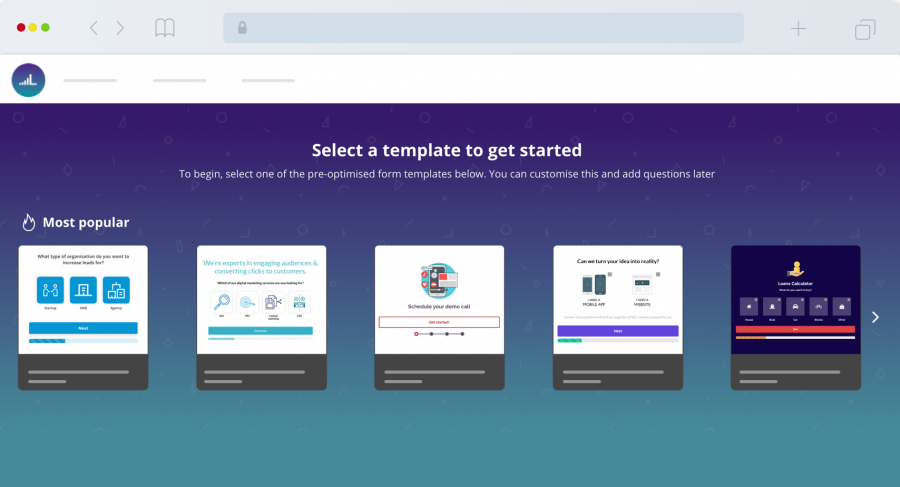 Leadformly offers more than 50 templates that are customizable and relevant to different industries. It is a LeadForm builder where each form is built with more than 58 best practices in the UX domain.
The software increases the completion rates and usability of the LeadForms and helps you avoid the big lead leaks via forms. The forms can be embedded anywhere and come with lead scoring and notifications.
Easy customization, intelligent validation, conditional logic, and insightful analytics are the other perks offered by Leadformly.
Pricing: The software is available for $179 billed annually, and a free trial is also available.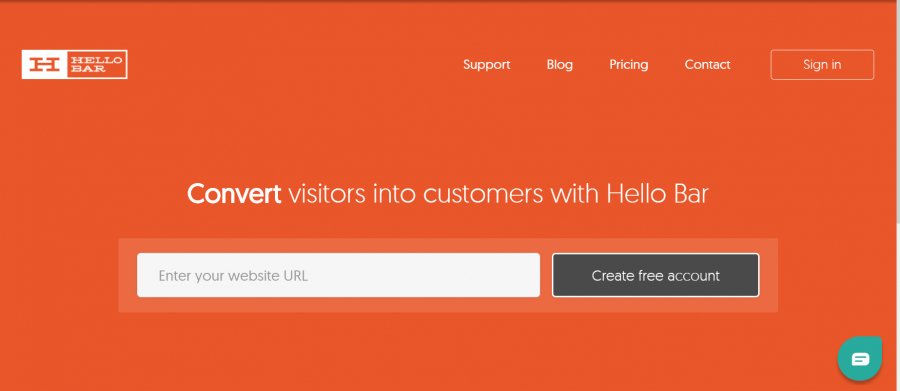 Hellobar is another commendable lead generation tool that will not only increase your website visitor's stay time but also pursues them to take the action that you want them to.
The software is easy to use and allows you to use it as a bribing tool (a free eBook or user guide etc.) for your visitors.
Hellobar also allows you to send traffic to a specific landing page, and it can help increase the social media following and likes.
Pricing: The price is based on the number of click-throughs per month. 100 click-throughs: $4.95, 500 click-throughs: $12.95, and 2500 click-throughs: $29.95.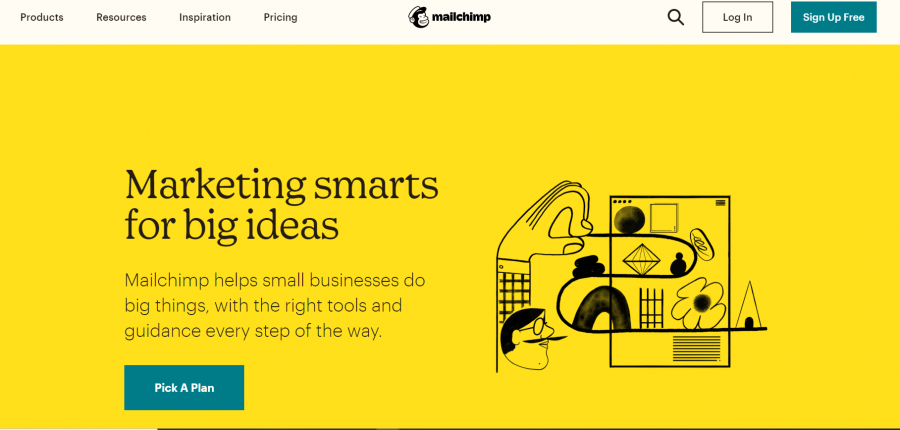 Mailchimp is one of the most famous lead generation software that also helps you build your brand. This is undoubtedly one of the easiest Email marketing platforms.
MailChimp is intuitive in nature and comes with a drag-and-drop Email builder that makes it easier to create stunning Emails.
It also comes with Email automation and can store 200 email contacts while sending 12000 Emails per month. The software comes with customizable sign-up forms and segment lists for lead nurturing.
Pricing: There are four plans – Free: $0, Essentials: $10.39, Standard: $15.52, and Premium: $310.49, billed monthly.
Marketo is a lead management solution that offers many other features, such as Email marketing, lead scoring, analytics, lead management, etc.
As far as lead management is concerned, Marketo offers segmentation, lead nurturing, CRM lead generation, online behavior tracking, lead scoring, and grading and Automated alerts (tasks).
Marketo comes with basic reporting for analytics, program management, A/B Testing, and Automated Email Responses. It can easily manage Email deliverability and can also send outbound Emails.
Pricing: The pricing information can be availed via calls to sales reps.
Summarizing all Tools
Given below is a tabular summary of all the tools discussed above that offer you a quick review of all their features. Take a look and zero in on the tool that suits your business the best.
Top Lead Generation Tools at a Glance:
| Tool | Features | Perfect For |
| --- | --- | --- |
| Qualaroo | Lead generation surveys, popup lead generation forms, and customer feedback | Businesses of all scales and all types |
| ProProfs Chat | Real-Time Assistance for Chat Leads, Chat Routing, Chat greetings, cross-platform support, Personalized Live Chat Support for increased lead generation. | Businesses of all scales and all types |
| AeroLeads | Lead Capture, Lead Database Integration, Prospecting Tools | Businesses of all scales and all types |
| Mediatoolkit | Sentiment Analysis, Influencer Tracking, Customer Engagement, Dashboard, Trend Tracking, and Social Media Monitoring | SMEs and Enterprise setups |
| ProProfs Survey Maker | Capture qualified leads, identification of their pain points, lead generating surveys, and customized customer journeys. | Businesses of all scales and all types |
| LeadQuizzes | Lead Capture, Lead Segmentation, Lead Validation, Lead DB Integration and Data Export/Import | SMEs and Start-ups |
| Poptin | Auto Update, Survey Builder, Real-Time Editing, Landing Pages/Web Forms, and Pre-built Templates | Marketers, eCommerce websites, and digital agencies |
| RollWorks | Lead segmentation, Workflow automation, Lead locator, Contact discovery, and Customer targeting. | Businesses of all scales and all types |
| Aimtell | Advanced Segmentation, Customized Notifications, Welcome Messages, Expiring Notifications, Scheduled Campaigns | Businesses of all scales and all types |
| Visitor Queue | Lead Conversion Tracking, Goal Tracking, Campaign Management, Lead Scoring, Pageview Tracking, and Referral Source Tracking | SMEs and large business setups |
| LeadBoxer | Lead Scoring, Lead Management & Routing, Company Identification, Smart Lists, Auto Form Tracking, Up-sell opportunities, Customer Experience | SMEs and large enterprises |
| Outgrow | Building and Personalizing Emails, Automated Email Responses, Landing Pages and Forms, Lead Scoring and Grading, Lead Nurturing, Automated Alerts and Tasks, and CRM Lead Integration, etc. | SMEs and Large Enterprises |
| Leadfeeder | Data availability, lead builder, search, reporting, Integration with CRM/marketing automation, data accuracy and dashboards, etc. | SMEs and medium enterprises |
| Prospect.io | Tools for data import and export, high-volume sending, email list management, automated email responses, surveys, multi-user account, personalizing and building emails, A/B Testing and basic reporting, etc. | SMEs |
| Reply.io | Analytics, Task Management, Email Automation and tracking, Email scheduling, notifications, workflow management, content management, and Email categorization, etc. | SMEs |
| LeadFormly | Drag & drop form builder, form analytics, multi-user management, GDPR compliant, advanced conditional logic, 15+ question types, and more than 1000+ integrations, etc. | SMEs and Enterprises |
| Hellobar | Pop-ups, hello bars, modals, sliders, A/B Testing, Targeting, Alert bells, page takeovers, etc. | Businesses of all scales and all types |
| Mailchimp | Data export and import tools, integration APIs, manage Email lists, basic reporting, automated Email responses, high-volume sending, sending outbound Emails, building and personalizing Emails, A/B Testing, etc. | Businesses of all scales and all types |
| Marketo | Lead nurturing, lead scoring, segmentation, automated alerts and tasks, landing pages, mobile-optimized forms, A/B Testing, CRM lead generation, automated Email responses, etc. | Businesses of all scales and all types |
Final Verdict
Lead generation tools help you to plan your business growth trajectory in a focused manner. From landing pages, surveys to advanced analytics, lead generation tools reveal your customer's pulse and create quality business prospects.
You can choose from a plethora of lead generation tools after shortlisting your needs and requirements.
For example, if you need a cost-effective tool for creating an email sales campaign, MailChimp will be the best fit.
Further, for understanding the social media mention of your brands, you can opt for Mediatoolkit. Lastly, for creating employee engagement and NPS surveys, you could consider using ProProfs Survey Maker. You could also try out a combination of tools to meet your business needs.
Want to share your thoughts? Please feel free to drop your comments below.