India's software development firms have deep expertise and experience on various platforms. Options for corporate digitizing processes based on cutting-edge research and development are made available through these services. Businesses can improve their efficiency and output with the help of software development services, which cover everything from data analytics to cloud computing.
Software is essential for the daily operations of every business or individual user. India's software companies provide a one-of-a-kind option for businesses to maintain communication with their worldwide staff and customers. Cloud computing, AI, big data, data science, DevOps, cybersecurity, IoT, and blockchain are some of the cutting-edge technologies today's software development firms use to meet each client's specific needs with tailored solutions. 
Here is a compile a list of the best Custom Software Development Companies. Read on to know!
List of Top 10 Custom Software Development Companies in India 2023
With 12 years in the industry, eSparkBiz has established itself as a leading software development firm in India and the United States. Your challenging offshore software development can be transformed into usable, market-ready solutions with the help of its Agile philosophy and specific capabilities. They have expertise in cutting-edge technologies such as AI, ML, blockchain, IoT, cloud, AR/VR, etc., and they serve customers in over 20 countries. With a team of 300+ specialists, it provides innovative digital solutions to improve the efficiency of your business's software while also providing a pleasant user experience.
It is a reputable and established Software Development Company in India and the United States with 12 years of experience creating bespoke software to improve the performance of businesses. The firm provides cutting-edge digital solutions to accelerate your corporate software's productivity to expand with trend-setting user experiences. The company has more than 300+ accessible in-house experts so that it can provide these solutions.
Clutch Rating –

4.9 

Established In –

2010 

Projects Completed

– 1000+ 

Price –

$15 to $25 / hr

Time Zone Availability –

GMT, ECT, MET, IST, ACT, AET, NST, PST, CST, EST

Min Project Size –

$5,000+

Employees –

300+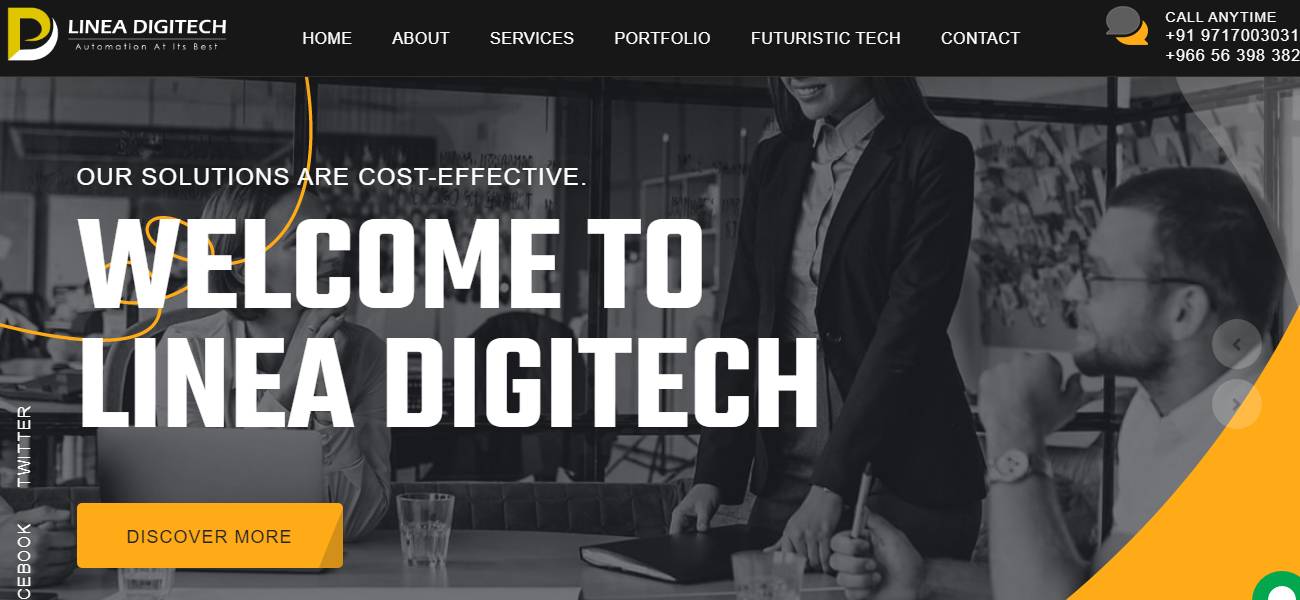 Linea Digitech is a rapidly expanding app and software development and digital marketing firm with bases in India and Saudi Arabia. Using tools like Big Data, Chat Bots, AI, etc., the company have been diligently trying to enhance the mobile app user experience. It can also help any company out there with digital marketing lead generation. Linea Digitech empathises with the client's desires and tailors our efforts accordingly. The main goal is to meet the needs of our customers quickly. Linea Digitech's ultimate goal is to continually provide cutting-edge offerings that help companies of all sizes operate more smoothly and profitably.
Clutch Rating –

5.0 

Established In –

2018 

Price –

$25 to $49 / hr

Min Project Size –

$1,000+

Employees –

250+
Next on our list is Tech Dilati. It is a well-known company that aims to develop digital solutions that are both easy to use and expandable. These solutions feature original designs, intuitive user interfaces, and cutting-edge technology. TechDilation's devoted programmers will collaborate with you to create new ideas, designs, and safe and secure builds. Tech Dilatio has the know-how and ability to create bespoke web and mobile solutions for you. As a reputable software engineering firm, the company can provide you with development teams and qualified programmers to meet your immediate needs. 
Clutch Rating –

5.0 

Established In –

2012 

Price –

$25 to $49 / hr

Min Project Size –

$5,000+

Employees –

50+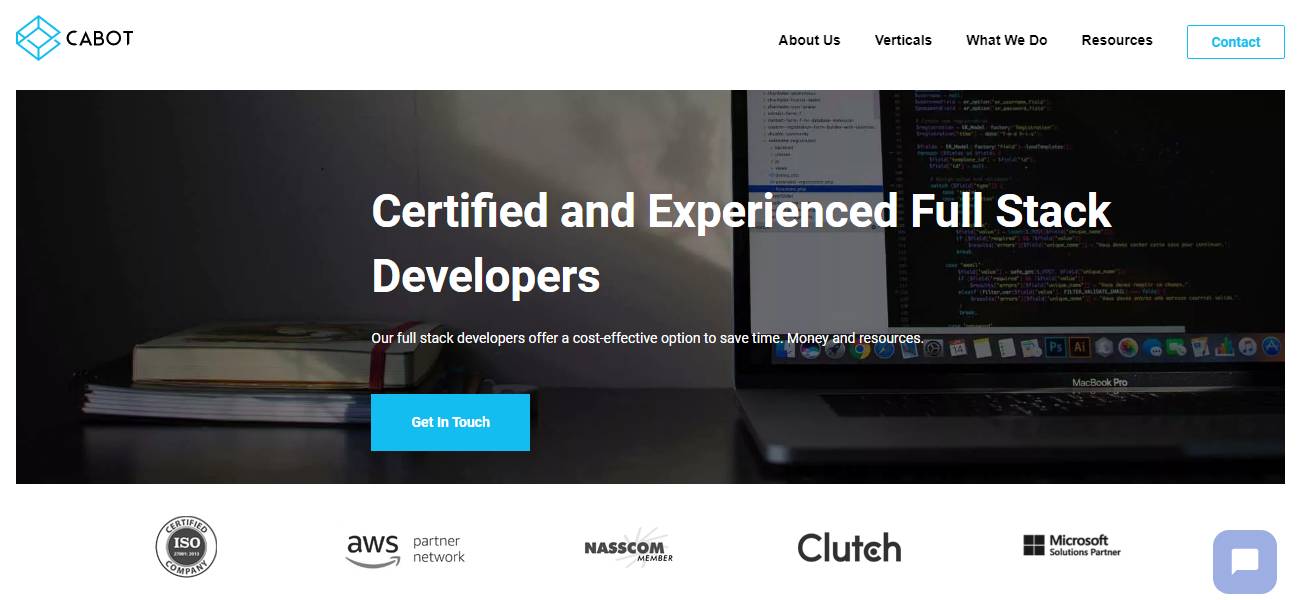 Cabot Technology Solutions is an IT company established in India that specialises in providing high-quality, cutting-edge product engineering solutions. This software development company was founded in 2006 by Shibu Basheer. Since then, the company's planners, project managers, developers, designers, and testers have completed over 500 projects for clients in various industries. John Cabot, a Venetian adventurer and navigator, was the first European to set foot in North America after the Norse. Cabot's success can largely be traced back to the founder's original goal: to offer premium software solutions that represent the zenith of design, programming, and integration.
Clutch Rating –

4.8 

Established In –

2006 

Price –

$25 to $49 / hr

Min Project Size –

$10,000+

Employees – 250+
5. Emizen Tech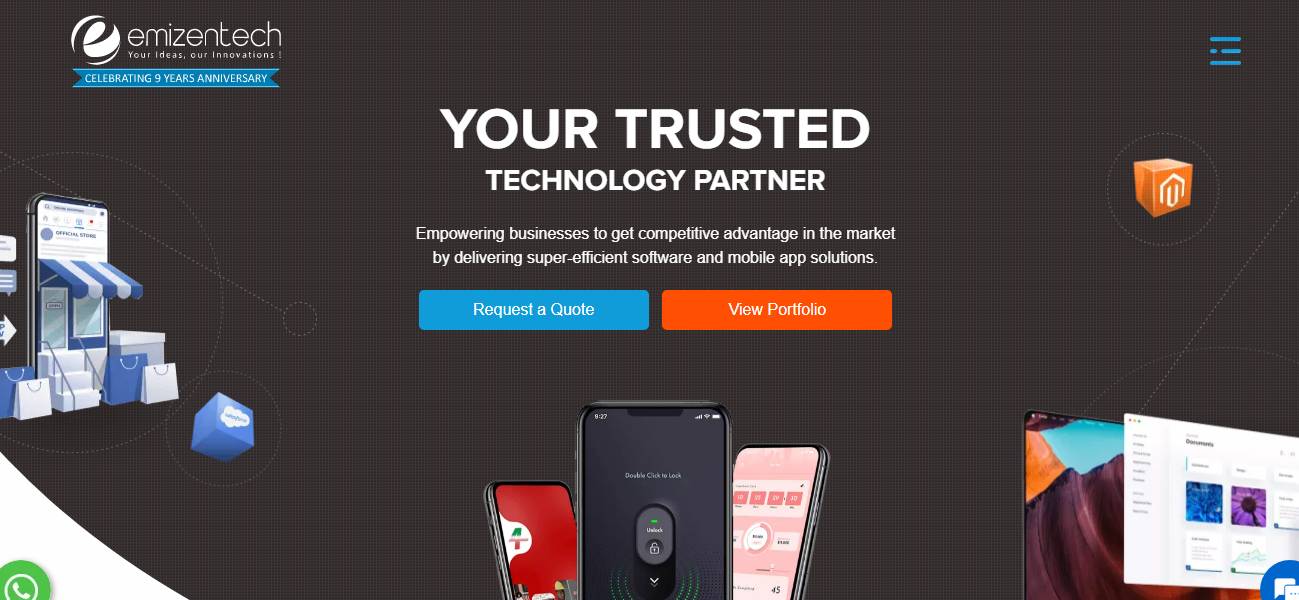 Emizen Tech provides comprehensive online and app development and design services emphasizing meticulous attention to detail. The organization is well-versed in all things related to Magento 2 and Magento 2 extensions, as well as Magento commerce development and the creation of custom themes and responsive layouts. The business has a team of Magento 2 specialists. Emizen Tech has produced successful websites and apps using various technologies, including WordPress, Magento, Cake PHP, Laravel, Shopify, Android, and iPhone.
Clutch Rating –

4.9 

Established In –

2013 

Price –

$25 to $49 / hr

Time Zone Availability –

IST, CST, EST

Employees –

250+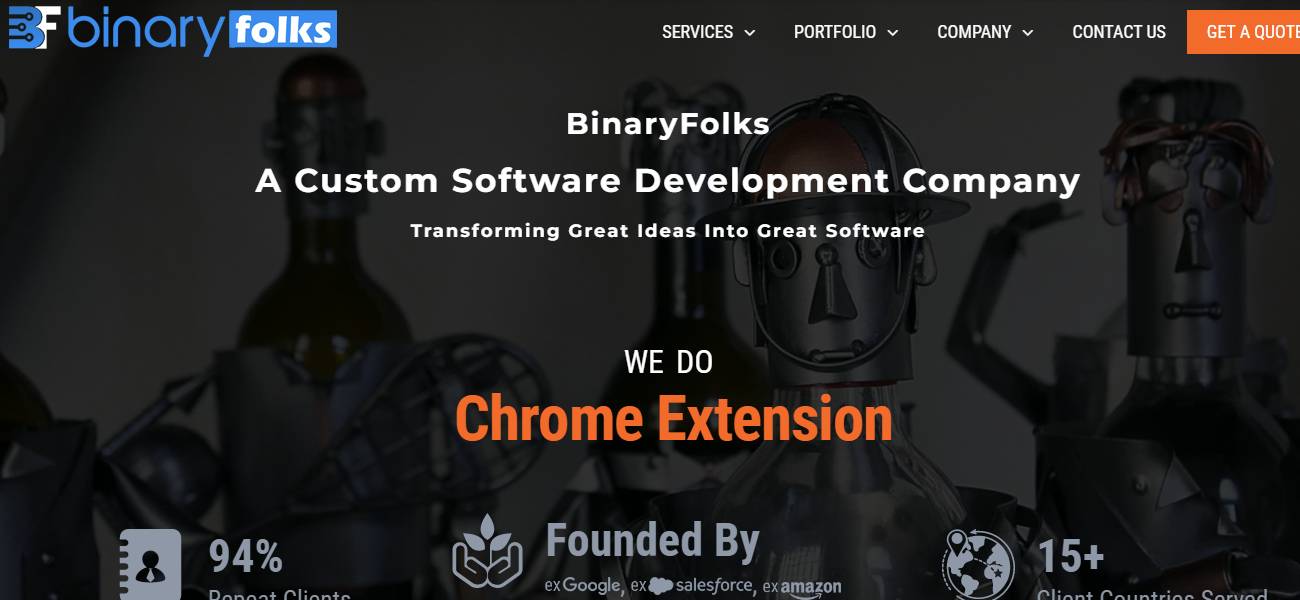 Binaryfolks is a SaaS-based enterprise-grade web application development and mobile application development company that solves unique business problems. Developing new products and services for innovative startups and "Fortune 50" companies is one of our primary focus areas as a custom software development company founded by former Google and Amazon engineers. The global client base of Binary folks spans the United States, Australia, the United Kingdom, Israel, Singapore, Canada, the European Union, Hong Kong, Japan, the United Arab Emirates, and India, and the company have garnered 94% repeat business throughout our 9+ year (and 75+ project) long journey.
Clutch Rating –

5.0 

Established In –

2012 

Price –

$25 to $49 / hr

Min Project Size –

$5,000+

Employees – 250
N2R Technologies was founded in 2013 and is headquartered in Noida. Here at N2R Technologies, the company is committed to being at the forefront of developing innovative solutions for the mobile app, web, and e-commerce industries. The staff is comprised of highly skilled, creative, and committed professionals. All the customers include both up-and-coming businesses and household names around the world. When it comes to satisfying our customers, company is undisputed experts. The company is willing to negotiate pricing to fulfil our mission of providing the highest quality and establishing lasting partnerships. In addition to completing projects, the company also offers six months of post-delivery support to the clients.
Clutch Rating –

5.0 

Established In –

2013 

Price –

$25 to $49 / hr

Min Project Size –

$5,000+

Employees –

50+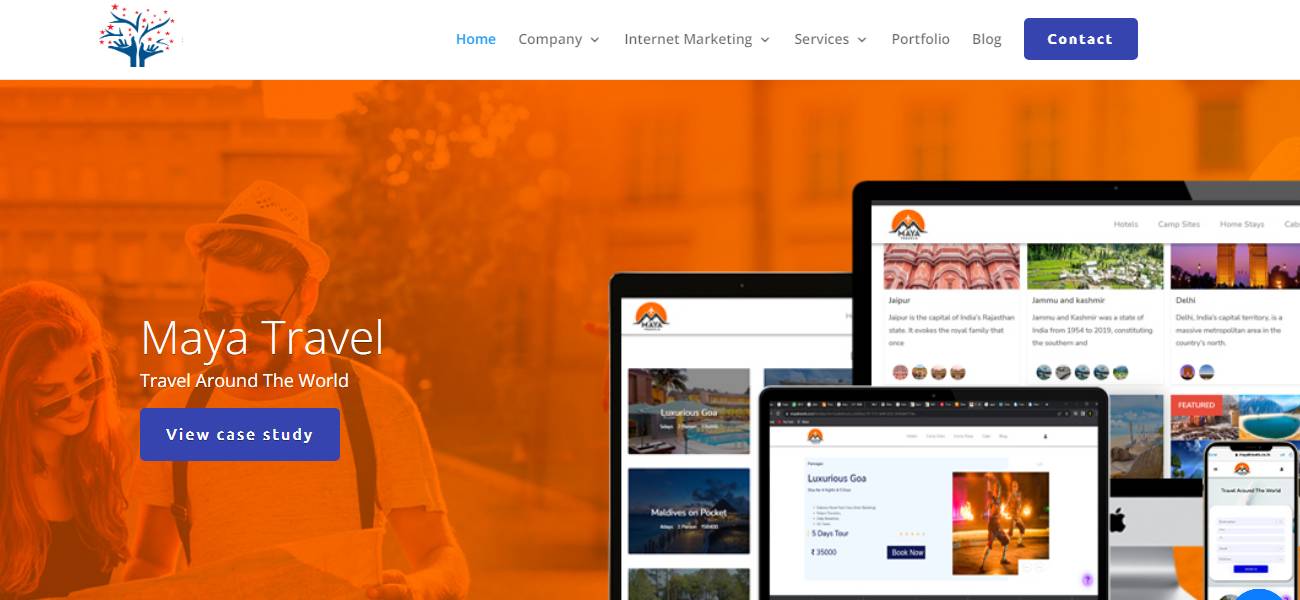 Endurance Software is an IT firm devoted to providing excellent customer service and support. The team has earned a solid reputation for producing reliable software solutions in various technological areas. The company offer consulting and system integration services in which user needs are assessed, and complete hardware, networking, and software packages are developed and deployed. Endurance Software's primary focus is helping businesses save money on software development and outsourcing projects by specialising in web and mobile app creation.
Clutch Rating –

5.0

Established In –

2009 

Price –

< $25 / hr

Min Project Size –

$1,000+

Employees –

50+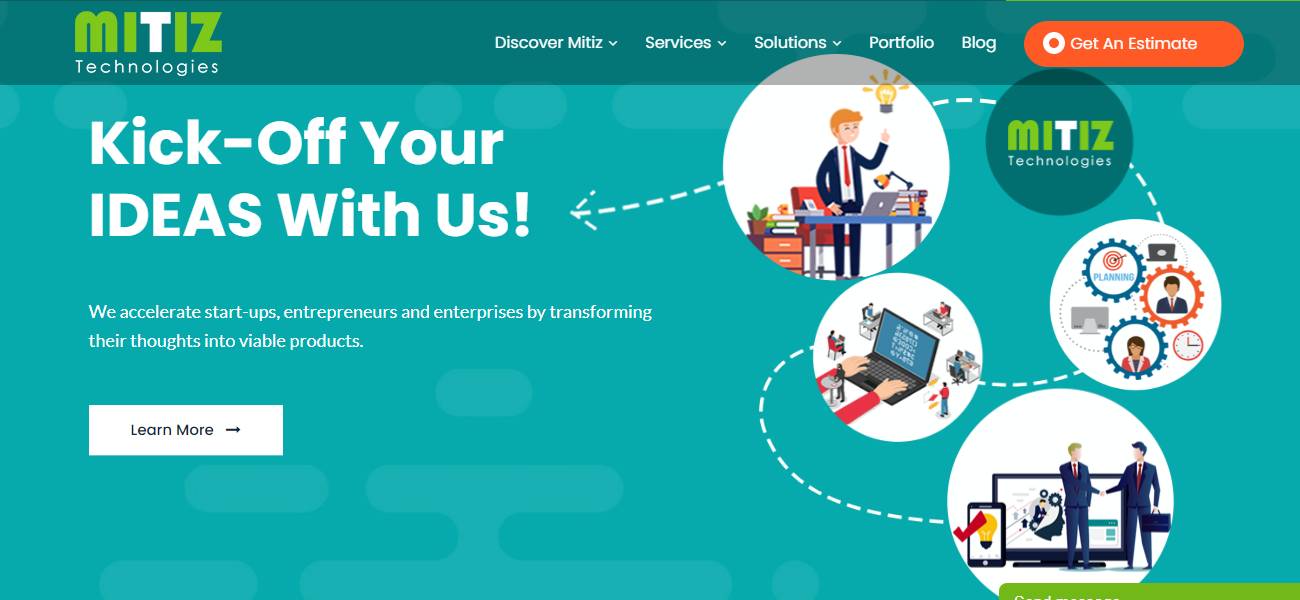 Mitiz Technologies, an ISO 9001:2015-accredited firm, aims to boost its clients' ROI by offering them high-quality IT services at competitive rates. Over the course of its nine years in business, Mitiz Technologies has amassed a wealth of experience in the field of web design and development. Despite the global scale of today's competition, the company is undaunted in its determination to provide the business answer. In order to help the clients succeed, they offer software and web development services that are second to none. The company can create everything from websites to apps to business solutions tailored just for you.
Clutch Rating –

5.0 

Established In –

2008 

Price –

$25 to $49 / hr

Min Project Size –

$1,000+

Employees –

50+
To help startups and fast-growing businesses succeed, Aguai Solutions provides them with product engineering and digital experience solutions. It is a company that focuses on providing value to customers in the technology-led industries, health tech, and financial technology sectors by drawing on the company's extensive leadership expertise. Their web, cloud, and mobile solutions are reliable and of the highest standard. Delivering business outcomes consistently is made possible by our innovative predictive delivery model, which is founded on the pillars of predictability, transparency, and collaboration.
Clutch Rating –

4.0

Established In –

2013 

Price –

$25 to $49 / hr

Min Project Size –

$5,000+

Employees – 50+
Conclusion
The IT sector is enormous and rapidly evolving. Several factors, such as expanding updates, market demands, shifting technological trends, and the rising need for software development, directly impact the software development sector. The process of creating software has evolved significantly in recent years. All those adjustments have paid off throughout the years. The solutions provided by well-developed software have the potential to increase earnings significantly.
When businesses require assistance developing innovative software platforms, websites, and mobile applications, they can turn to a software development company. To dominate their industry with cutting-edge digital products and services, many organisations have turned to the knowledge and expertise of software development companies. Therefore, you have the flexibility to choose any of Custom Software Development Companies in India mentioned above for your next software development project.