Software development has come a long way since its inception and has become a crucial aspect of modern-day businesses. With the increasing demand for software solutions, software development companies have been popping up like mushrooms.
Finding the Best Software for Your Team
Not all companies are created equal, and finding the right one is challenging. To simplify the process, we've compiled a list of the top software development companies in 2023. These companies have been evaluated based on various criteria, such as industry experience, market presence, technology expertise, and client satisfaction.
This list can assist you in locating the ideal software development partner to advance your company, whether a startup or an existing organization. Here is a look at the world of software development.
List of 13 Software Development Companies for the Year 2023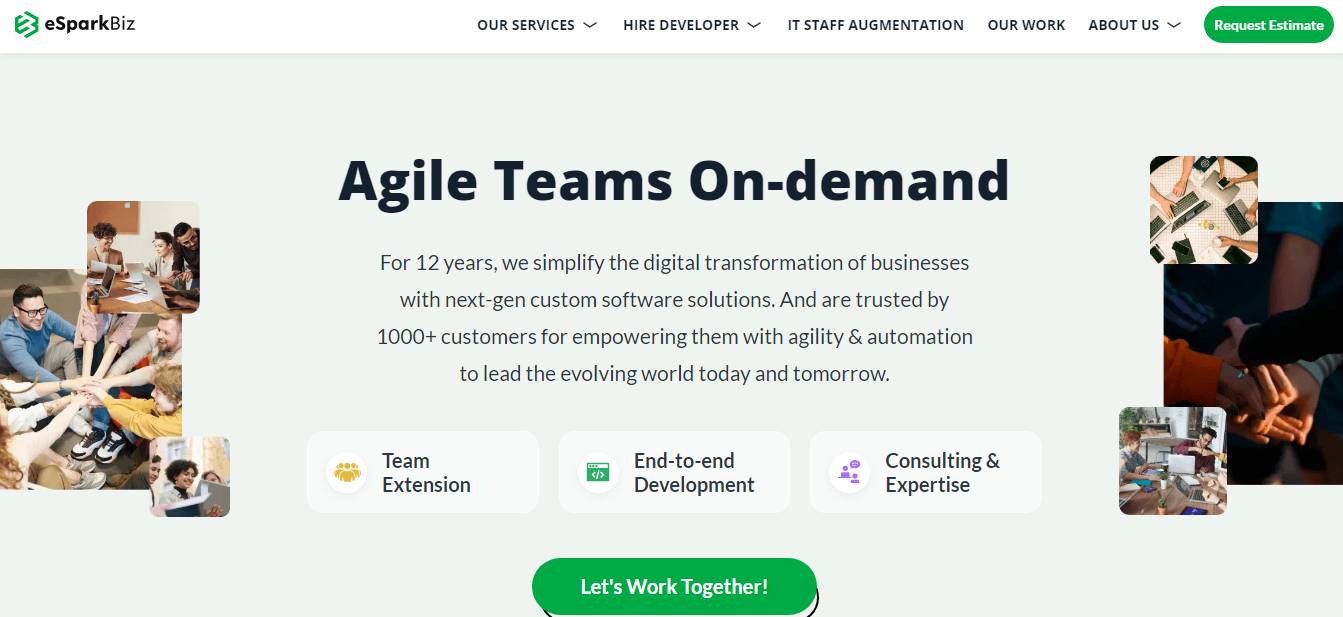 eSparkBiz is a software development company that has made its mark in the industry with its innovative solutions and unparalleled expertise. Founded in 2013, the company has been delivering world-class software development services to clients across the globe. Their team of highly skilled developers and technology experts has extensive experience in developing custom software solutions that cater to the specific needs of each client.
This company is famous for its dedication to completing projects on schedule and under budget. They have a history of completing projects for clients in various sectors, including retail, education, healthcare, and more. With eSparkBiz, clients can be assured of receiving the highest quality software development services at an affordable cost.
USPs:
12+ Years of Experience
20+ Countries Served, 250+ Development Staff, 95% Client Retention Rate
ISO 27001 certification, 4.9 on Clutch and 5.0 on HubSpot RATING, CMMI Level 3.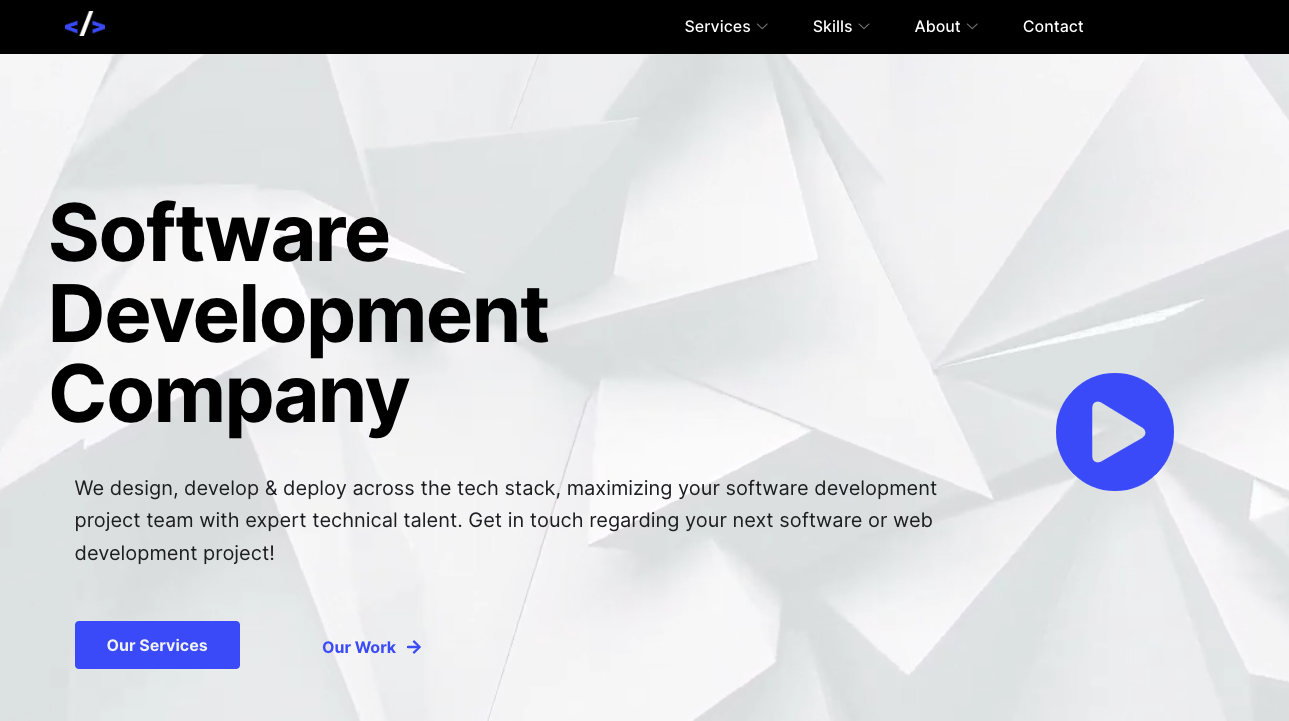 DEV.co is a leading software development company that has web design, development, and deployment capabilities across the entire technology stack. They've served more than 210 web development clients, 156 mobile app development clients, and 24 customer platform development clients – with support for advanced technologies like the blockchain and artificial intelligence (AI). On top of that, they only hire the top 1 percent of software engineering talent – and they have an amazing track record of client service and satisfaction.
DEV.co is a renowned software development company celebrated for its steadfast dedication to delivering projects punctually and within budget constraints. With a rich history of successful project completions across diverse sectors, including retail, education, healthcare, and more, DEV.co is a trusted partner for clients seeking top-tier software development services.
USPs:
Extensive Expertise: With a wealth of over a decade in the industry, DEV.co stands out for its extensive experience, showcasing a profound understanding of the evolving landscape of software development.
Global Impact: Serving clients across 4+ countries, DEV.co has established a global footprint, demonstrating its ability to navigate and excel in international business environments.
Skilled Development Team: Comprising a team of over 150 skilled professionals, DEV.co has the workforce capacity to handle complex and diverse projects, ensuring clients receive comprehensive and tailored solutions.
Client Trust: Boasting an impressive 95% client retention rate, DEV.co places a strong emphasis on client satisfaction, fostering long-term relationships through consistently delivering exceptional results.
Recognition and Ratings: Earning a commendable 4.9 rating on Clutch and a perfect 5.0 on HubSpot, DEV.co has earned recognition for its excellence, reflecting the high level of client satisfaction and the quality of its services.
Clients partnering with DEV.co can expect nothing short of top-notch software development services, underpinned by a decade-long legacy, a seasoned team, and a consistent track record of meeting project timelines and financial expectations.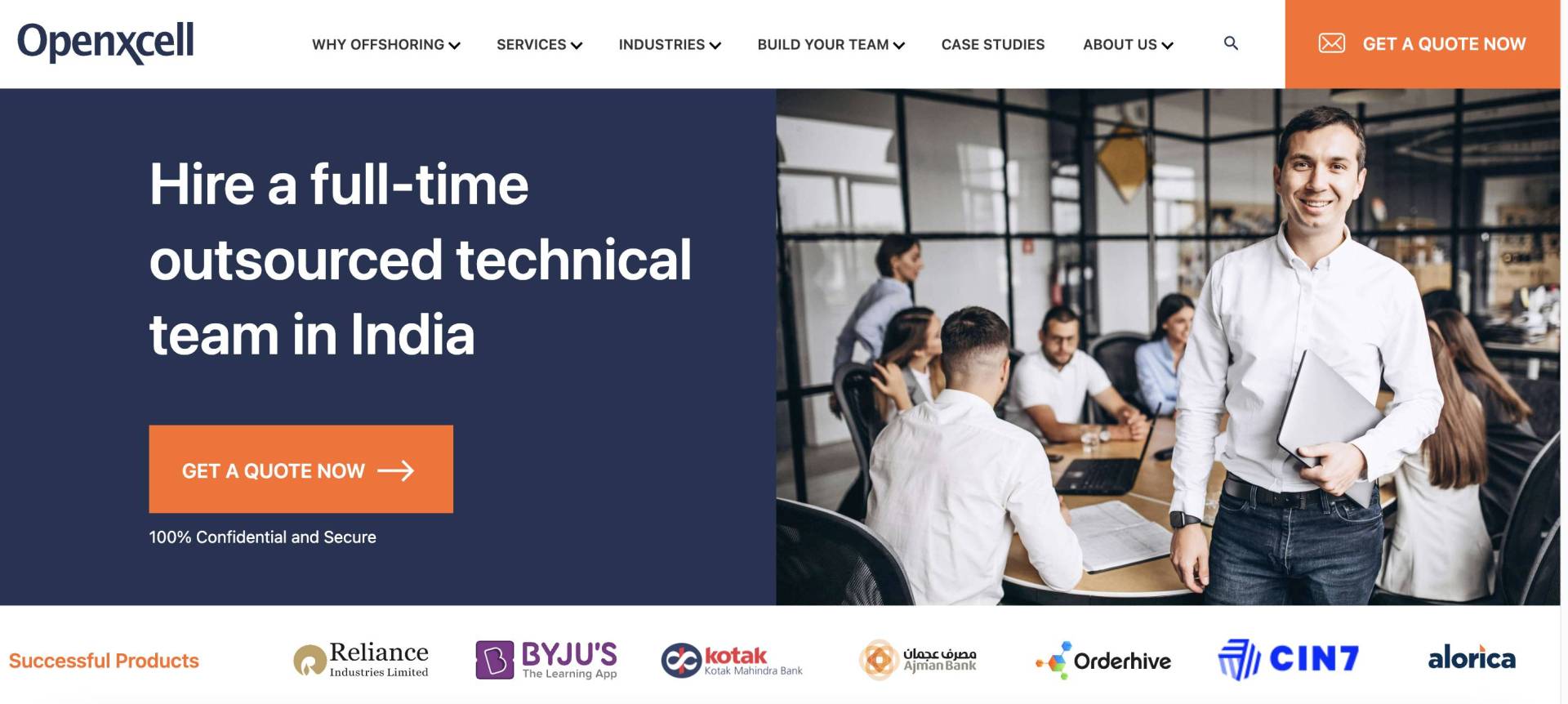 As a market leader in the IT industry, OpenXcell is known to deliver a variety of world class services including Custom App development, SaaS development, Product engineering, AI development and much more. With 12+ years of experience, 500+ expert developers and 1000+ successful projects, OpenXcell has proven its mettle when it comes to delivering state-of-the-art software solutions. Its rising popularity can also be attributed to dedication, innovation and quality in its all endeavors.
USP's:
Rich Portfolio of successful projects: OpenXcell boasts of 1000+ successful software projects.
Multitude of quality services: The company delivers on many services including software solutions, various consultancy and design services.
Pocket friendly solutions: We build software solutions that are priced competitively and fairly.
Scalability: Software solutions created by us are scalable and capable of growing with the company.
24*7 Support: Our clients get access to Top 1% of tech talent working across several time zones.
Andersen is a leading software development company with over 16 years of experience in the industry. Their team of 3500+ highly skilled and experienced professionals is dedicated to delivering exceptional results to our clients.
Andersen believes that every business is unique and takes a personalized approach to every project they undertake. Their services are way beyond regular software development. Andersen has gained reach experience in UI/UX Design, Quality Assurance, Business Analysis, Project Management, and Support.
USP's:
97% of their clients return back with new ideas and projects.
Andersen's prominent clients are Samsung, MediaMarkt, Mercedes Benz, Johnson & Johnson, Siemens, Ryanair and UNESCO.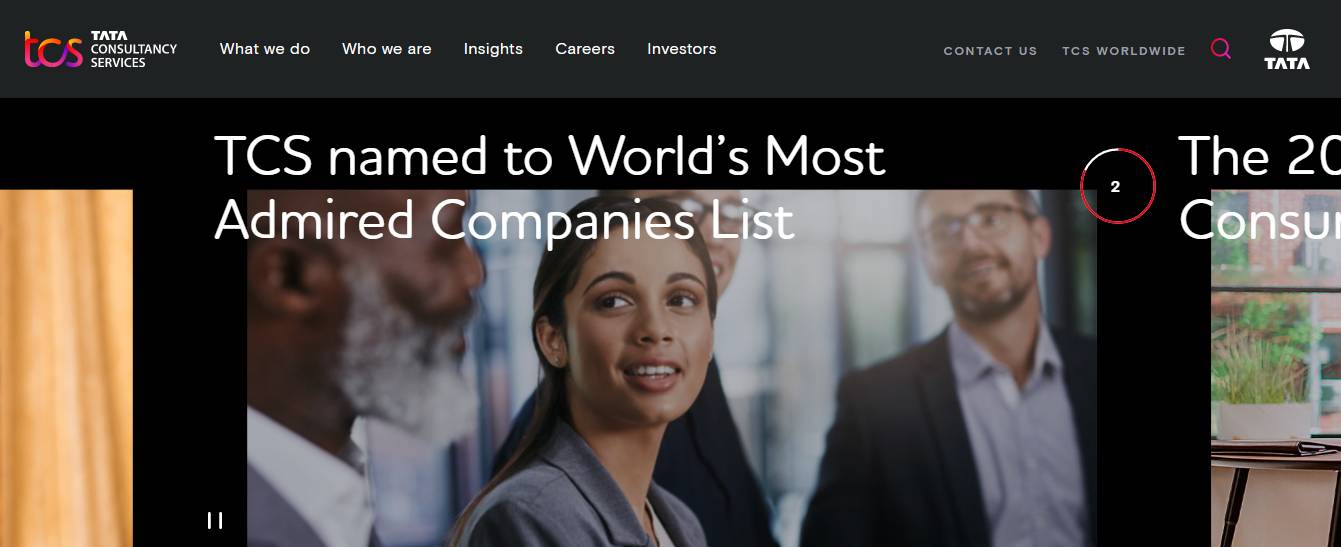 (Tata Consultancy Services) is a market leader in IT services. It provides a wide range of services, including consulting, engineering and industrial services, digital solutions, and application development and maintenance. With operations in more than 46 countries and a staff of more than 450,000, TCS has a sizable global footprint. TCS is renowned for its dedication to innovation and capacity to offer comprehensive solutions that support the objectives of its customers.
USPs:
Global reach: TCS has a strong presence in over 50 countries, offering clients a global network of expertise and resources.
Wide range of services: TCS offers a comprehensive suite of IT services, including digital solutions, consulting, and business process services.
Focus on innovation: TCS is committed to innovation, constantly exploring new technologies and solutions to help clients stay ahead of the curve.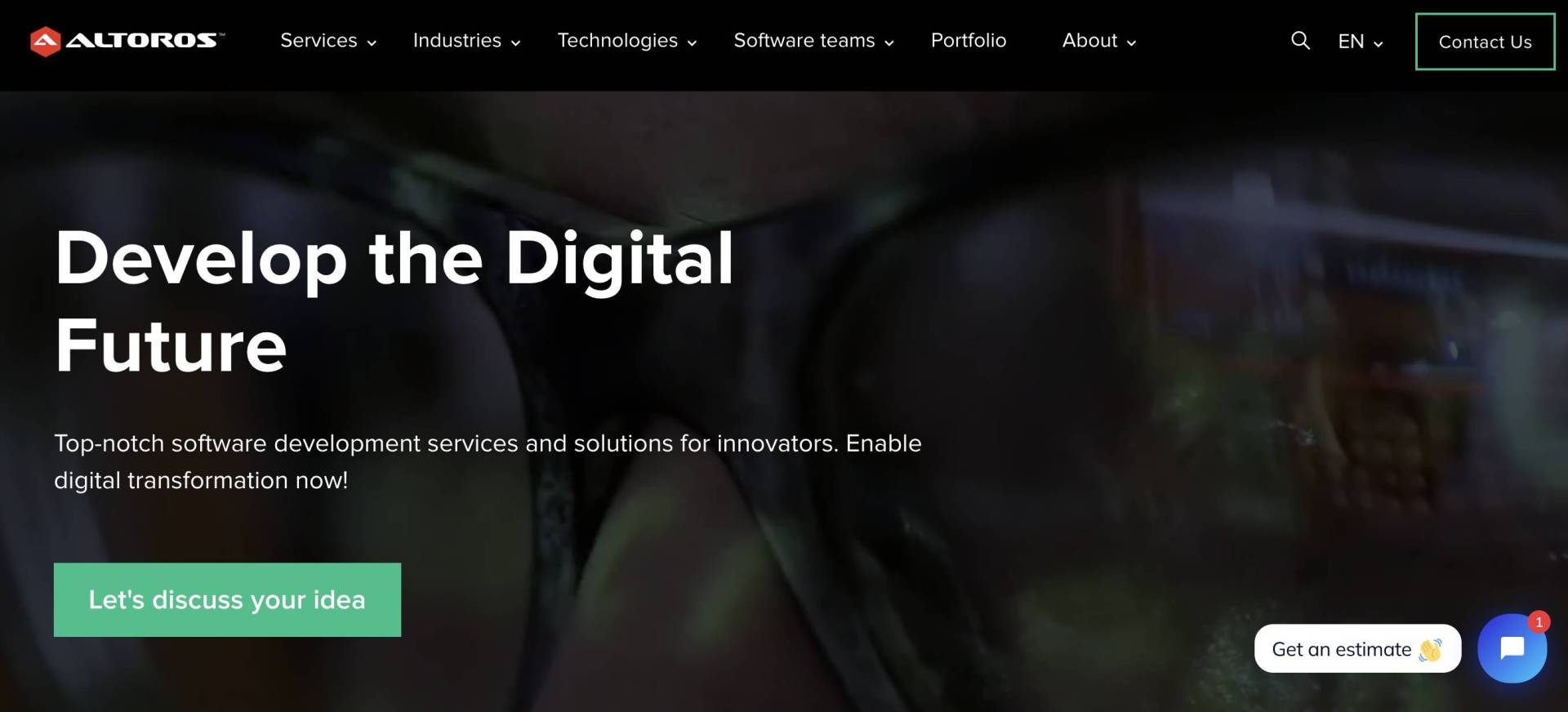 Altoros, with headquarters in the United States, operates major development centers in Argentina and Poland. This enables the company to offer competitive rates, align with different time zones, and provide high communication and technological skills, making it a top choice for customers.
Take your software products to a completely new level and maximize ROI with Altoros. We are a consultancy of 400+ experts who help businesses achieve digital transformation at scale with a focus on cloud-native apps, customer analytics and blockchain.
USPS:
Agile Result-driven teams: able to deliver projects independently while also able to scale up and down based on your immediate needs.
Quick start: they will get you connected to a cohesive team ready to kick-off.
Tangible results: See the progress over time. Every two weeks, they host sprint-based demos for your team
Zero code waste: we use production metrics to ensure the highest code applicability
Success-based payment: Their compensation is aligned with the results achieved or exceeded.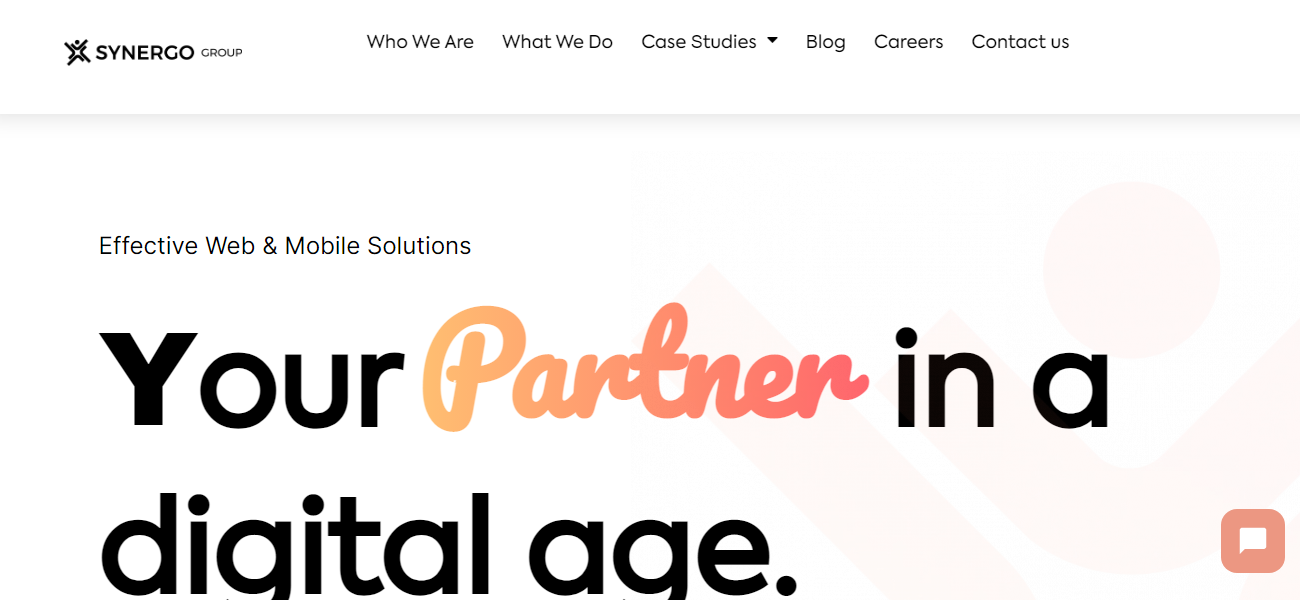 A technology and consultancy company called Synergo Group assists companies with their digital transformation. A team of professionals at the organization works closely with clients to comprehend their particular difficulties and offer tailored solutions that promote achievement. Synergo is in an excellent position to support organizations in the digital age thanks to its knowledge of technology and dedication to achieving outcomes.
USPs:
Comprehensive services: Synergo Group provides a wide range of IT services, including software development, cloud computing, and digital transformation solutions.
Focus on delivering results: Synergo Group is committed to delivering measurable results for clients, focusing on improving business performance and driving growth.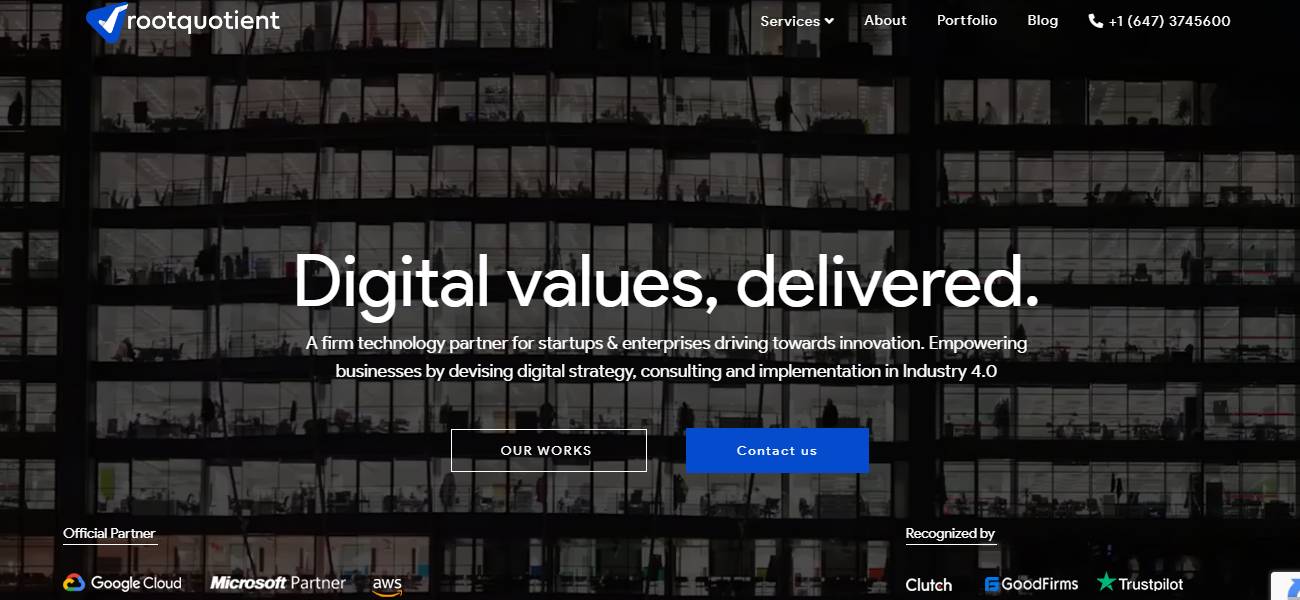 A technological startup called RootQuotient specializes in offering online services to the agricultural sector. The platform from RootQuotient assists farmers in streamlining their operations, boosting productivity and efficiency, and cutting waste. The business has a thorough understanding of the agricultural sector and employs cutting-edge technology to assist farmers in overcoming obstacles and prospering in a cutthroat market.
USPs:
Focus on root cause analysis:
RootQuotient specializes in root cause analysis, helping clients to identify the underlying issues that are impacting their systems and applications.
Deep expertise in multiple domains:
RootQuotient has a team of experts who have extensive experience in a variety of domains, including software development, cloud computing, and IT operations.
Emphasis on proactive problem resolution:
RootQuotient approaches problem-solving in a proactive manner, working with clients to recognize and address issues before they develop into larger ones.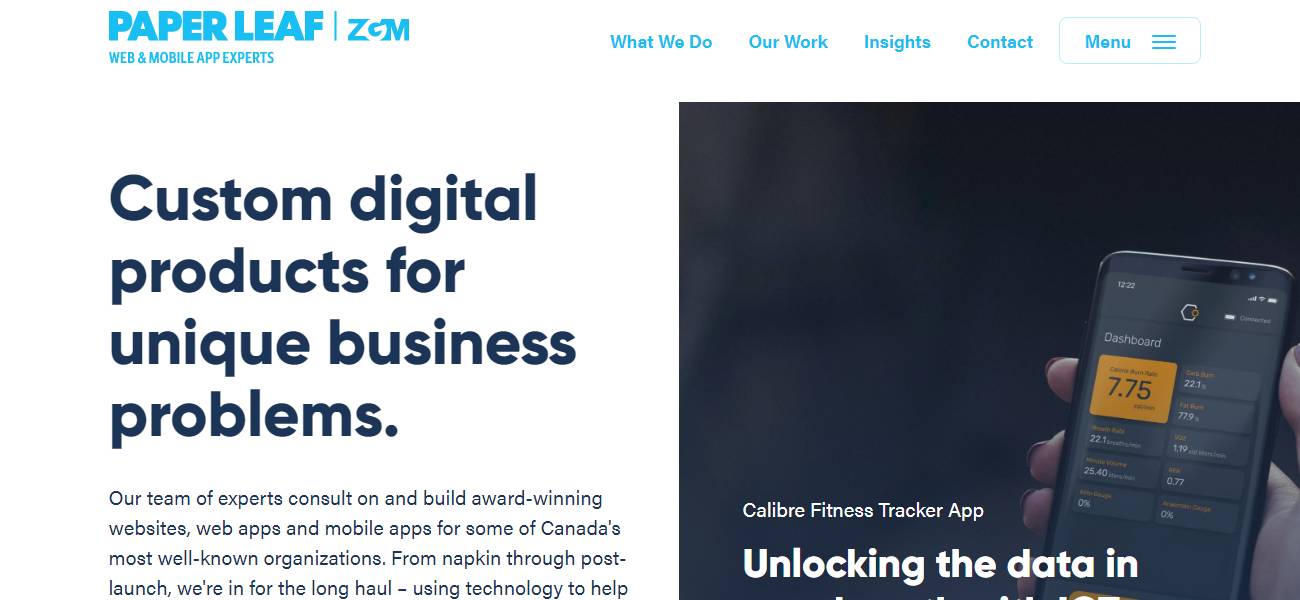 A digital company called Paper Leaf offers various services, such as branding, digital marketing, and web design and development. Paper Leaf assists businesses in creating a solid online presence and connecting with their target market by emphasizing creativity and enhancing user experience. The business is renowned for its capacity to offer each client a specialized and all-encompassing approach, guaranteeing that their particular wants are satisfied.
USPs:
Expertise in web design and development:
Paper Leaf is a leading provider of web design and development services, offering custom solutions tailored to meet clients' specific needs.
Strong focus on user experience:
Paper Leaf places a strong emphasis on user experience, working to create websites that are intuitive, user-friendly, and provide a seamless experience for users.
Use of cutting-edge technology:
Paper Leaf leverages the latest technology and tools to deliver high-quality web solutions that meet clients' evolving needs.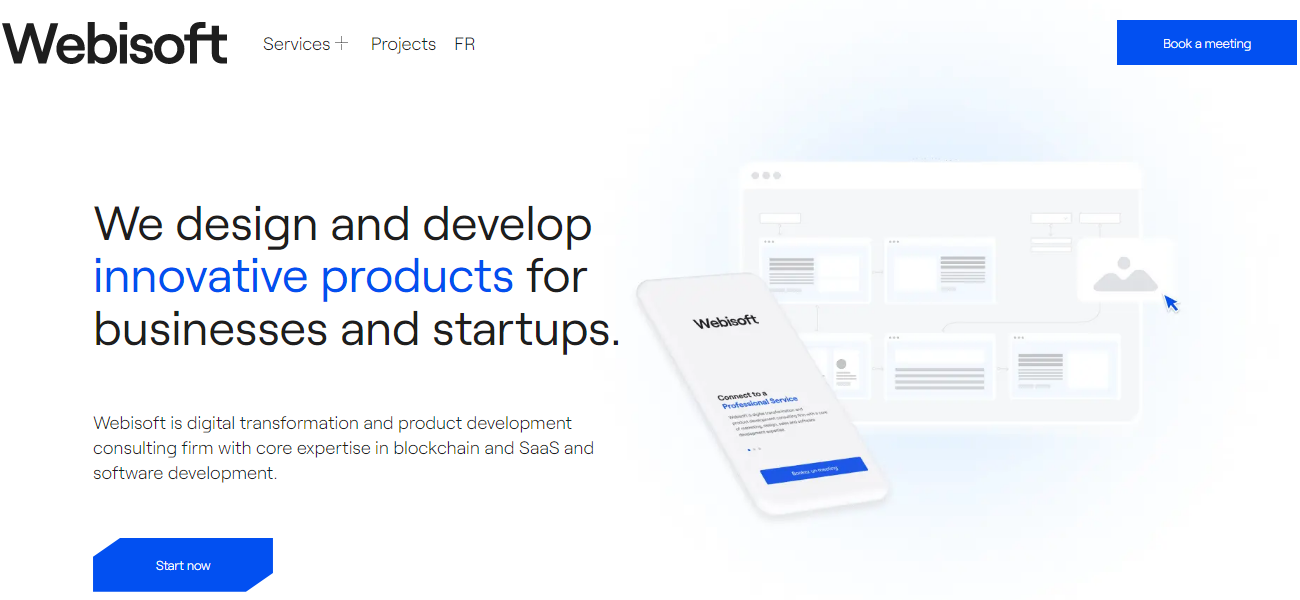 Custom software solutions for organizations are the focus of the software development company Webisoft. With a team of skilled developers, Webisoft offers solutions suited to clients' individual needs and aids them in streamlining and increasing the efficiency of their operations. Webisoft has a solid track record of assisting companies to thrive in the digital age and a strong commitment to providing outcomes.
USPs:
Wide range of services:
Webisoft provides a comprehensive suite of IT services, including web development, digital marketing, and e-commerce solutions.
Focus on customer satisfaction:
Webisoft provides clients with solutions that meet their specific needs and goals, ensuring customer satisfaction through every process step.
Use of cutting-edge technology:
Webisoft leverages the latest technology and tools to deliver innovative solutions that drive client growth and competitiveness.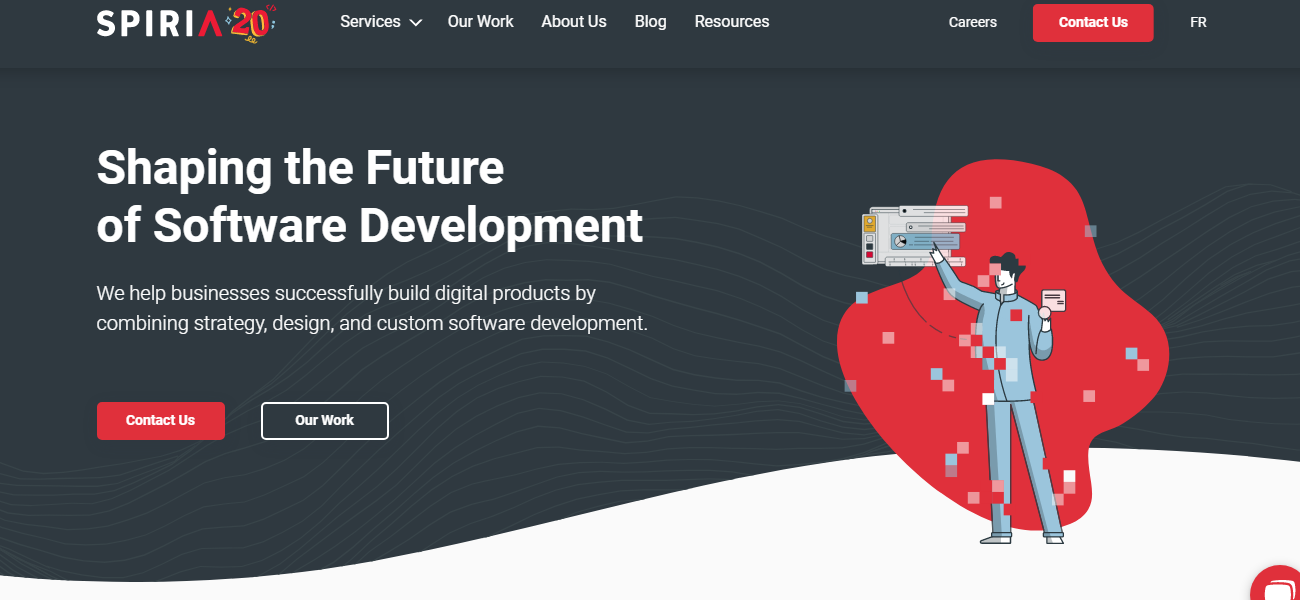 Spiria is a provider of digital solutions that aid companies in modernizing their business processes and achieving their objectives. It offers end-to-end solutions with the help of team of specialists in software development, UX design, and digital strategy. The business offers a whole range of services, from planning to implementation, to ensure that clients get the best ROI.
USPs:
Focus on delivering custom digital solutions
Spiria specializes in creating custom digital solutions that cater to the specific needs of its clients.
Strong expertise in multiple technology platforms
Spiria has a team of experts who have experience working with various technology platforms, including web, mobile, IoT, and cloud computing.
Customer-centric approach
Spiria prioritizes the needs and goals of its clients and works closely with them to understand their requirements and develop solutions accordingly.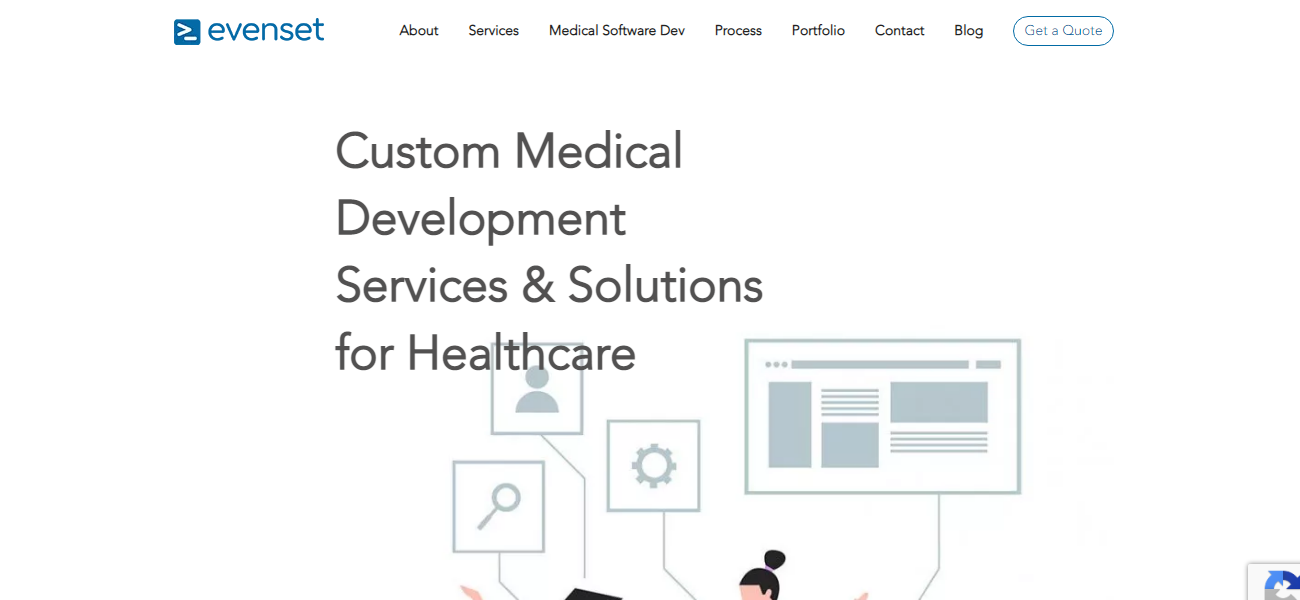 A software development company called Evenset Inc. focuses on providing unique business solutions. It believes in working closely with clients to comprehend their needs and offer them custom solutions.
USPs:
Comprehensive event management services
Evenset Inc. provides a wide range of event management services, including event planning, execution, and evaluation.
Experienced and dedicated team
Evenset Inc. has a team of event professionals with extensive experience in delivering successful events for delivering exceptional results.
Customizable solutions
Evenset Inc. offers customizable event management solutions that are customizable according to its client's specific needs and requirements.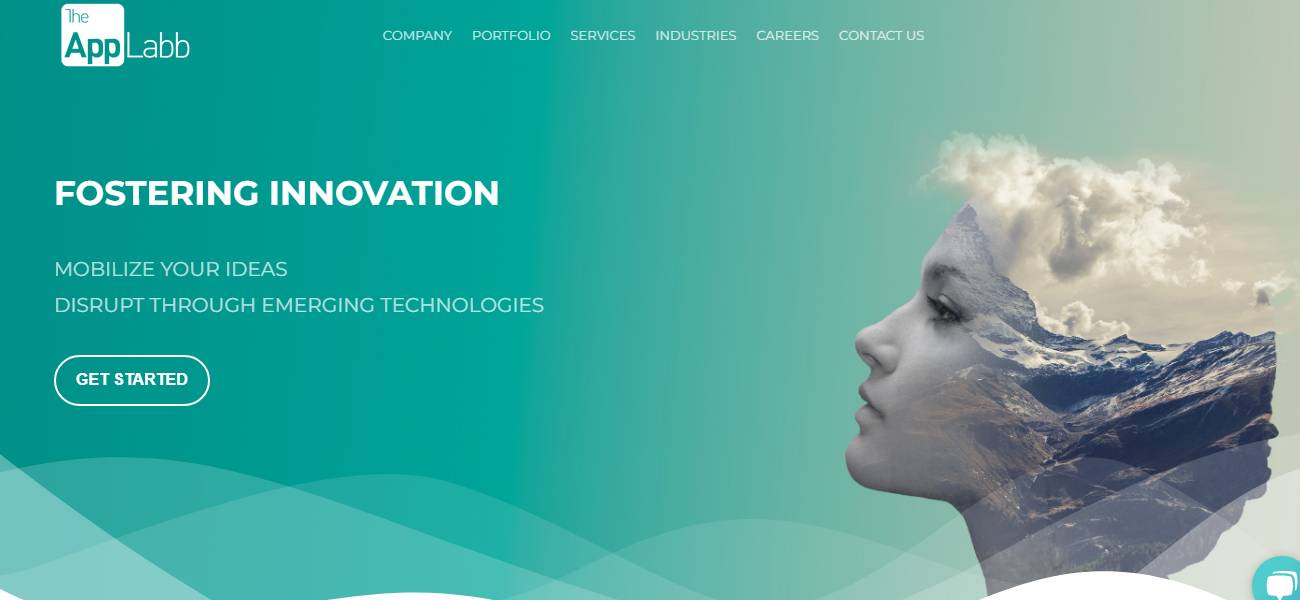 TheAppLabb is a full-service digital business offering various services, such as digital marketing & mobile app development. They have a team of professionals who collaborate directly with customers to comprehend their particular needs and offer tailored solutions.
USPs:
Specialization iN mobile app development
TheAppLabb is a leading provider of mobile app development services, offering custom solutions for clients across various industries.
Strong expertise in multiple platforms
TheAppLabb has a team of experts who have experience working with both Android and iOS platforms.
Focus oN user experience. TheAppLabb gives strong emphasis on user experience, working to create apps that are intuitive, user-friendly, and offers seamless user experience.
Conclusion
The 12 top software development companies in 2023 are dedicated to delivering innovative and effective solutions that meet the evolving needs of businesses. Whether you're looking for web development, digital marketing, or custom software solutions, these companies have the experience and expertise to help your business succeed.