Remote development for software solutions is on the rise, and it is changing the way companies hire. This trend is likely to continue for several reasons: it makes businesses more efficient and offers more flexibility.
Remote development companies specialize in providing clients with web and mobile app development services. With the rise of technology over the last few decades, more businesses prefer this method. 
They have a more remarkable ability to collaborate with other team members and a higher retention rate (90%) than in-house employees (60%). This article will explore how hiring remote developers is suitable for your business.
Why Opt For Remote Developers?
Some alternatives to developing a next-generation online solution include hiring a freelancer or setting up an in-house team. However, hiring a remote development company is more beneficial. The issue with hiring freelancers is that they are not always available when you need them, communicating with them is not easy, and they tend to be less reliable. 
Setting up an in-house team means shelling out more to set up the infrastructure and resources. Recruiting personnel is usually time-consuming, and finding the perfect team with your required skill set is tricky.
On the other hand, remote developers are more productive, efficient, and cost-effective. They are also usually available longer and can be hired for multiple tasks. They have access to more resources and will have skills in various technologies. 
Here are a few statistics that suggest the same. As per a survey, companies outsource their development tasks for various reasons:
63% to reduce costs.

65% to be able to focus more on business objectives.

53% to deal with capacity issues.

38% to improve service quality.

26% to gain access to talented professionals.

18% to manage their business environment.
Common Projects To Hire Remote Developers
Some typical projects to hire remote developers (acquaintsoft dotcom/hire)  for include:
eCommerce websites

Mobile apps

Web development (frontend & backend)

Software development (mobile apps, web applications)
Hyperledger Fabric & Corda frameworks
Bitcoin hash rate distribution
Trends For Hiring Website & Mobile App Developers
Remote development has become a popular option for companies looking to hire developers. In fact, there's evidence that remote developers are more productive than in-house employees! Remote development is a growing trend. More than half of the development is done remotely and is on the rise. There also are many benefits to hiring remote developers over in-house staff. 
Remote development is becoming more popular as companies realize how much money they can save by hiring freelancers instead of full-time employees, and with good reason! The cost of hiring a developer is increasing, as is the demand for skilled developers.
The COVID-19 pandemic accelerated the adoption of remote work, opening up opportunities to hire developers worldwide. Companies were increasingly adapting to the concept of outsourcing their software development requirements. 
In addition to technical skills, soft skills like communication, teamwork, and problem-solving were becoming more critical. Developers who could effectively collaborate and communicate were highly sought after.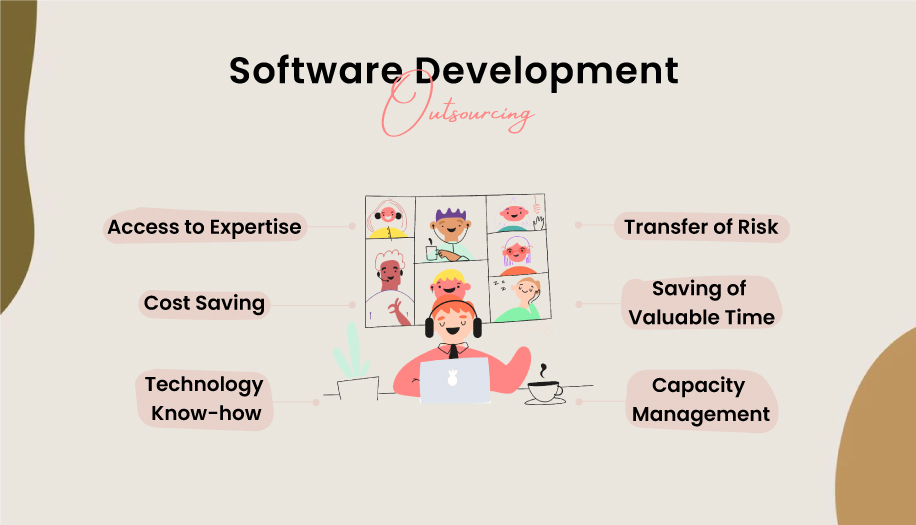 Interesting Facts & Statistics
The most common industry for remote developers is technology, followed by healthcare media education and IT services.

A wide range of remote developers are available for hire, from full-stack engineers and data scientists with skills across all languages and frameworks.

Mobile app designers who have experience designing native applications on iOS and Android platforms. 

UX/UI designers who can bring your ideas into reality with wireframes and prototypes. 

There are also many software development companies offering such a service. 

Remote workers are usually more productive.

Remote employees are also less expensive than traditional employees who require office space equipment.

The rise of remote developers can be attributed mainly to high productivity.

It offers access to a broader talent pool.

It is easier to find talented developers with appropriate skills.

Spending on outsourcing is expected to rise to

$731 Billion by the end of 2023.

92% of G2000

companies opt for IT outsourcing

37% of businesses

outsource at least one of their business processes.

Accounting and IT services (clutch dotco)

are the most popular outsourced processes for small businesses. 
Benefits of Hiring a Remote Development Company
It saves money that would otherwise go towards office space and overhead costs such as utilities. 

It helps you grow your business by giving you access to a diverse talent pool. 

If you're a small business owner, chances are that hiring locally will be more expensive than hiring remotely. 

Remote developers are more productive.
They have access to more learning opportunities.
As more people seek flexible work arrangements, remote development is becoming a more popular option.

Access to all the same tools, if not more, as those working in-house. 

More resources at their disposal and access to a broader pool of talent. 
More businesses are hiring remote workers, and they're being just as successful as those who aren't working remotely.
With so many advantages (techicy dotcom) associated with hiring a remote development company, it's easy to see why this trend is gaining traction in today's economy.

Tips To Hire A Remote Development Company
Ensure the experts you hire are familiar with your industry and have experience in similar projects.

They should have experience designing solutions for a targeted audience. 

The cost to develop your project will vary depending on the type of project, its complexity, and the development firm you hire. 

Fix your budget early and hire the developers accordingly. 

Verify the quality of work and if they can deliver on time.

Always check references before hiring them. 
Future of Software Outsourcing
Software outsourcing allows companies to outsource software development to a third party like Acquaint Softtech. Outsourcing can take place domestically or overseas. In the future, software outsourcing will continue to be a popular option for businesses. This can help you reduce costs, improve efficiency, and increase profits. As with any business decision, you must choose the best service provider for your company's needs.
Conclusions
Software outsourcing is a good option for businesses that need help developing their software products. It's not the only way to go about things, but it has some clear benefits over other methods, such as doing everything yourself or using an in-house team. 
The key to a good solution is finding a good service provider who can offer quality work at affordable prices, and there are plenty of ways to do this! Hiring a remote developer is the best way to complete your project on time and budget. They have the experience and skills necessary to complete your project quickly and efficiently.
Featured Image Credit: Provided by the Author; Thank you!