The core mission of San Francisco's Startup in Residence program (STIR) is "To bring together government and startups to explore ways to use technology to make government more accountable, efficient and responsive."
It's the usual excruciatingly boring description of a government program that we have all come to expect. The reality, however, is much different, and in fact, this program has become ground zero for how smart cities and smart startups are going to be coming together in the future. And come on, how many times have you heard a company actually excited about working with government?
"Anyone who thinks about this should do it, it was an amazing experience for the team," says Indoors' Nick Stein, one of the startups from the program. "We were a small company from Austria doing something in San Francisco."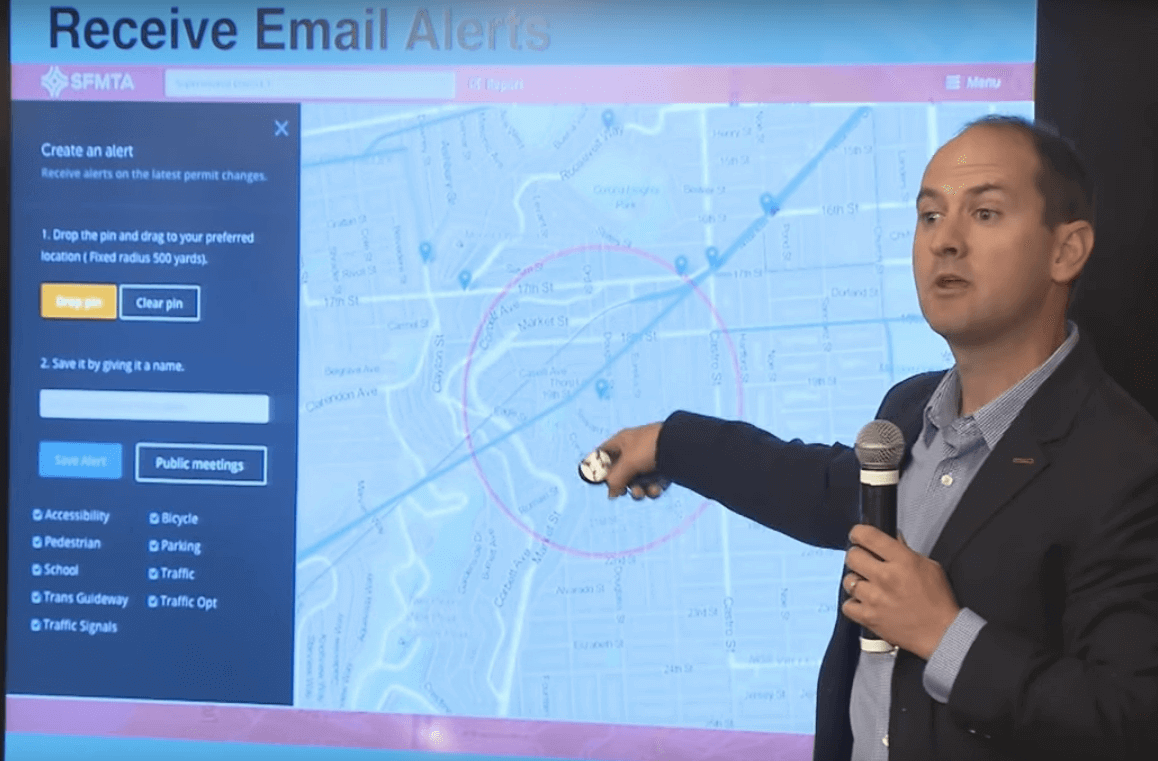 indoors was one of the first companies to go through the program, and yes, they are proof that STIR reaches across the globe as well as the country to find innovative new companies. And the reason is quite obvious to Jay Nath, who serves as the Chief Innovation Officer in the San Francisco Mayor's Office of Civic Innovation, the home of STIR. "When you think about cities and all the challenges they face, we realize we in City Hall can't do it alone, and we need to do this with smart people around us. And startups have been that engine of transformations, but with no impact in the public sectors."
This is the mission of STIR, to bring that transformation into city governments without creating an environment that suppresses their entrepreneurial tendencies. And this balance, between making sure the needs of the population on topics such as security and data are balanced against the ability to let the startups go into unexplored territory, is the reason for the program's success to date.
One of the biggest obstacles for any company who wants to do business in the public sector is the process. And by that, I mean the layers of process, paperwork, departments, and RFPs the size of the New York phonebook. One the most valuable elements of STIR is that the program walks the startups through this process and explains it to them.
If you don't think this is valuable, just ask Regroup's Joe DiPasquale. "So, Regroup is really aimed at schools and governments, and STIR seemed like the perfect opportunity to start working with the City and County of San Francisco," says Joe. "There are more than 60 departments, a lot to navigate in the sales process. So essentially I really was very excited about getting into the program so I could get their help in understanding the San Francisco and understand how to sell to a large city and county."
The program reaches across all the departments to find places where technology can be brought to bear to increase services and lower costs for the people of San Francisco. "So we asked ourselves how do you build an ecosystem around government and see the efficiency and responsiveness improve," says Nath. "So one of the things we wanted to check was they don't understand government so why don't we share that, and the pain points and needs. And startups are great at solving problems so we did just that. In 2014, we identified some areas and said 'hey entrepreneurs come work with us for 16 weeks' and let's build some product over those 16 weeks."
STIR started with 200 startups and finally selected six. The focus initially was on police, airport, public safety, and on building better tools and products. So for example, San Francisco International Airport has over 60 million travelers, and the director was looking for ways to improve the passenger experience for visually impaired people. They felt digital technology could solve that problem.
This is where Indoor enters the story. They worked with the airport and also local nonprofit Lighthouse For The Blind, and together they built an amazing solution with beacons around the airport. The airport shared the layout, and at the end of 16 weeks they heard the wonderful story of a sightless woman talking about how she used to experience the airport and always was depending on others. For the first time, she could use this solution to navigate throughout the airport, and do all those things the rest of us take for granted.
For Nath, it was a real example that if they worked across sectors if they harnessed the velocity of a startup. Another example was the alert system built by Regroup. This company is based San Francisco and started at Stanford figuring out to handle notifications, starting with old school listservs and then slowly building more technology under that solution.
"We were always in messaging and emergencies, but when we worked with the mayor's office, and the Department of Emergency Management, we had a new chance to work on the resilience of the city," says DiPasquale. "We worked with US Geological Service (USGS) to tell when an earthquake is about to hit the city of San Francisco, so we can issue text and voice message to early responders, set off the sirens, and have hospitals put on backup generators."
In fact, in working with STIR, Regroup was able to be one of the first companies in the United States to create a solution on top of the USGS system to drive notifications on top of earthquake warnings, showing how the program does not just benefit the city but the startups as well. So where does STIR go from here?
First off, STIR wants to continue with their education for the startups; what is government, what is open data, what is an RFP and other info that is not normally available for startups or entrepreneurs. In essence, Nath wants to create startup 101 for governments, building out a world class training curricula to share with the world and not just the people in the programs.
In fact, they went even further. "We learned from our first arrangement that a commercial arrangement is tough and challenging and there are budgets and all sorts of friction." says Nath. "Procurement is complex and lengthy, we know this. So we did something innovative: if you apply to the program and you fill a need in the city that you have selected, you do not have to go through the RFP. The application itself is the RFP, so all those rules are in the RFP so at the end of the 16 weeks you can enter into a commercial relationship."
What has the result of this been? Multiple alumni companies have turned into commercial paid products. One product was purchased by Autodesk, and another company got financed based on the validation that came from working with STIR. Says DiPasquale, "Since then we have sold into Los Angeles successfully and it has been helpful to learn about the process."
At the end, it's the startups that make this program successful, and to know if this program was worth it, all you have to do is ask them. Says DiPasquale, "Honestly, they went over and above the amount of effort I would have expected from them. They have a board of advisors that met with us and were great if you reached out to them. And we were lucky and I feel fortunate we were accepted into the program."
Nick Stein echoes this as well. "It was a surprise to a certain degree that they took a shot with a company from Austria, and we sent people over and put someone in place to keep in contact with them because with the distance the open line of communications was key. We learned that anything is achievable, even in another time zone. There are business apps all over the place for this technology, so take the leap of faith."

Do you think your company is ready to take the leap of faith? Interested startups and entrepreneurs should check out the program here: www.startupinresidence.org and submit your ideas for one of 30 civic challenges and share other ideas you have for the program.