The wristwatch is on the cusp of yet another revolution. Once the province of artisans working with finely crafted gears and springs, then of factories churning out mass-produced mechanisms tuned by quartz crystals, the watch is about to be born again as a creature of silicon and software.
That would herald a comeback of sorts for the world's first wearable device, which fell on hard times ten to 15 years ago as people started relying on ubiquitous mobile phones as timepieces. Smartwatches neatly flip that older dynamic on its head by offering convenient access to a wealth of digital information and control without the need to pull a phone out of your pocket.
Yet today's smartwatches still have plenty of evolving to do. Most of them are still fairly rudimentary gadgets with terrible battery life, scarcely able to function unless wirelessly tethered to a nearby smartphone.
In short, the modern smartwatch remains badly in need of some old-fashioned watchmaking—the art, that is, of miniaturizing complex devices by crafting tiny components and combining them into ever more capable precision assemblies. These days, of course, that means marrying simple-to-use yet highly capable software with powerful but highly energy-efficient chips and sensors that won't drain a small battery in less than a day. But the same basic principles are at work now as they were 500 years ago.
To see why, we'll need to take a quick jaunt through the history of watchmaking.
Watch Out
Watchmaking has long been considered a fine art. German craftsmen built the first watches—then known as clock watches—in the 16th century, basing them on the "mainspring," a spiraling metal ribbon that could store mechanical energy by winding and then release it slowly as it unwound.
Peter Henlein of Nuremberg, who built expensive but portable brass clocks for the nobles of his day to carry or wear as pendants, sometimes gets credit for inventing the watch, although a number of other German clockmakers were also tinkering with portable timepieces in the early 1500s. The German humanist Johann Cochlaeus immortalized Henlein in 1511:
Peter Hele, still a young man, fashions works which even the most learned mathematicians admire. He shapes many-wheeled clocks out of small bits of iron, which run and chime the hours without weights for forty hours, whether carried at the breast or in a handbag.
Over subsequent centuries, generations of craftsmen refined those mainspring-based clock watches with innovations such as the balance spring and the cylinder (and later lever) escapement. Watches grew accurate, cheaper and smaller over time—evolving first into pocketwatches, then wristwatches. By the mid-1800s, a U.S. factory began mass production of mechanical watches made with interchangeable parts.
In a crude sense, these mechanical watches essentially functioned as the first mobile devices in history—ones that offered their users both data and a form of connectedness by synchronizing them with other watch-wearers. Wristwatches boomed in popularity among military officers in the late 19th century for precisely that reason.
The mechanical watch reigned until electronic quartz-crystal watches emerged in 1969. These timepieces used a quartz crystal resonator that vibrated 8,192 times a second, driven by a battery powered oscillating circuit. That resonator could turn the hands on an analog watch face, although it took only a year for companies to produce the first digital watch with an LED display.
Quartz watches rapidly took over the market, devastating the mechanical-watch specialists of Switzerland. Swiss-style watches only began to stage a comeback in 1983 with the Swatch—a line of stylish analog (but quartz-driven) watches intended to reassert Swiss design principles in a world of cheap digital watches.
Digital quartz watches, meanwhile, exploded in popularity throughout 1980s and 1990s. New models came packed with new functions and expanded into a dizzying variety of niches, some of them evolutionary dead ends—calculator watches, the Casio Game-10 watch, and the first watch that let you watch live television on your wrist.
Time To Take A Call
Soon enough, though, the bell tolled for digital watches as well, in the form of the cellular ringtone.
"Youngsters don't have watches today," French watchmaker Peter Besnard told the Agence France-Presse during a 2005 watch convention in Europe. "If they want to know the time, they look at their mobile, which never leaves them."
Up to that point, watches doubled as both timepieces and fashion accessories; afterward, they mostly turned into pure fashion symbols. Cellphones, and then the iPhone and other smartphones, quickly emerged as the go-to utility-gadget-cum-fashion-accessory for many people.
Not that watchmakers didn't try to strike back. In 2000, Swatch announced the Swatch Talk phone, a Dick Tracy-style two-way cellphone communicator watch. The idea was to strip down a cellphone into its constituent parts to fit in a watch casing. Swatch eventually abandoned its plans because of the technical difficulty of building a watch with a cellular radio.
"I'm convinced that the Internet watch will be even more successful than the mobile," said Nick Hayek Jr., then president of Swatch S.A. and now CEO of the Swatch Group, in a 2000 New York Times interview. Swatch may have been prescient, but it was also 14 years too early.
The Companion Watch
Though it's clear that the smartwatch hasn't yet come into its own.
Take, for instance, the first watches built to use Google's Android Wear softwear. If you've happened to try out either of the first Android Wear smartwatches—the Samsung Gear Live and the LG G Watch both launched at Google's recent I/O developer conference—you may have started to realize both their promise and their limitations.
For both developers and consumers, Android Wear is all about notifications. Regular Android app notifications automatically show up on an Android Wear smartwatch. These include text messages, emails, call alerts, social-message notices, calendar items and much more. Most of these will also you to take some kind of action—archiving an email, for instance, or sending a quick text-message reply via voice input.
Consumers don't download apps straight to an Android Wear smartwatch. In fact, unless you've received a notification, the watch offers very little navigation at all—you can access voice commands to send texts or press your way into a settings menu, and that's about it. 
Which just highlights the fact that the current round of Android Wear devices—plus the forthcoming Moto 360—are not are full blown computers in their own right. All the information they provide to you arrives via the phone's Internet connection and is then piped to the watch via Bluetooth. 
The smartwatch we have now isn't really close to the "Internet watch" that  Swatch envisioned nearly 15 years ago. They're more like companion watches, wholly dependent on the phone for apps, a data connection and local processing power.
From Quartz To Silicon
Quartz may be giving way to silicon, but watchmaking is still a fine art. Digital smartwatches still require engineers who know how to miniaturize complicated components. And, of course, Moore's Law continues to roll forward, shrinking down the size of electronic components, allowing engineers to pack them together more tightly and miniaturize the devices that rely on them. 
That gives the smartwatch lots of room to evolve.
Right now, for instance, the LG G Watch can't make phone calls, doesn't have a GPS sensor to track movement (for a long run or bike ride), doesn't have a full Internet browser, the battery life is about a day-and-a-half and it runs no apps. It's a long, long way from my own personal ideal smartwatch—one that would accurately track my progress on a 60-mile bike ride while streaming music to Bluetooth ear buds without draining the battery, all without a smartphone anywhere nearby.
See also: Why The All-In-One Smartwatch Is Not Happening Anytime Soon
That ideal smartwatch isn't particularly close to reality right now. A couple of companies claim to make "smartwatches" that handle all those functions, but these things are basically undersized and underpowered smartphones with a wrist strap. They aren't really watches.
Talent Wanted: Miniature Specialists
Which brings us back to the fine art of watch making.
The beauty of the talent of the early watch makers was that they were able to assemble complex mechanisms from tiny components, build them into small cases and make them both functional and very nice to look at. There's a reason that watchmaking was considered a fine talent for hundreds of years: making complex and accurate devices that were also the height of fashion was hard to do.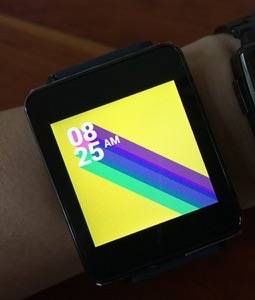 That's exactly the challenge facing computer companies in the era of the smartwatch. While they're no longer working with springs and gears and quartz crystals, they're still trying to cram the functionality of a much larger and widely used device—the smartphone—into a package less than an inch wide and weighing a few ounces. Oh, and it has to look smart, too.
This is not going to be easy. Not for the makers of Android Wear watches, and not for Apple, should it release a smartwatch later this year as rumored. Not easy at all.
Lead image by ReadWrite: Google's reproduction of the Jayrun Waterclock, one of the first time keeping devices built by Arab engineer Muhammad al-Sa'ati in 1203, at Google I/O 2014. All images in article body by ReadWrite. Slideshow image credit in parenthesis.