The first thing I did when I went to the KBO site to look at the Stealth Urban Electric Bike (the Hurricane) is laugh. In the photos of the bikes and riders on the site — they did exactly what I did when I got the Stealth Hurricane — I left the fenders off. The Stealth looks so cool without the fenders — sleek and fine.
Stealth Urban Electric Bike KBO Hurricane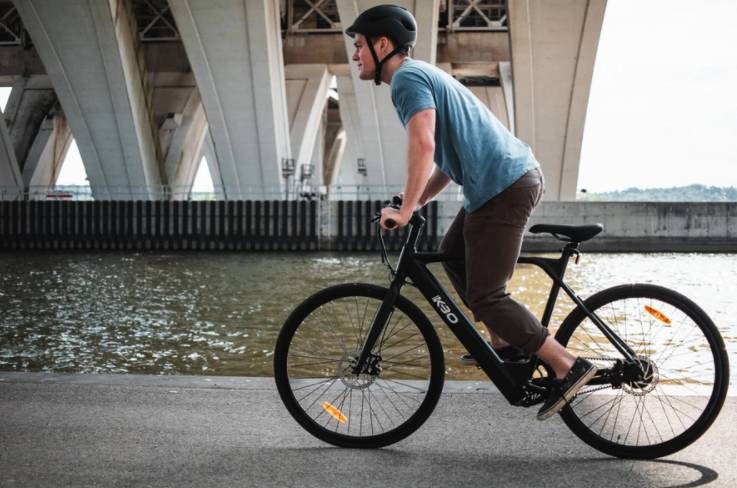 The KBO Hurricane ebike has really slim tires so it feels a lot different on the ride, than my "fat tire" bike — and it's not very heavy either. The bike only weighs about 36 lbs. I can lift it down the stairs in my condo, and don't have to take the elevator. I've noticed that I'm quicker to grab this bike than one of the others because it's light.
You can barely tell that this is an ebike the frame is so sleek, yet the bike is sturdy. The single-speed belt drive gives a smooth, quiet ride. The bike has a belt drive as opposed to a chain drive which means no catching your pant leg in the chain and no oil slick against your leg.
Mechanical disc brakes
The bike has mechanical disc brakes that are said to have th strongest and most dependable stopping power available. I don't worry too much about that — but the bike better stop fast when I apply the brakes — and this bike stops quickly.
The Seat Saddle
The seat is comfortable — even on bumps — but I like a little more padding on seats and usually change the seat out. The seat is nice enough that it's not an emergency to change out.
Tires
The tires are called threaded road bike tires (700x32c). The aluminum alloy rims and narrow design make this a really fast ride.

LCD Backlight Display
Everyone at the office who took the bike out for a spin noticed the LCD backlit display — and I hadn't noticed it. But if you have to have a display on your bike — it's there. It measures speed, distance and riding tme. If you are an advanced cyclist this will be especially suited to you.
I like that the bike came with the tools to put together. It was easy assembly.
I carried the KBO Urban Hurricane down the stairs in the office over my shoulder to look cool (and strong) and a woman in the office said, "Oh yeah, easy for a man!" I challenged her to give it a go and she was able to carry the bike without huffing and puffing — a big plus.
Overall — this is a very stylin' bike.
Image Credit: all images are from https://kbobike.com/products/road-electric-bike