More companies have opted to work without expansive offices and have remote teams. However, that large conference space is not always available. Instead, companies make do with whatever they have to stay connected. Thanks to new devices like the Poly Studio, it's possible to turn any space into a conference or huddle room to conduct a video conference.
Recently, we tried the Poly Studio out here at our ReadWrite offices. Here's how it worked with our remote team members.
How the Poly Studio Works
The Poly Studio is a plug-and-play, USB video bar that works with any video collaboration platform like Zoom, LogMeIn, Google Hangouts, and Microsoft Skype for Business, just to name a few.
The Studio is also compatible with any application that supports standard USB audio and video drivers.  You'll be able to connect to either a PC or a Mac. It's designed for smaller rooms and huddle spaces so companies can collaborate with their teams across the virtual space.
After a quick set-up, the next step involved downloading the free Poly software. The software enables access to even more features and functionality. You can create two presets, so all you need to do is press a button to get the most frequently accessed configurations. After trying it with a few of the video collaboration platforms, I learned there might be some settings on each of those platforms that need slight tweaks. However, it only took a few minutes to figure this out to get started.
It uses Poly Acoustic Clarity technology. This technology offers full-duplex conversations, acoustic echo cancellation, and background noise suppression. The equipment also features Poly NoiseBlock technology and Poly Acoustic Fence technology.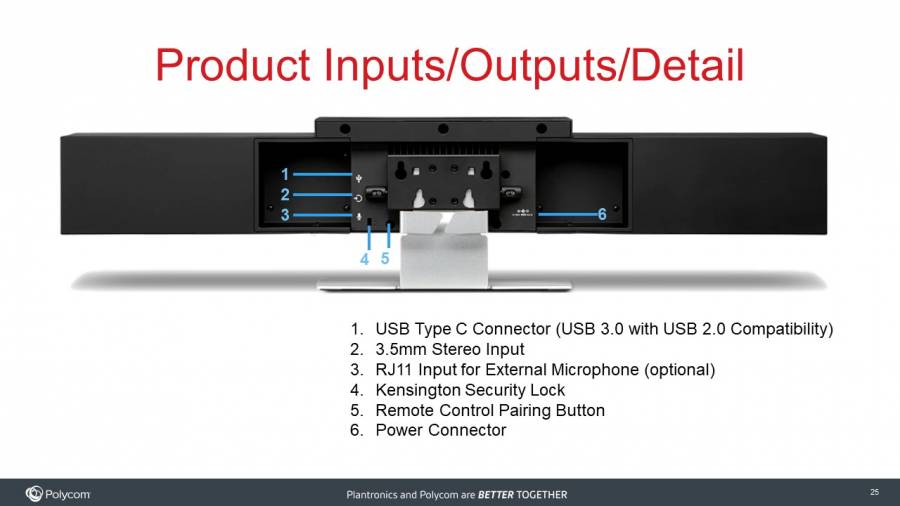 The Poly Studio Design
It looks similar to a soundbar that goes with an HD television.  It also has a plastic section that contains a large camera lens. The 4K camera features a 120-degree field of vision. It offers a resolution of UHD 2160p. On either side of the lens are rectangular speaker grills.
The back of the Poly Studio has all of the connectivity options, which makes it easy to mount or set up without dealing with unwieldy cords. There is a USB 3.0 Type-C port with 2.0 compatibility, a power connector port, a 3.5mm stereo audio input for an external microphone, and a Kensington security lock slot. The internal connectivity options include 802.11ac Wi-Fi wireless and Bluetooth 4.2.
Poly Studio Features
Poly Studio features include a remote control to adjust volume as well as to mute, zoom, and change the camera settings. You can also use your computer or video application to control the volume and mute settings.
The Poly Studio has some advanced features like noise blocking to reduce distracting sounds. The Poly Acoustic Fence uses a triangle-shaped beam array. It can capture voices from within the beam array while blocking or reducing the volume of voice sounds from outside the beam array.
Other features include Automatic Group Framing. This feature looks for the faces of all participants and automatically zooms in. Automatic Speaker Tracking combines facial detection with audio triangulation. It can recognize who is speaking so the video equipment can zoom and frame that person. To know where the camera is pointing, there are LEDs on the front of the Poly Studio.
The Poly Studio also has Bluetooth, which lets you play music or other audio from your mobile devices directly through the Studio. Plus, the Bluetooth features lets the Studio function as a conference phone or speakerphone. Finally, the Poly Companion app can be used to update the device and manage administrator settings.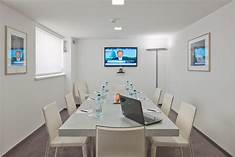 The Good and Bad
Our video conference tests revealed positive and negative things about using the Poly Studio. The best things about the Poly Studio include ease of set-up and use, audio and video quality, portability, and mounting options. If there were anything that needed improvement, it would be the soft speakers, which can be enhanced by purchasing a tabletop microphone.
In the Box
When you buy a Poly Studio, you get the Poly Studio, remote control with two AAA batteries, a power adapter, a 5m USB 2.0 cable (Type-C to Type-A), a wall mount kit, and a setup sheet.
The only thing not included is a display and computer to connect it to. However, most of us have that in our offices or for our podcasts.
Where to Buy
The Poly Studio is available on the company's website and online at retailers like Amazon.
Overall Thoughts
The award-winning Poly Studio is a compact video conferencing bar solution that is fairly priced. The value comes from advanced technology and extraordinary sound and picture quality. Everyone in our office could easily figure out how to use it so we can have these collaborative meetings from anywhere. It's a must-have tool for a startup or small business owner with remote staff as well as for podcasters who want to create a professional environment with high-quality audio and video.