The next version of popular web dashboard service Netvibes will push "near real-time" updates from feeds to the browser, a dramatic change in how the service works. Those feeds will be served up along with the standard suite of functional widgets the company has always provided.

As the number of real-time feeds available around the web has rapidly grown over recent months with the rise of real-time publishing technologies, the big question has been: when will a major feed reader consume these feeds? Google Reader may be too complex and too slow-moving to be first; that Netvibes is going to steal the show should be no surprise.
In an unembargoed presentation sent to press this morning, Netvibes said that it would be adding support to its next version for both Pubsubhubbub and RSS Cloud protocols. When those technologies are used to tell Netvibes that new items are available, the items will be pushed automatically to the browsers of subscribers – with no browser refresh required.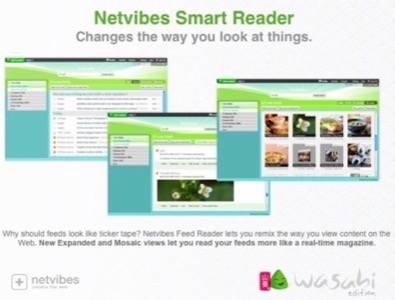 Code named Wasabi, the version will go into private beta later this week and will launch to the public at December's Le Web conference in Paris, where the theme of the event is the real-time web.
Support for real-time feeds has so far been much stronger on the publisher side than the consumer technology side. With blog publishing services WordPress, Blogger and Typepad all adding Pubsubhubbub or RSSCloud feeds to their offerings, there are now hundreds of millions of real-time feeds available in those two formats. So far only a few small feed readers have begun consuming these feeds; RSSCloud developer Dave Winer's own River2, a complex but customizable desktop feed reader, and LazyFeed, a simple but enjoyable feed-powered discovery engine, have turned on full support for real-time feeds. Real time didn't come up in interviews this week with the creators of NetNewsWire and FeedDemon.
Google Reader implemented very limited support for PubSubHubbub in August, just pushing a Hubbub feed of "shared items" from Reader to the now-Facebook owned FriendFeed. In that case Google Reader was playing the part of the publisher and FriendFeed was the reader. Google's Brad Fitzpatrick has told us that when PubSubHubbub support allowed FriendFeed to wait for updates from Reader, instead of polling regularly to check for updates, traffic between the two services was cut by 85%.
From decreased server costs to an improved experience for users to increased time-on-site, the benefits of real-time feeds can be many. Can Netvibes pull off integration of real-time feeds into its existing dashboard product? Some developers experimenting with these new real-time feeds elsewhere have reported stumbling blocks in the process, and Netvibes hasn't had a perfect record of service for users in all locations around the world, either. Long caching of feeds has been an issue for Netvibes, though, and this update will cut down substantially on the delays that users see after feeds of interest have published new content.
Invitations to the private beta will roll out later this week, giving a few hundred users an opportunity to see the new Netvibes for themselves.